Boston College Nursing Prof. Katherine Gregory Named Inaugural Haley Nurse-Scientist At Brigham And Women's Hospital
$1-million gift from bc alumna and her husband funds new program
CHESTNUT HILL, MA (January 2010) – Boston College's William F. Connell School of Nursing Assistant Professor Katherine Gregory has been named the first Haley Nurse-Scientist at Brigham and Women's Hospital in Boston. A nurse-scientist is a doctorally-prepared nurse who works on specific areas of research that require the involvement of both the clinical and academic worlds.
Gregory, who studies gastrointestinal health and disease in premature infants, will work directly with BWH nurses to further their research and scholarship and advance the practice of nursing at BWH.
Gregory's research involves understanding the pathogenesis of gastrointestinal disease in premature infants and developing new models of disease prediction, specifically for necrotizing enterocolitis (NEC), a life-threatening gastrointestinal disease associated with malnutrition, growth failure, neurodevelopmental delay, and prolonged neonatal hospitalization among survivors. NEC is one of the most serious complications of premature infant birth, according to Gregory.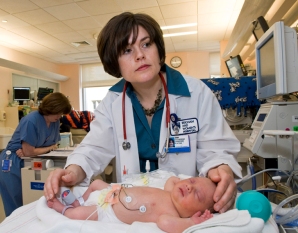 Katherine Gregory
"The Haley Nurse-Scientist is a crucial next step in developing academic practice partnerships that help nursing science develop from the bedside and be translated back to the bedside in a much more time efficient manner than has been the case in the past," said Connell School Dean Susan Gennaro. "Dr. Kate Gregory is a fabulous choice for this honor as she is an NIH funded nurse researcher who is conducting innovative research to improve the health of our smallest and most fragile patients, premature babies."
Through the Haley Nurse-Scientist Program, three or four Boston College nurse-scientists would go to BWH over the course of the next five years to conduct their own research and to work with BWH nurses interested in conducting research studies and developing evidence-based nursing practice. For the past two years, Gregory has worked as a nurse-scientist successfully helping several BWH nurses develop their own studies, including a study of tub bathing versus sponge bathing in maintaining temperature control in late, pre-term infants and measuring the impact of a nurse-led antenatal class on maternal stress.
"It is a great honor to be a Haley Nurse-Scientist at Brigham and Women's Hospital. This collaboration is a wonderful opportunity that brings together the clinical expertise of nurses at the Brigham, and the research expertise of a nurse-scientist. The result of the collaboration supported by Mr. and Mrs. Haley will rapidly advance nursing science and in turn, improve patient care," said Gregory, who earned her doctorate from the Connell School in 2005.
Steven and Kathleen Haley Nurse-Scientist Program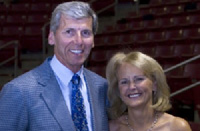 Steven and Kathleen Haley
The Steven and Kathleen Haley Nurse-Scientist Program is funded by a $1-million gift from Steven and Kathleen (Powers) Haley, creators of the Brain Science Foundation. The gift represents the largest single gift ever awarded to BWH's Department of Nursing.
Knowing that nurses are at the side of patients the most, Kathleen Haley, a Boston College graduate, met with nursing leaders at BWH and administrators at the Connell School of Nursing to forward her idea of the Haley Nurse-Scientist Program.
"Our program is complementary and links two great institutions—BWH and Boston College," said Mrs. Haley. "These research concerns can result in new best practices in clinical care."
"The Haley Nurse-Scientist Program will allow us to push the envelope to generate new knowledge and applications for clinical nurses and nurse scientists locally and nationally," said Mairead Hickey, chief nursing officer and senior vice president of Patient Care Services at BWH. "This will help the [BWH] Department of Nursing ensure our nursing practice is always state-of-the-art and evidence based."

###
For more information contact Kathleen Sullivan, Boston College, Office of News & Public Affairs, kathleen.sullivan.1@bc.edu, 617-552-8644.