Boston College Receives National Recognition for Community Service
named to president's higher education community service honor roll
CHESTNUT HILL, MA (2-26-10) – Boston College has been named to the 2009 President's Higher Education Community Service Honor Roll, the highest federal recognition a college or university can receive for its commitment to volunteering, service-learning and civic engagement.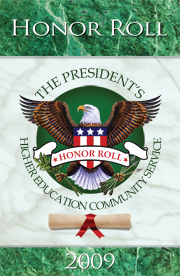 Boston College was honored by the Corporation for National and Community Service, which administers the annual Honor Roll award.
"Congratulations to Boston College and its students for their dedication to service and commitment to improving their local communities," said Patrick Corvington, CEO of the Corporation for National and Community Service. "Our nation's students are a critical part of the equation and vital to our efforts to tackle the most persistent challenges we face. They have achieved impactful results and demonstrated the value of putting knowledge into practice to help renew America through service."
"Boston College students are deeply committed to service. Whether serving in Appalachia through Campus Ministry or mentoring a child through the Big Brother/Big Sister Program, our students find ways to share their gifts with others. And service at Boston College is far more than just extra-curricular activity. It is an opportunity for our students to experience personally the values and challenges that are part of a Jesuit education," added Daniel Ponsetto, the Welles R. Crowther '99 Director of Volunteer and Service Learning at Boston College. "I am privileged to regularly witness the passion and commitment our students have for serving others. This recognition is well deserved."
Boston College is one of some 700 colleges and universities recognized by the Corporation for National and Community Service in its 2009 Honor Roll.
Honorees are chosen based on a series of selection factors including the scope and innovation of service projects, percentage of student participation in service activities, incentives for service and the extent to which the school offers academic service-learning courses.
One of the signature volunteer activities undertaken by Boston College students is the Appalachia Volunteer Program, in which approximately 600 undergraduates spend their Spring Break working on housing, refurbishment, educational and other projects in more than 35 communities across seven states. Boston College's model service-learning program is PULSE, which combines classroom study with field placements. Some 400 BC students volunteer 10-12 hours per week at more than 50 Boston-area sites, including residential programs, homeless shelters, food pantries, group homes and afterschool programs.
College students make a significant contribution to the volunteer sector; in 2009, 3.16 million students performed more than 300 million hours of service, according to the Volunteering in America study release by the Corporation.
The Corporation oversees the Honor Roll in collaboration with the Department of Education, Department of Housing and Urban Development, Campus Compact, and the American Council on Education.
Corporation for National and Community Service
The Corporation for National and Community Service is a federal agency that engages more than five million Americans in service through its Senior Corps, AmeriCorps, and Learn and Serve America programs, and leads President Obama's national call to service initiative, United We Serve. For more information, visit www.nationalservice.gov.

--Kathleen Sullivan, Boston College Office of News & Public Affairs, 617-552-8644, kathleen.sullivan.1@bc.edu