Carroll School MBAs to Detroit Execs:How to Market U.S. Autos to 'Generation Y'
bc team makes case at deloitte's north american auto show forum
Chestnut Hill, MA (January, 2010) – A team of MBA students from the Carroll School of Management told an audience of U.S. automakers how to combat industry sales woes and more effectively connect with "Generation Y" consumers during a case study event at the 2010 North American International Auto Show.
Hosted by consulting giant Deloitte, the three-student team was one of just four MBA programs invited to the company's event "Connecting with Gen Y: Making the Short List," a town hall-style forum held during the show's press preview in early January. The forum coincided with the release of a Deloitte survey of young consumers about factors that may capture the attention and shape the opinions of this 75-million-strong generation.
The task at hand for Carroll School graduate management students Gregory D. Walsh, Katherine Wilson, and Gabriela Carbone was to tell an audience of high-ranking auto industry executives how to win the loyalty of consumers within "Generation Y", the largest generation after the Baby Boomers.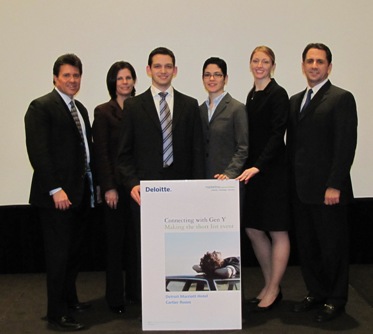 A team of Carroll School MBA students advised Detroit executives about
marketing cars to young consumers during a case presentation forum at
the North American International Auto Show this month. Pictured are
Deloitte Michigan Managing Partner Joe Angileri, Deloitte US Automotive
Sector Leader Michelle Collins, BC MBA students Greg Walsh, Gabriela
Carbone, and Katherine Wilson, and Mark Petroff, president and CEO
of Marketing Associates.
"I think the experience itself is a reward," said Walsh, who by day is an investment officer at BC. "It's a great opportunity that the BC MBA program has provided us. We really couldn't be more excited to go out to Detroit to participate. It's not often that you get the chance to interact with senior-level executives."
Walsh, Wilson, who works for the Boston investment firm Anchor Capital, and Carbone, who works for the Nielson Company, have been studying the auto industry since September in the marketing course of Professor and Marketing Department Chairman Gerald Smith. They worked with two other team members, Jay Mitchell, of Massachusetts Financial Services, and Joan Brown, who works at Massachusetts General Hospital, who did not make the trip.
The team was one of eight study groups who examined the beleaguered auto industry last semester in a course taught by Smith, who has worked closely with Deloitte in the past. BC students were among the schools represented last year at the inaugural Gen Y case forum at the auto show. That group's stellar presentation led to a second-year invite.
"The industry's response to the students' recommendations was tremendous," Ed Vela, a Deloitte Services LP senior manager, wrote recently about the program. "This year, as our country begins its economic recovery, we have asked students again to analyze and provide insight on a variety of car buying topics."
Walsh said the team conducted its analysis of winning and losing approaches to brand loyalty using exclusive survey data provided by Deloitte, as well as an independent survey conducted by Smith's class and interviews with Generation Y consumers about their auto-buying experiences.
Beyond the case presentations, the weekend includes meetings and a dinner with Deloitte and auto industry executives, and a tour of the auto show. In addition to the Carroll School, other MBA programs participating are Clemson, Michigan State and the University of Southern California.
For more information, contact Ed Hayward in the Office of News & Public Affairs at ed.hayward@bc.edu.

# # #