Carroll School of Management Ranked Among Top 10 in U.S. by Bloomberg/BusinessWeek Survey
CHESTNUT HILL, MA (March 5, 2010) – Boston College's Carroll School of Management is among the 10 best undergraduate business programs in the U.S., according to Bloomberg BusinessWeek's Top Undergraduate Business Programs 2010 rankings, which were released today.
The Carroll School, which enrolls approximately 2,000 students, climbed to ninth among U.S. business schools, up from 17th place last year. The school earned high marks from students for the quality of its teaching, facilities and resources within Fulton Hall and career placement services, according to the rankings.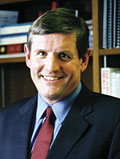 Carroll School Dean
Andy Boynton
"The Bloomberg BusinessWeek ranking, as well as other high rankings we've received, indicate that the Carroll School is getting stronger and stronger each year," said Carroll School Dean Andy Boynton. "It's a credit to our undergraduate students, the school's superb faculty and a dedicated staff. We're honored to be considered among the best business schools in the U.S. and among the best in the world."
The Bloomberg BusinessWeek rankings are based on measures of student satisfaction, post-graduation outcomes, and academic quality. Nearly 88,000 graduating seniors at more than 140 universities received a 50-question survey focused on topics ranging from the quality of teaching to recreational facilities. The 2010 responses were then combined with marks from the 2008 and 2009 surveys to determine the current rankings.
"We're very pleased to receive this kind of confirmation of the work we do to make our undergraduate program a great academic and personal experience for our students," said Richard Keeley, associate dean for undergraduate programs at the Carroll School. "We have a great faculty and great students. From the first class they take right on through to the guidance and support they receive from our career center, we strive to create a management education that prepares our students for their careers and for life."
The Carroll School's excellence in undergraduate and graduate business education has been recognized in numerous surveys. Most recently, the Financial Times ranked the Carroll School's full-time MBA program among the 50 best in the world.
The Carroll School of Management, which offers six degree programs and features eight research centers, provides undergraduate and graduate management education attuned to the needs of today's business world. Aligned with the philosophy of Boston College, the Carroll School develops leaders and managers who bring an ethical perspective to business decision making.
For more information about the Carroll School, visit their website. View the Bloomberg BusinessWeek rankings here.
--Ed Hayward, Boston College, Office of News & Public Affairs, ed.hayward@bc.edu.