Michael Bourque Named Vice President,Information Technology at Boston College
CHESTNUT HILL, MA (1-05-10) -- Michael J. Bourque, associate vice president for information technology, applications and systems at Boston College, has been named vice president, information technology. He succeeds Marian G. Moore, who announced her retirement in the fall.
Bourque, an accomplished IT professional and respected member of the University's Information Technology Services division, brings 25 years of experience in higher education and industry to the position, including seven years at Boston College.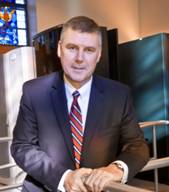 Michael Bourque
(Photo by Lee Pellegrini)
During his five-year tenure as associate vice president, he was credited with transforming the University's applications and systems infrastructure, improving academic computation and student service systems and developing processes to support significant increases in computing capacity and storage. He also oversaw the successful relocation of the University's data center to St. Clement's Hall.
"Michael distinguished himself as associate vice president and demonstrated that he has the knowledge, experience and proven track record to continue the momentum that has defined ITS under Marian's tenure," said Executive Vice President Patrick Keating. "He has great energy and vision and is respected by those who have worked for and with him. We look forward to his leadership in helping to bring ITS to the next level."
Bourque said he was excited to assume the position and to build upon ITS's strengths and successes. "I am honored to be named vice president and I look forward to working with the ITS team to provide technology excellence in service to the University's research, teaching and learning missions, and to further develop partnerships that contribute to innovative and reliable services that empower faculty, staff and students."
Prior to joining BC's ITS team as executive director of information technology in 2003, Bourque served as vice president of business systems at Parametric Technology Corporation in Needham. He also worked at Raytheon Company in Lexington from 1984-1999, rising from a technical support analyst to the corporate director of applications and project support.
Bourque holds a bachelor's degree from Merrimack College and a master's degree from the University of Iowa. He is a resident of Wakefield, Mass., where he serves on the board of trustees for the town library and coaches youth sports.
###