BC Junior Attends UN Climate Change Conference
campus sustainability advocate elizabeth barthelmes is student delegate to copenhagen event, representing the non-profit group 'climate registry'


CHESTNUT HILL, MA (12-16-09) - "A defining moment in history" faces world leaders, United Nations Secretary-General Ban Ki-moon said as the U.N. conference on climate change commenced its high-level stage this week - and Boston College junior Elizabeth Barthelmes has a front-row seat.

A philosophy major with a minor in environmental studies, Barthelmes departed for the conference - its formal title is the United Nations Framework Convention on Climate Change - last Saturday and is due to return this weekend.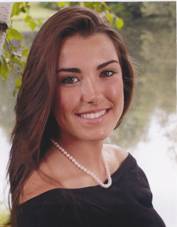 Elizabeth Barthelmes
Interviewed before her trip, Barthelmes said she looked forward to hearing talks by world leaders, including President Obama, as well as scientists, environmental advocates and experts on how nations individually and collectively should achieve the goals of the convention, which was formed more than a decade ago to address the effects of global warming.

She also was to be part of a group having dinner with California Governor Arnold Schwarzenegger to discuss his views on climate change.

"I'm very excited and grateful to have this opportunity," said Barthelmes, who is attending the summit as student delegate with the Climate Registry, a North American nonprofit that sets standards to calculate, verify and publicly report greenhouse gas emissions. "It's a chance to see history being made, of course. But more importantly, it's a way to gain insight into the issues countries face on climate change, and the decision-making process for the agreements reached at the convention."

The U.N. event began in the midst of controversy, with the recent disclosure of confidential materials from British researchers prompting skeptics of global warming — especially those who dispute that man is largely responsible for the change — to question the validity of climate change data. Scientists disputing this view say the overall body of evidence strongly supports a trend toward global warming.

Some commentators and observers also expressed doubts that the convention would reach any kind of meaningful consensus, or said the agreements might prove to be an economic burden for many countries.

But Barthelmes was upbeat. "Even with the hesitancy of the United States to present a physical treaty at the convention, I think that Copenhagen should ultimately be a success where they will plan and progress to forming that stronger treaty the world is looking for. The legislation that comes out of these conferences will not only assist in decreasing carbon emissions, but will help a number of other health, economic, and security issues that are tied to the well being of the environment."

The so-called "Climategate" scandal and the skeptical views on climate change that have been given media attention, she added, "are largely a product of the corporations in carbon-emitting industries that pay to support the minute opposition. That these [documents] appeared just before the start of the world's convention on climate change is too ironic for them to be of any credibility, and words can be construed. Corporations and skeptics need to instead embrace this shift in our industrial habits, and look to be the innovators that provide the solutions instead of those holding the world back."

A native of Beverly, Mass., Barthelmes is active in several organizations promoting environmentalism and sustainability, including the Boston College groups Ecopledge and Sustain BC, as well as Massachusetts Power Shift. She also works with BC's Office of Sustainability and Energy Management.

In addition, Barthelmes has started a blog on environmental and sustainability-related matters, [thecollegegreen.tumblr.com/], which she hopes to update during her visit to the conference.
--Sean Smith can be reached at smthsen@bc.edu