BC Digitizes Massive Collection of N. Ireland Photos
archive holds some 50,000 images taken during, after 'the troubles'in northern ireland by award-winning photographer bobbie hanvey


CHESTNUT HILL, MA (11-18-09) - The John J. Burns Library of Rare Books and Special Collections at Boston College has announced that a massive collection of photographs documenting personalities and life in Northern Ireland during and after "The Troubles" - taken by prominent Northern Ireland photographer, writer and musician Bobbie Hanvey - will be digitized.
"This online collection will provide global access to researchers and others to a tremendous and unique resource - a truly stunning visual chronicle of this period in Northern Ireland's history," said Burns Library Director Robert O'Neill.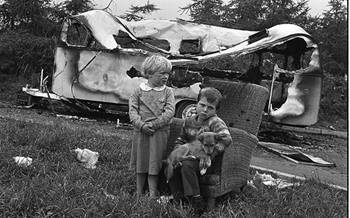 RIGHT: Two children sitting in an old armchair with their dog in front of a burnt-out caravan -their home, allegedly burnt by a fire started maliciously by local area residents - Flying Horse Road, Downpatrick, mid-1980s / Bobbie Hanvey, photographer.
Burns Library is the primary repository of unpublished work by Bobbie Hanvey, the award-winning photographer who has recorded people and life in Northern Ireland since the 1970s. The Hanvey Archives at BC are significant, comprised of more than 50,000 photographs, including portraits of writers, artists, journalists, politicians, playwrights and poets, as well as photojournalistic shots of bombs and violence in Northern Ireland. The collection includes arresting images of Unionist firebrand Rev. Ian Paisley haranguing a crowd, over 1,000 photographs of Nobel Laureate poet Seamus Heaney, and a wealth of depictions of average people, from soldiers to chimney sweeps, going about their daily lives.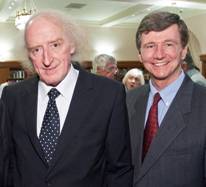 In fact, said O'Neill, "In many ways, the images that are most compelling are those of life in general, of people living life the best they could under what often were difficult circumstances."
LEFT: Bobbie Hanvey, left, with BC's Burns Library Director Robert O'Neill at a reception to launch the collection. (Photo by Gary Wayne Gilbert)
The collection will be available in stages - approximately 4,000 photographs already have been digitized - at www.bc.edu/bobbiehanvey.

In addition, selected images have been posted to Flickr at www.flickr.com/bc-burnslibrary.
Born in 1945, Bobbie Hanvey is a popular Northern Ireland personality as well as an award-winning photographer - three time winner of the Northern Ireland Provincial Press Photographer of the Year Award and twice winner of the Northern Ireland overall award for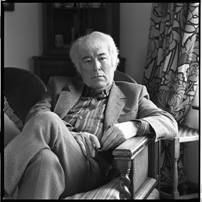 "Best People Picture." His work has been exhibited widely throughout Ireland, Britain and North America, and has been showcased in several books. He also is the long-time host of "The Ramblin' Man," a radio program featuring writers, politicians, soldiers and other guests from all walks of life.


RIGHT: Portrait of poet Seamus Heaney, taken shortly after he won the 1995 Nobel Prize / Bobbie Hanvey, photographer, 1996.

The Bobbie Hanvey Photographic Archives, first acquired by Boston College in 2002 and still growing, are part of Burns Library's celebrated Irish Collection, considered to be the premier, most comprehensive collection of Irish research material in the United States. The collection documents the history, life and culture of the Irish people, and maintains strong holdings in Irish history, religion and politics, as well as significant collections related to some of Ireland's greatest writers, including one of the world's finest collections related to Nobel Laureates William Butler Yeats, Samuel Beckett, and George Bernard Shaw.
The John J. Burns Library of Rare Books and Special Collections at Boston College is named in memory of the Honorable John J. Burns, a 1921 BC alumnus who was one of its principal benefactors. It houses more than 250,000 volumes, 16 million manuscripts and impressive holdings of artifacts, maps, paintings, photographs, ephemera and architectural records.
For more information, contact Patricia Delaney at the Boston College Office of News & Public Affairs at delaneyp@bc.edu. For library hours and directions, visit www.bc.edu/burns or call 617-552-3282.