Transforming Light: The Stained-Glass Windows of Boston College
essays by virginia chieffo raguin, photographs by gary wayne gilbert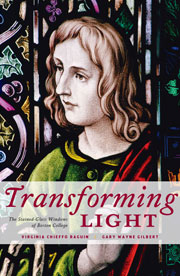 © 2009 Boston College
ISBN: 9780-9816416-3-8
162 pages | $85.00

Available at the
Boston College Bookstore.
Boston College possesses a series of marvelous glazing installations, the work of four masterful and stylistically distinct stained-glass artists: Earl Edward Sanborn, Richard King, Thomas Murphy, and Alexander Locke. Each set of windows is beautiful in its own right, and together they comprise an aesthetic treasure.
With these words, art historian Virginia Raguin opens her reflections on the stained-glass riches contained in three of the original Boston College campus buildings, designed by the esteemed Boston architectural firm Maginnis and Walsh in Collegiate Gothic style and constructed between 1913 and 1928. Illuminating essays by Raguin, a leading authority on the history of stained glass, accompany more than 120 pages of full-color reproductions of the windows, as captured by award-winning photographer Gary Wayne Gilbert.
In an introductory essay, Boston College Professor of Fine Arts Jeffery Howe describes the Maginnis and Walsh master plan for the campus and locates the four completed buildings from that plan—Gasson Hall, Devlin Hall, St. Mary's Chapel, and Bapst Library—within the historical context of campus architecture in general and the Collegiate Gothic style in particular. Raguin explicates the origins, techniques, and history of stained glass and heightens our understanding of its relation to architecture. Transforming Light also offers a wealth of information about the windows and the artists who created them, and is a guide to the symbols, stories, and persons depicted in the glass.
All told, Transforming Light is profoundly satisfying, both as a visual delight and as an opportunity to partake of Boston College's vital aesthetic heritage.
The Essayist
Virginia Chieffo Raguin, professor of art history at the College of the Holy Cross, Worcester, Massachusetts, is one of the foremost experts in the United States on the subject of stained glass. A member of the International Corpus Vitrearum, she received her Ph.D. from Yale University and is the author of the authoritative Stained Glass: From Its Origins to the Present (Abrams; Thames & Hudson, 2003) and many other publications.
The Photographer
Gary Wayne Gilbert, an award-winning fine art and commercial photographer, is director of photography in the Office of Marketing Communications at Boston College and photo editor of Boston College Magazine. A graduate of the Rhode Island School of Design, his clients include corporations, universities, museums, and magazines. His photographs have been recognized with Awards of Excellence by the Council for the Advancement and Support of Education and featured in Communication Arts magazine.
The Contributor
Jeffery Howe, professor of fine arts and art history at Boston College, specializes in nineteenth and early twentieth-century European art and American architecture. He received his Ph.D. from Northwestern University and is the author of Houses of Worship: An Identification Guide to the History and Style of American Religious Architecture (Thunder Bay Press, 2003) and The Houses We Live In: An Identification Guide to the History and Style of American Domestic Architecture (Thunder Bay Press, 2002), among other publications.