Echoes of a University Presidency
excerpts
On Athletics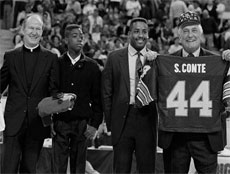 Dedication of Conte Forum (1989)
There are universities that are embarrassed about their athletic programs—either because the magnitude of their commitment distorts public understanding of their academic ambitions, or still worse, because they fear that the energies needed to fuel their programs actually run counter to the educational goals they publicly profess. Any university with a major varsity intercollegiate program must periodically test whether any worries it may have from these quarters are legitimate. What is not legitimate for a university is to question its commitment to athletics and other physical forms of recreation simply because they are physical.

Dedication of Flynn Rec Plex, October 14, 1979
On Liberal Education
I would assert quite simply that the final test of the civilizing process that is liberal education is to be found more accurately in the quality of choices one makes during life than in evidence of purely intellectual attainments. The specific purpose of such a liberal education should be to enable persons, to the extent that formal education can do so, to make sound human decisions affecting both personal lives and social policies.
To cast the same thought in another form, Gabriel Marcel says that the basic problem of reality is not that of being and nothingness—but of the empty and the full, of richness and impoverishment. The critical test of human fulfillment and of liberal education is of the same order: It is no mere question of speculative knowing or not knowing; It is a question of richness or emptiness of life that are the direct fruits of free decisions more than of our knowledge.

Remarks to higher-education conference, June 2, 1975
On the Identity of Catholic Higher Education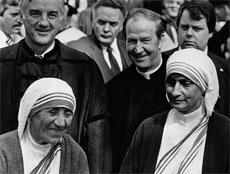 Blessed Mother Teresa of Calcutta and companion with fellow honoree J. Donald Monan, S.J., and Harvard President Derek Bok (Harvard Commencement, 1982)
Thirty years ago, those of us who witnessed the staggering investment state governments were devoting to campus facilities, to faculties and programs, believed that the maintenance of our academic standing within the higher educational community was a nearly insurmountable task. By and large, no one today questions whether Catholic colleges and universities are stronger today than ever in their past—academically, managerially, in research capability, in the quality of faculties and graduates. Their question, rather, is whether professional excellence has taken place at the expense of Catholic character and identity. Further struck by the declining number of religious and priests available and by the independence of university governance from ecclesiastical jurisdiction, friends ask not whether Georgetown or St. Louis University will continue to exist, but whether they will continue to be Catholic—and how Catholic. Of greater concern still are the occasional ecclesiastical disavowals of any interest in how strong a university is ("we don't need another Harvard") over against an interest only in how "Catholic" it is.
The regrettable implication here is that there is a radical dualism at work in Catholic universities—the one element constituting the professionally academic and managerial excellence of the institution, the other its Catholic character. This latter, its Catholic character, becomes spontaneously identified with a specific department (theology) or function (chaplaincy) or even personage (priest-president) in the university. This dualistic view creates a special vulnerability in our institutions, because it provides no role in shaping the distinctively Catholic character of the university to the large majority of our faculty, and especially of our non-Catholic faculty, in their fundamental commitment to research, scholarship, and teaching in specialized academic disciplines.

Remarks to assembly of Catholic university leaders, February 4, 1992
On a Life Taken
I am sure that for all of you the towering profile of this building has already been a prominent figure in your lives, both symbolically and in fact. In the late afternoon shadow of this tower on your very first day on campus, we gathered on the Bapst lawn with high hopes and expectancy for the years beginning; four years later, in the bright sunshine after Baccalaureate Mass the class celebrated with their parents on O'Neill Plaza the joy and achievement of graduation on the following day. Tonight I am sure you turned your steps toward the tower building with sentiments far different from those of your student days. A few short weeks ago Shannon's young life was snuffed out in a hail of bullets. Those of you who knew her well and those who did not, lost more than a classmate who shared the same educational experiences as you in growing to adulthood. In those few chaotic moments that tragically struck one of your friends, your own life lost some of its own confident predictability.

Funeral Mass (January 23, 1995) for Shannon Lowney, killed in an attack on a women's clinic where she worked as a receptionist
On a Great Son of Boston College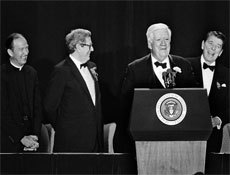 President J. Donald Monan, S.J., Prime Minister Garrett FitzGerald, Speaker O'Neill, President Reagan (O'Neill Dinner, Washington, D.C., March 17, 1986)
Despite all their importance, Boston College's paradigm academic building will not be named for a professorial scholar or an ecclesiastical figure or an imaginative dean. Instead, it will be named for a former student who, for 48 years, has exercised leadership in public service to people of every social station, of high estate and low, persons of power and of incredible fragility, among the world's most cultured nations, and among those for whom a simple school or simple meal are beyond their horizon.
Hundreds of literary portraits of Speaker O'Neill have appeared in books and journals and news media for the world's reading. The name inscribed in the granite of the Thomas P. O'Neill Jr. Library is addressed to our students and to students of all ages everywhere. Among our more than 85,000 Boston College graduates, Thomas P. O'Neill has risen to the highest position of public service in our nation. But it is the manner in which he has exercised that leadership that is more the reason for our admiration and affection than is the degree of his prominence. In an era where the needs and problems of the human family are measured in anonymous millions and their solutions expressed only in statistical equations, Speaker O'Neill has always seen those needs in a single human face. Those of us who have lived through the decades since the '30s of dramatic change in the strength of family ties, in challenges to religious convictions, in the crises of wars and threats to peace, in the strains of civil strife and betrayal of government leadership—those of us who have lived through these changes realize that Speaker O'Neill's legendary sense of loyalty is no dull or wooden conformity. It has been a creative fidelity to values pledged in his youth that he kept relevant to a world in constant change by dint of effort and imagination and personal sacrifice.

Dedication of Thomas P. O'Neill Jr. Library, October 14, 1984