Boston College A to Z: The Spirit of the Heights
by thomas h. o'connor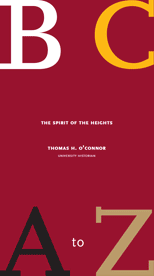 © 2011 Boston College
78 pages | electronic download

An e-book published by Linden Lane press.


Download PDF
From the Preface by Thomas O'Connor
One of the many pleasures I have enjoyed during the 10 years I have served as University historian at Boston College has been the opportunity to see the University through a much broader and more complex lens than from the singular confines of my previous happy home in the history department. Moving around the campus, speaking with students, faculty members, and administrators, I came to learn things about Boston College I did not know. I rediscovered events I had forgotten, heard stories that shed light on episodes in the past, and recalled aspects of campus life that were part of my own college career.
It is my hope that readers come away from this book feeling that Boston College is an exceptional place where amusing things happen, where important events are taken seriously, where the best of the future has been combined with the best of the past, and where memories of Linden Lane, Gasson Tower, the Golden Eagle, and the sound of the bells chiming the hours of the day are among recollections, large and small, that give this University a very special place in our hearts.
Every family has someone–an aunt, an older brother–who is the keeper of a family lore. For Boston College, that person is Thomas O'Connor, dean of Boston historians. "Why the Dustbowl? An Eagle? Where is Ford Tower? What is this AMDG?" For answers to these questions, many others, and for BC lore galore, you will want to read Professor O'Connor's Boston College A to Z: The Spirit of the Heights.
—William B. Neenan, S.J.,
Vice President and Special Assistant to the President, Boston College
About the Author
Thomas H. O'Connor is University historian of Boston College and a native of South Boston. His previous books include Civil War Boston (1997); Boston Catholics (1998); The Athens of America: Boston, 1825–1845 (2006); and Ascending the Heights: A Brief History of Boston College (2008). He received undergraduate and graduate degrees from Boston College and his Ph.D. from Boston University. He began teaching in 1950 at Boston College, and is now a professor of history emeritus. He lives in Milton, Massachusetts.
Please note: This file is an Adobe Acrobat® (PDF) formatted file. To view it, you will need to download the free Adobe Acrobat file reader.