Ascending the Heights
by thomas h. o'connor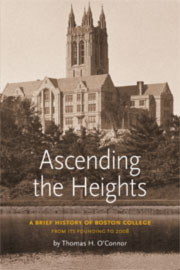 © 2008 Boston College,
second edition in 2009
ISBN:978-0-9816416-0-7
92 pages | $10.95

Available at the
Boston College Bookstore.
In this concise and highly readable work, Thomas O'Connor tells the extraordinary story of Boston College. He takes us back to the beginnings of this institution as a small "streetcar" college in the South End of Boston, founded to educate the children of Irish immigrants, and he traces the transformation of Boston College into a major national university. Along the way, O'Connor candidly brings to light the University's achievements and struggles in the face of religious bigotry in its early days and financial near-ruin at more than one critical turn. And, he chronicles Boston College's unfading quest to achieve the highest standards of academic excellence in both teaching and research. Finally, O'Connor writes about the fresh challenges Boston College has now taken upon itself—to become the preeminent center of liberal arts learning in the United States and the leading Catholic university in the world.
Ascending the Heights is the inspiring story of Boston College, written with an eye to the celebratory year of 2013—the centennial of the University's arrival in Chestnut Hill and the sesquicentennial of what is now a thriving international Jesuit center of learning. A perfect graduation gift, a vade mecum for a first-year student, or a refresher for the Golden Eagle.
—William B. Neenan, S.J.,
Vice President and Special Assistant to the President, Boston College
About the Author
Thomas H. O'Connor is University Historian of Boston College and a native of South Boston whose previous books include Boston Catholics (1998) and The Athens of America: Boston, 1825-1845 (2006). Known in academic circles as "the dean of Boston historians," he received undergraduate and graduate degrees from Boston College and his Ph.D. from Boston University. He began teaching at Boston College in 1950 and lives in Milton, Massachusetts.