Sample Virus Warnings
Hackers, spammers, identity thieves, and other cyber predators are becoming increasingly sophisticated. Their latest ploy is to exploit your desire to do the right thing. These viruses are disguised to look like virus warnings, but when you click on a warning, it actually infects your computer.
Learn how to identify real virus alerts, and what to do if you see a fake one below. When in doubt as to the authenticity of a virus warning, call the Help Center for guidance 617-552-HELP (4357).
The following are examples of what a real virus warning from McAfee Anti-virus (Windows) and Sophos Anti-virus (Mac) would look like.
Real McAfee Anti-Virus Virus Warning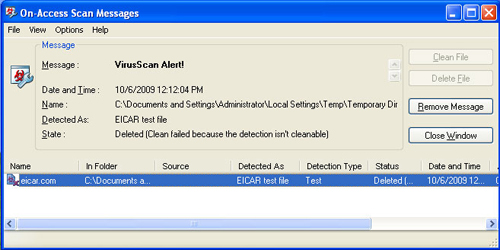 Real Sophos Anti-Virus Virus Warning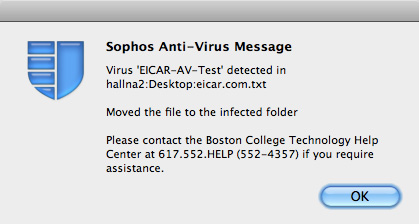 Virus warnings that look different from the ones shown above are fake and may contain a virus. If you see a fake virus warning:
Do NOT click anywhere in the fake alert.
Do NOT try to close the alert by clicking 'X' in the alert window.
Save any files you are working on then, shutdown the computer.
If you cannot save files because you are unable to click anywhere except inside the fake virus warning, turn off your computer without saving your work.
Once your computer has been powered off, it is safe to turn it on again and continue working.
If your computer does become infected with a virus as the result of a fake virus warning, contact your TC (faculty and staff only) or call the Help Center at 617-552-HELP (4357) for assistance removing the virus from your computer.