Allston/Brighton Resident Rec Plex Summer Program
Boston College is happy to host thirty (30) Brighton residents per day at the Flynn Recreation Complex during the summer months (June 25, 2018-August 10, 2018). We will be continuing our measures to ensure a safe and enjoyable summer for all who use the facilities, and we appreciate your special attention to the following guidelines:
All Allston/Brighton residents must register at the Office of Governmental and Community Affairs, located at 116 College Road, Chestnut Hill, starting Monday, June 11, 2018 and ending Wednesday, June 13, 2018. Residents may register between the hours of 10 a.m. and 1 p.m. Residents must bring the following items to register:


Picture ID
Utility Bill as proof of residency

A pass will be issued which will include the name, address, and emergency contact information. There will be no entrance to the Recreation Complex without this pass. Also, another form of ID with a photo may be required.
Residents will not be allowed to bring guests that are not registered in the program.
In order to allow more people the opportunity to use the facility, Allston/Brighton residents may register only twice per week.
Names will be taken the day before the visit is to take place.
Allston/Brighton residents must bring their individual IDs each time they use the Rec Plex. Due to insurance liability, children under the age of 14 must be accompanied by a person 16 years of age or over. We ask all parents to be sure that there is proper adult supervision for all their children.
Boston College reserves the right to revoke privileges at any time.
This program is only available during June, July and August.
We look forward once more to an enjoyable time for all this summer.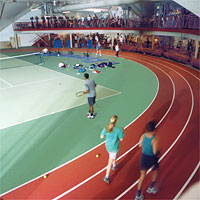 More information about the Plex is available at their website.