Networking Night for BC Alumni in the Arts in NYC
boston college arts council

Making connections and finding opportunities in the arts and entertainment industry can be quite a challenge.
Need some help? Or can you help your fellow BC alums?
The Boston College Arts Council and the BC Alumni Association have put together an opportunity to make it happen. Actors ... meet the producers. Artists ... meet the gallery owners. Writers ... meet the filmmakers. And more! The possibilities for collaboration are endless. And the BC arts community is growing. Join us!
Networking Night for BC Alumni in the Arts
Sunday, February 11, 2007
5:00-7:00 PM
Networking Reception at the Foley Gallery
A contemporary photography gallery
owned by Michael Foley '84
547 W. 27th Street, New York

7:30-9:00 PM
ASSSSCAT 3000 @
Upright Citizens Brigade Theatre
Featuring UCBT founder
and NBC's SNL star, Amy Poehler '93
307 W. 26th Street, New York
All BC alumni working in the performing, visual, and literary arts are welcome.
MAKE THE MOST OF THE OPPORTUNITY!
Bring your business cards and promotional materials from your organizations. There will be a distribution table for you to leave materials and pick up others.
Submit your information to the BC Artist Facebook (see below). These will be distributed at the reception.
Connect with old friends, make new friends, and have a great time!
Event Details:
$30 per person – includes hors d'oeuvres reception with open beer and wine at the Foley Gallery and ticket to UCBT performance.
R.S.V.P. by February 9 to alumnichapters@bc.edu Please make sure to include your full name, year of graduation, as well as the names of any guests attending(please include their BC class year if applicable)
Submit your information to the BC Artist Facebook by February 1 (optional, but encouraged).
Theatre tickets will be distributed at the reception prior to the performance. Please bring your payment in the form of exact cash or a check made payable to the Boston College Alumni Association.

BC Artist Facebook
The "BC Artist Facebook" will help BC alumni working in the arts connect with each other – to renew old friendships, make professional connections, and build the artists' network. [The contact information is intended for professional uses only and must not be used for other reasons. We will not redistribute or share this information with third parties.] The book will be distributed to all participants at the event on February 11. BC artists that cannot make the event, however, but wish to be included, can also submit their information.
To submit to the Facebook: download this form.
To see examples of Facebook submissions: download this form.
For More Information:
alumnichapters@bc.edu or 617-552-4700
Event Sponsorship:
Foley Gallery: Michael Foley '84, owner
Upright Citizens Brigade Theatre: Amy Poehler '93, founder and performer
Boston College Alumni Association, NYC Chapter, R. Michael Wirin '89, President; Jason Moore '03, Co-Leader
Boston College Arts Council: Cathi Ianno Fournier, Project Director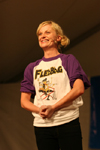 Alumni Award Recipient Amy Poehler '93 performs with My Mother's Fleabag at the 2006 Boston College Arts Festival.