Arts Festival Special Guests 2005
boston college arts council
James Balog '74
Photographer
Recipient of the 3rd Annual Arts Council Award for Distinguished Achievement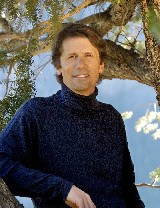 For two decades James Balog has consistently broken new ground in the art of photographing nature. His provocative and powerful images have received international acclaim. He is a contributing editor of National Geographic Adventure and has had his work published repeatedly in numerous magazines including Time, Smithsonian, Audobon, Outside, Stern and Parish-Match. Balog is also the author of six books that have been considered major conceptual advances in nature photography and have received wide acclaim and awards such as the Leica Medal of Excellence. Additionally, his photographs have been exhibited internationally in prominent arts institutions from Greece and Paris to New York and Los Angeles.
TREE: A NEW VISION OF THE AMERICAN FOREST, just published in October 2004 by Barnes & Noble, is Mr. Balog's latest project and the subject of the upcoming exhibition at the McMullen Museum. In TREE, Mr. Balog explores the changing character of the American forest, seeking out superlative trees – the old, the massive, the tall – in whatever landscape they remain. Portraits of these national and state champion trees are captured in thousands of tiny frames as the photographer rappels down a neighboring tree. We also see thoughtful portrayals of trees that have survived by sheer hardiness or luck, poised on the edge of northern wilderness, isolated on a golf course, or pardoned by the mark of a forward-thinking logger. With accompanying essays by Mr. Balog, this awe-inspiring volume truly delivers a new vision of American trees.
Mr. Balog studied biology and communication at BC and has a master's in geology from Colorado University at Boulder. He was influenced by some film classes and a drawing class that he took at BC as well as close friends who were photographers. But his love for photography really grew from wanting to capture his experiences on the mountains – he is an avid mountain climber. He is a self-taught photographer, finding his niche as a journalist and photographer of animals and nature. He believes that "science and art are inextricably connected" and strives to explore this through his lens.
James Balog will attend The Boston College Arts Festival, April 28-30, 2005 to receive his award and will also offer a lecture about the TREE project, participate in a career-related program called Inside the BC Studio for students exploring a career in photography, and be featured at an exhibition reception in celebration of the exhibit in the McMullen Museum. The TREE exhibition will run from April 14 through July 12, 2005.
Visit James Balog's official website to view his work.