Free State Art: Judging Ireland by its Book Covers
virtual exhibit summer 2004 - burns library
Intro | Original Novels | Short Stories/Folklore | British Authors | Irish Writers | American & European Writers | Conclusion
Conclusion
An Gúm faced many difficulties: the absence of a standard form of spelling, the lack of a codified grammar, rival type fonts, and competing dialects generated disputes and arguments. Poor translations and uninspiring original work also blunted the effect An Gúm hoped to achieve. Máirtín Ó Cadhain, author and political activist, dismissed the An Gúm publications, which he proffered were "as harmless as cement or tractor novels" and argued that the publications "presumed that everything that was to be written in Irish was for children or nuns." Despite adverse criticism An Gúm persevered. Between 1926 and 1964, An Gúm produced 1465 publications: 1108 general literary works, 230 pieces of music and 127 textbooks. ("The Cost of An Gúm," Irish Independent, 24 January 1966. Translation of "Costas an Ghúim" which appeared in Comhar, November, 1965.) The 1950s and 1960s saw the emergence of independent publishing houses which focused on creative writing in Irish. In response An Gúm began to focus increasingly on fiction for children and young adults, most notably thrillers, detective fiction and educational texts.
Foremost among the fiction for young adults were the novels of Cathal Ó Sandair and Micheál D'Andún. Cathal Ó Sándair, one of the most prolific Irish language authors, produced over one hundred novels, many of them westerns featuring cowboys and gun fights. Born in Weston Super Mare, England to an English father and Irish mother, his family moved to Ireland when he was a child. While still a school boy Ó Sandair published a story in the first issue of the magazine Gael Óg in 1938. His first novel appeared in 1943 and featured Réics Carló, the most famous Irish language detective. In addition to the many adventures of Réics Carló, Ó Sándair wrote a series of novels featuring the character Réamonn Óg. The third strand of his fiction centered on school adventures where boys and girls inevitably save the day. Ó Sándair is reputed to have published 160 books and sold more than 500,000 copies.
The institutional history of Irish language publishing in the Irish Free State is largely An Gúm's story. From the mere six Irish language books in print in 1893, An Gúm produced a corpus of varied books. The words and images employed in An Gúm's publications re-enforced the national aim to foster a distinct cultural identity. The original and translated prose works served as visual manifestations of the defined Irish identity. While the 1940s and 1950s would see An Gúm focus more on young adults and textbooks, they would continue to produce translations and original work which foster national culture and identity such as Tadhg Ó Rabhartaigh's novel Thiar i nGleann Ceo, a novel of the Irish War of Independence where the British Officer bears a none too subtle resemble to Adolf Hitler.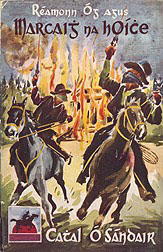 Title: Réamonn Óg agus Marcaigh na hOíche (Réamonn Óg and the Night Riders)
Published: 1957
Author: Cathal Ó Sandair (1922-1996)
Artwork: L.M.S.
Source: Private Collection
---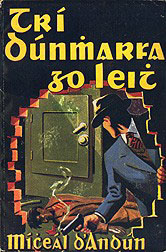 Title: Trí Dúnmharfa go Leith (Three and a half Murders)
Published: 1956
Author: Mícheál D'Andún
Artwork: Unsigned
Source: Private Collection
---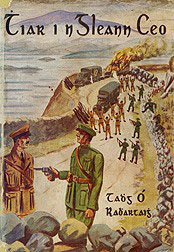 Title: Thiar i nGleann Ceo (Beyond in Misty Valley)
Published: 1953
Author: Tadhg Ó Rabhartaigh (1909-1982)
Artwork: Unsigned
Source: Private Collection
Comment: Ó Rabhartaigh translated Annie M.P. Smithson's novel Her Irish Heritage for An Gúm.