Free State Art: Judging Ireland by its Book Covers
virtual exhibit summer 2004 - burns library
Intro | Original Novels | Short Stories/Folklore | British Authors | Irish Writers | American & European Writers | Conclusion
American and European Writers
---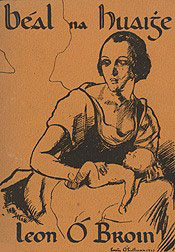 Title: Béal na hUaighe Agus Scéalta Eile (The Mouth of the Grave and Other Stories)
Translator: Leon Ó Broin (1902-1990)
Published: 1927
Artwork: Seán O'Sullivan (1906-1964)
Source: Thomas P. O'Neill Library
Comment: Includes translations of Prosper Mérimée, Émile Souvestre, Alphonse Daudet, Edmond About, Guy de Maupassant, A.S. Pushkin and Jerome K. Jerome.
---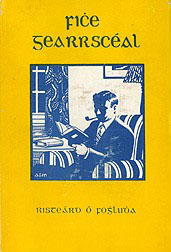 Title: Fiche Gearrscéal (Twenty Short Stories translated from French)
Translator & Editor: Ristéard Ó Foghludha ("Fiachra Éilgeach") (1871-1957)
Published: 1930
Artwork: AÓM
Source: John J. Burns Library
Comment: Includes translations of Gustave Flaubert, Guy de Maupassant, François Coppeé, Alphonse Daudet, Ernest Legouvé, P.J. Stahl and Louise Colet. This cover design acted as a default cover for An Gúm publications. The image of the gentleman reading beneath a lamp appears in a variety of colors on a variety of dust jackets. Ó Foghludha also translated Louis Hémon's Maria Chapdelaine in 1933.
---
Title: Sgairt an Dúthchais (Call of the Wild)
Translator: Niall Ó Domhnaill (1908-1995)
Published: 1932
Author: Jack London (1876-1916)
Original Title: The Call of the Wild (1903)
Artwork: AÓM
Source: John J. Burns Library
Comment: Ó Domhnaill/Ó Dónaill was a novelist and lexicographer. He was Assistant Editor of Foclóir Béarla agus Gaedhilge (1935) and Editor of Foclóir Gaeilge-Béarla, the standard Irish-English dictionary. He wrote Forbairt na Gaeilge, an influential study of the Irish language, in 1951. He also translated G. D. Robert's The Kindred of the Wild as Cineadh an Fhásaigh in 1935.
---
Title: Ben Hur: Scéal fá Chríost (Ben Hur: A Story about Christ)
Translator: Seosamh Mac Grianna (1900-1990)
Published: 1933
Author: Lew Wallace (1827-1905)
Original Title: Ben-Hur, a Tale of the Christ (1927)
Artwork: AÓM
Source: John J. Burns Library
Comment: Mac Grianna was born in Donegal and is considered among the finest Irish language writers of the 20th century. He began translating for An Gúm in 1933. He was a harsh critic of An Gúm and his books suffered delays and censorship. He spent his final years in Letterkenny Mental Asylum. He used the 'Mac' to distinguish him from his brother Séamas Ó Grianna. Mícheál Ó Gríobhtha translated Wallace's novel The Fair God as An Finn-Dia in 1935.
---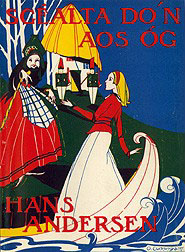 Title: Scéalta don Aos Óg (Stories for the Young)
Translator: Proinsias Ó Brógáin (1905-1997)
Published: 1935
Author: Hans Christian Andersen (1805-1875)
Original Title: Fairy Tales for Children
Source: John J. Burns Library
Comment: Ó Brógáin also translated Rev. T. A. Finlay's novel With the Army of O'Neill as Saighdiúir de Shluagh Uí Néill in 1935 and Sapper's The Island of Terror as Oileán an Uathbhás in 1937.
---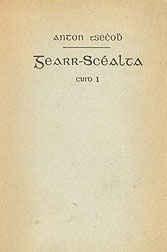 Title: Anton tSechobh: Gearrscéalta, Cuid 1
Translator: Mairgréad Nic Mhaicín/Daisy MacMackin (1899-1983)
Published: n.d.
Author: Anton Checkov (1860-1904)
Original Title: Anton Checkov: Short Stories, Part 1
Source: Private Collection
Comment: Mairgréad Nic Mhaicín was the foremost translator of Russian to Irish. She earned a B.A. in French and Celtic from Queen's University, Belfast, and an M.A. from the Sorbonne. She first visited Russia in 1932 and married Patrick Breslin there in 1935. Having returned to Ireland to give birth to their child in 1938, she was refused re-entry to the USSR and never again saw her husband. She subsequently taught Russian part-time at Trinity College, Dublin.
---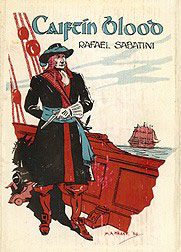 Title: Caiftín Blood
Translator: Séamus Ó Grianna ["Máire"] (1889-1969)
Published: 1937
Author: Rafael Sabatini (1875-1950)
Original Title: Captain Blood: His Odyssey (1922)
Artwork: M.A. Kane '34
Source: John J. Burns Library
Comment: Count John McCormick (1884-1945), the great Irish tenor, studied under Vincenzo Sabatini, Rafael's father. Séamus Ó Grianna, elder brother of Seosamh Mac Grianna qualified as a teacher and wrote abundantly. Pádraig Ó Súilleabháin translated another Sabatini novel in 1936 as Scaramúis.
Intro | Original Novels | Short Stories/Folklore | British Authors | Irish Writers | American & European Writers | Conclusion