Free State Art: Judging Ireland by its Book Covers
virtual exhibit summer 2004 - burns library
Intro | Original Novels | Short Stories/Folklore | British Authors | Irish Writers | American & European Writers | Conclusion
Original Novels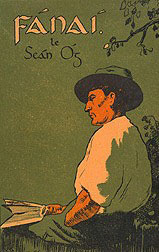 Title: Fánaí (Wanderer)
Author: Seán Óg Ó Caomhánaigh [Seán A' Chóta] (1885-1947)
Published: 1927
Artwork: Seán Ó Súilleabháin/Sean O'Sullivan (1906-1964)
Source: Private Collection
Comment: Published in 1927, this novel was withdrawn due to the portrayal of a rape scene. It was censored and reissued in 1928.
---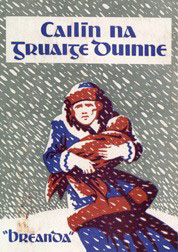 Title: Cailín na Gruaige Duinne (The Brown Haired Girl)
Author: "Brenda" (Úna McClintock Dix) (1880-1958)
Published: 1932
Artwork: Unsigned
Source: Private Collection
Comment: Born Elizabeth Rachel Leech in Dublin, she was educated in Neuchatal, Switzerland and Alexandra College, Dublin. Dix emigrated to Canada where she taught German and English immigrants. On returning to Ireland she met and married Ernest Reginald McClintock Dix, an expert on Irish printing. Dix is one of the few Irish language women authors of the Free State era.
---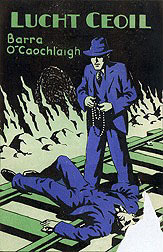 Title: Lucht Ceoil (Music People)
Author: "Barra Ó Caochlaigh" Liam Ó Rinn (1893-1968)
Published: 1932
Artwork: Unsigned
Source: Private Collection
Comment: Lucht Ceoil shared first prize in the 1932 An Gúm competition for best new novel with Seán Ó Ruadháin's Pádhraic Mháire Bháin nó An Gol agus an Gáire (Fair Máire's Pádhraic or The Tear and the Smile).
---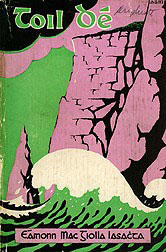 Title: Toil Dé (God's Will)
Author: Éamonn Mac Giolla Iasachta (1887-1986)
Published: 1933
Artwork: AÓM
Source: Private Collection
Comment: Mac Giolla Iasachta/Edward MacLysaght was born on a ship en route to Australia. Educated in England and Ireland, he was imprisoned during the Irish War of Independence. He later became the Chief Genealogical Officer and Keeper of Manuscripts in the National Library of Ireland.
---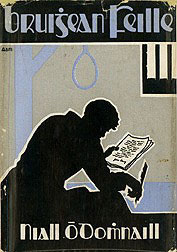 Title: Bruighean Feille (Treacherous Fight)
Author: Niall Ó Domhnaill (1908-1995)
Published: 1934
Artwork: AÓM
Source: Private Collection
Comment: Ó Domhnaill/Ó Dónaill was a novelist and lexicographer. He was Assistant Editor of Foclóir Béarla agus Gaedhilge (1935) and Editor of Foclóir Gaeilge-Béarla, the standard Irish-English dictionary. He wrote Forbairt na Gaeilge, an influential study of the Irish language, in 1951. He also translated G. D. Robert's The Kindred of the Wild as Cineadh an Fhásaigh in 1935.
---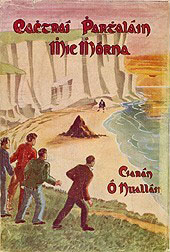 Title: Eachtraí Pharthaláin Mhic Mhórna (The Adventures of Parthalán Mac Mórna)
Author: Ciarán Ó Nualláin (1910-1983)
Published: 1944
Source: Private Collection
Artwork: Unsigned
Comment: Ciarán, brother of Brian Ó Nualláin [Flann O'Brien/Myles na Gopaleen] (1911-1966) wrote two detective novels and Óige An Dearthár (1973), a memoir of his famous brother. He co-founded the Irish language newspaper Inniu and edited the paper for a number of years.
Intro | Original Novels | Short Stories/Folklore | British Authors | Irish Writers | American & European Writers | Conclusion