Free State Art: Judging Ireland by its Book Covers
virtual exhibit summer 2004 - burns library
Intro | Original Novels | Short Stories/Folklore | British Authors | Irish Writers | American & European Writers | Conclusion
The Irish Free State established by the Anglo-Irish Treaty (1921) following the War of Independence (1919-1921) pursued a project of cultural nationalism which among other aims focused on reviving the Irish language. The Cumann na nGaedheal government established An Gúm, the publications branch of the Department of Education (later Oifig an tSoláthair/the State Publishing Agency) in 1925-1926 to supply textbooks and fiction in Irish for the educational and recreation needs of the newly independent Ireland. An Gúm, to fulfil its publishing mandate, cultivated both original authors and translators. In addition to organizing literary competitions for original novels, plays and short stories in Irish such as Mícheál Ó Siochfhradha's collection of short stories Soineann's Doineann, it commissioned translations of European and American authors, such as Iain Áluinn, a 1931 translation of Neil Munro's novel of the Scottish highlands John Splendid (1898). In addition to rendering foreign authors in Irish, An Gúm also translated English language texts by Irish authors such as Mícheál Ó Flainn's translation of Dómhnaill Ó Corcordha/Daniel Corkery's The Threshold of Quiet in 1931 as Log an Chiúinis.
The aims of this display are to preserve these covers, to make them available to a wider audience, and to celebrate the achievements of An Gúm. The visual art of the Irish Free State has received much critical attention and scholars have focused on topics as varied as paintings, sculptures, coins, and stamps. Art critic Brian P. Kennedy notes "The visual evidence of Ireland between 1922 and 1949 can tell us much about the Irish Free State and can enable us to place ourselves more vividly and imaginatively in the history of the period" (Brian P. Kennedy, "The Irish Free State 1922-49: A Visual Perspective," Ireland: Art into History, Dublin, Town House, 1994). In an effort to expand our understanding of the Free State, this virtual exhibition displays dust jackets that accompanied An Gúm publications and reclaims this "lost" art.
This exhibit consists of An Gúm covers recently acquired by the John J. Burns Library of Boston College as a gift from John W. O'Gorman (Class of 1953). The O'Gorman gift includes the library of the Goody Glover Gaelic Society library that promoted Irish language and dancing in Boston in the 1950s and conducted classes at a private house in Joy Street on Beacon Hill. The dust jackets displayed here are from the Irish Collection of the Burns Library and from private collections in the Boston area.
Prepared by Brian Ó Conchubhair. Acknowledgements: Philip O'Leary, Mike Cronin, David Horn, Ed Copenhagen, Ross Shanley-Roberts, Shelley Barber and Mark Esser.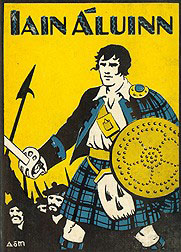 Title: Iain Áluinn (Beautiful Ian)
Translator: Seán Tóibín (1887-1971)
Published: 1936
Author: Neil Munro (1863-1928)
Original Title: John Splendid (1898)
Artwork: AÓM
Source: John J. Burns Library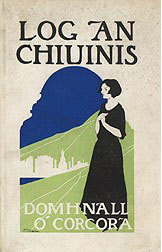 Title: Log an Chiúinis (The Place of Quietness)
Translator: Mícheál Ó Flainn
Published: 1931
Author: Dómhnaill Ó Corcordha/Daniel Corkery (1878-1964)
Original Title: The Threshold of Quiet (1917)
Artwork: Olive Cunningham
Source: John J. Burns Library
Comment: The roman font on the cover appears to have prescribed the use of the diacritic marker on the dust jacket. Note also the spelling of the author's name on the dust jacket as "O' Corcora," but as "Ó Corcordha" on the title page.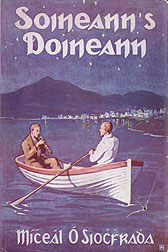 Title: Soineann's Doineann (Fair and Inclement Weather)
Published: 1953
Author: Micheál Ó Siochfhradha (1900-1986)
Artwork: H.E.L.
Source: Private Collection
Comment: Micheál Ó Siochfhradha, brother of Pádraig ["An Seabhac"] trained as a teacher before becoming an inspector and retired as Chief Inspector in 1965. He was a founding member of An Comhar Drámaíochta Theatre Company, and edited two Irish dictionaries.
Intro | Original Novels | Short Stories/Folklore | British Authors | Irish Writers | American & European Writers | Conclusion