Exhibit Highlights
burns library
Boston College and World War Two
Original Exhibit Summer 2003
---
This exhibit examines Boston College during the years of World War II and the immediate postwar period. It profiles the effects of the war upon the campus and curriculum; the lives of students and alumni in the military; Jesuit faculty members who joined the military; and, the postwar war expansion of the College during the administration of President William L. Keleher, S.J.
---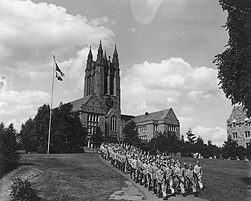 During the 1943-1944 academic school year, Boston College housed and assisted in the training of 400 soldiers enrolled in the Army Specialized Training Program. Here, the soldiers are shown marching towards Alumni Field.
---
Joseph Dever (Class 1942) enlisted in the Army Signal Corps after graduating from Boston College in 1942. He later transferred to the Army-Air Force. Throughout the war, Dever continued his passion for creative writing and published stories in Yank, the Army's weekly magazine. Here is a photograph of Private Joseph Dever at a typewriter.
---
Photograph of Rev. William J. Leonard, S.J. with Bill Graham, the Chaplain's Assistant, with the 9th Ordnance Battalion in Finschhafen, New Guinea. Father Leonard named his jeep "Pater Noster." Father Leonard was one of the nineteen Jesuit Faculty members from Boston College who became military chaplains during World War II.
---
For Further Study: The Burns Library is home to the University Archives. The Archives document the history of Boston College, from its establishment to the present day. Those interested in learning more are encouraged to contact one of the members of the library staff.
---
« back