Exhibit Highlights
burns library
Francis Thompson at Boston College
Original Exhibit Summer 2001
---
This exhibit celebrates the life and work of British Catholic poet Francis Thompson (1859-1907) and the Boston College Library's efforts in acquiring the Francis Thompson Collection. University Librarian Father Terence Connolly, S.J. was a lifelong Thompson scholar and established the Thompson Collection at Boston College with enthusiastic financial support from the Honorable Judge John J. Burns, Mary J. Donnelly and many other contributors. On display are original Thompson manuscripts and letters, photographs, artwork, collections of Thompson's works published both before and after his death, and work by other authors and artists inspired by his poetry. The exhibit is running in conjunction with the recent publication of Dr. Brigid Boardman's The Poems of Francis Thompson (Chestnut Hill, MA: John J. Burns Library, 2001).
---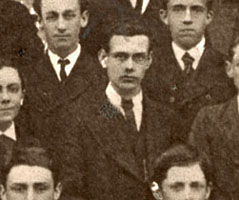 This is a detail from a group portrait of Thompson and his fellow students at St. Cuthbert's College in Ushaw, England. Thompson was schooled here from 1870 to 1877.
---
This is the first page of the original manuscript of Thompson's poem "The Hound of Heaven" published in Merry England (July 1890). This is considered to be the greatest of Francis Thompson's poems. There are more than sixty translations of "The Hound of Heaven" in the Thompson Collection, in languages ranging from Afrikaans to Zulu
---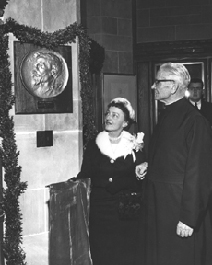 This photograph depicts the 1959 unveiling of the Francis Thompson Centenary Plaque, purchased with funds provided by the Friends of the Boston College Library. Mrs. John J. Burns and Father Terence Connolly, S.J. are standing in front of the plaque. The Centenary Plaque is presently displayed in the Burns Library's Francis Thompson Room.
---
For Further Study: The Burns Library houses an extensive collection of books and manuscript materials relating to the life and work of Francis Thompson. Contact a library staff member for details.
---
« back