Exhibit Highlights
burns library
The Legacy of Sebastian Virdung: Rare Books on Music & Instruments from the Collection of Frederick R. Selch
April 15 through August 15, 2005
---
The exhibit was inspired by German theorist and composer Sebastian Virdung's Musica Getutscht (Basel, 1511), the seminal work on musical instruments. Virdung has the distinction of having produced the earliest printed treatise in the West to deal exclusively with musical instruments in a modern European language. The exhibit is comprised of objects drawn from the private collection of the prominent New York scholar, writer and musician, Frederick R. "Eric" Selch (1930-2002). The focus of Selch's passion was American music and its European sources. This unique collection includes books, prints, paintings, instruments, manuscripts and photographs. The items on display include some of the most important historical evidence of musical technique, theory, and instrument design. In addition, an Irish harp of the leading 19th century Irish harp-maker John Egan (donated by the Selch family) is also on display.
Following its BC run, the exhibit will travel to: Duke University, University of Chicago, and the University of Maryland - College Park. The treasures on display in the Virdung Exhibition are but a small part of the larger Selch Collection. The collection will permanently reside at the University of Maryland, College Park in the Frederick R. Selch Center for the Study of American Music History.
---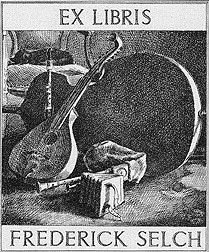 Personal bookplate of Frederick R. Selch. Frederick Selch was a musician, craftsman, collector and entrepreneur. He broke new ground in the study of American music history by collecting and analyzing its material evidence.
---
Engraved frontispiece by B. Picart in Jacques Hotteterre Le-Romain's Principes de la Fluta Traversierre, 1722. This important treatise on the transverse flute also included instructions for the recorder and the oboe. The portrait of the flute player is that of the author.
---
For Further Study: A catalogue of the Selch collection, The Legacy of Sebastian Virdung, is available at the Boston College Bookstore. In addition, the Boston College Library has a variety of materials to support research in the study of the history of music. Interested researchers may view the Overview of the Music Collection.
---
« back