Exhibit Highlights
burns library
Sculptured Lives Helen Hooker, artist (1905–1993), Ernie O'Malley, soldier/writer (1897–1957)
May 6th – July 30th, 2010
To view this exhibit please see the Burns Libray Hours.
This exhibit includes sculptures, paintings, photographs, letters and other documents chronicling the lives of American artist Helen Hooker and her husband, soldier and writer Ernie O'Malley.
---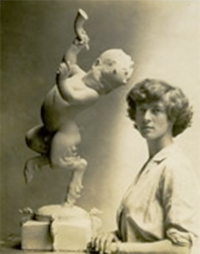 Helen Hooker (left, 1930) was born in 1905 to a very prominent Greenwich, Connecticut family. At an early age she started sculpting and playing tennis with her three sisters. In 1923, when she attained the rank of National Junior Tennis Champion, she decided to pursue a career in art. From 1924 to 1931 she travelled extensively throughout Europe and the USA and established herself as a sculptor in New York City.
Ernie O'Malley was born in 1897 in Castlebar, Co Mayo. While at medical school his nationalist sympathies were aroused during Easter Week, 1916. In 1918-24 Ernie joined the IRA full time, became Commandant-General, went anti-Treaty, was captured and imprisoned. After recovering his health in Europe he showed interest in the arts and travelled to America. In 1928 Eamon de Valera, yet to become president of Ireland, asked him to fundraise in the USA for the Irish Press newspaper. Ernie lived in California, New Mexico, Mexico, and New York.
The couple met in 1933 in Greenwich and were married two years later in London. When Ernie secured an Irish military pension the couple moved to Ireland. In 1937 Ernie published his memoirs, On Another Man's Wound which became an immediate success. The couple left Dublin and moved to the west of Ireland to concentrate on photographing early Christian Ireland. During the war years of 1939-45, they farmed in Co. Mayo before returning to Dublin to educate their three children and participate in theatre. In 1950 the marriage ended and Helen returned to the USA with her two older children. Helen married Richard Roelofs in 1956, and continued her sculpture and photography. Ernie continued to write. He died in 1957.
In 1971 after the death of her second husband, Helen's work as a poet, sculptor and photographer began to flourish. She moved regularly between Greenwich, Dublin and Mayo. In her last twenty years she produced more than half of her life's work, which was featured in several exhibitions. Helen died in her home town of Greenwich in 1993.
This exhibition is made possible by the Consulate General of Ireland New York with the generous support of Glucksman Ireland House at NYU. Exhibition curated by Cormac O'Malley and produced by Turlough McConnell.