Exhibit Highlights
burns library
Pirate Treasures
Original Exhibit October 2008 -January 2009.
An exhibition of historical and fictional works whose theme is piracy, consisting primarily of maps and books from the Nicholas M. Williams Ethnological Collection and supplemented with works from other collections including Fine Print, Jesuitana, and Irish Music Center, as well as the libraries of Flann O'Brien, Hilaire Belloc and Graham Greene.
NOTE: click on the images below to see a larger version.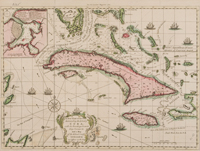 New chart of the seas surrounding the island of Cuba... and a map of
the island itself. 1762.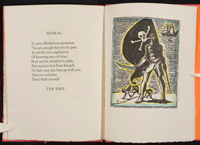 Pages from Kidd: A Moral Opuscule. Verse by Richard J. Walsh, Illustration by George Illian. 1922.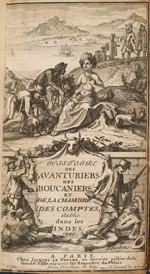 Title page of A. O. Exquemelin's Histoire des Adventuries Filibustiers, qui sont Signalez dans les Indes. 1699.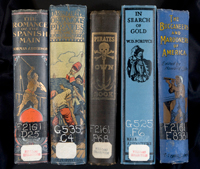 Selection of spines of books from the Nicholas M. Williams Collection at the John J. Burns Library.