Exhibit Highlights
burns library
Boston College Campuses: Some Scenes from the Past
Original Exhibit Summer 1997
---
This exhibit introduces viewers to the grounds and buildings occupied by Boston College since the middle years of the nineteenth century. Its purpose is to offer a brief overview of campus changes and to stimulate interest in the general history of the University.
---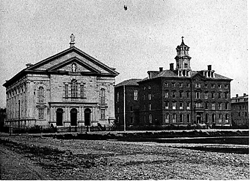 In 1857 Rev. John McElroy, SJ, purchased a plot of land on Harrison Avenue in Boston's South End. Less than a year later, in April of 1858, ground was broken for the construction of a church and a college building. Adjacent land was acquired, and in 1863 Boston College received its official charter from the State of Massachusetts. From the date of its founding until 1913, the Harrison Avenue site served as the campus for Boston College. Buildings included the Church of the Immaculate Conception (at left), which was made of white New Hampshire granite, and the main building, constructed from red brick.
---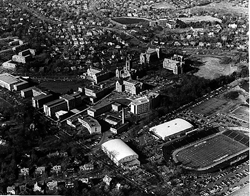 Boston College experienced steady growth during the first years of its existence. By the early twentieth century, a new site for the school was being considered. Rev. Thomas I. Gasson, SJ, the 13th president and "second founder" of Boston College, oversaw the transfer of the University from the South End to suburban Chestnut Hill. The architectural firm of Maginnis and Walsh designed a campus plan which featured the English Collegiate Gothic style . The Tower Building, later known as Gasson Hall, was the first structure to appear. At left is a picture which shows the first four buildings at Chestnut Hill; this is what Boston College's main campus looked like from 1928 to the late 1940s.
---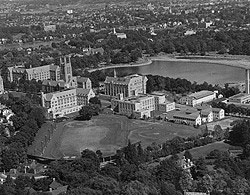 In the decades following the end of World War II, Boston College continued to grow and develop. Additions to the Chestnut Hill campus included classroom buildings, athletic facilities, administrative offices, student residences, and cultural centers. Three distinct sections emerged: lower, middle, and upper campus. In addition, the university expanded to other nearby areas, and the Newton campus was created from facilities once occupied by the Newton College of the Sacred Heart. The photograph at left was taken during the early 1970s, and shows the main campus as it existed around the time Rev. J. Donald Monan, SJ, assumed the office of President.
---
For Further Study: Several books and a number of articles have appeared in recent years which deal with the history of Boston College and its campuses. In addition, the University Archives houses many primary sources on this subject. Contact a member of the Burns Library staff for further information.
---
« back