Exhibit Highlights
burns library
Religious Works of Alexis Arapoff
Original Exhibit Winter 2002 (Through March 27, 2002)
---
This exhibit offers a selection of the religious paintings of Alexis Arapoff. Arapoff was a Russian Prince from St. Petersburg. The renowned painter of icons, religious and floral themes fled from the Soviet Union and landed in Paris in 1925. There he met Catherine Green, an American hieress studying at the Sorbonne. They were married and came to the United States in 1930. Arapoff began to paint religious art after his conversion to Catholicism. Although he continued to paint non-religious art, Arapoff devoted most of his energy, after 1934, to master the difficult techniques of employed by the Medieval Russian icon painters. Both his religious and secular work began to reflect that style. Arapoff created artwork of distinctive beauty and created a dynamic synthesis of the medieval tradition combined with the influence of modern art.
---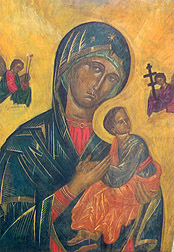 Pictured here is Arapoff's 1946 copy of the famous icon "Our Lady of Perpetual Help." This study was done in Tempera and Gold Leaf on wood panel. Previously, he had received a commission to restore the famous fourteenth century original to its authentic Byzantine Style. The work had been previously "restored" in the Italian style.
---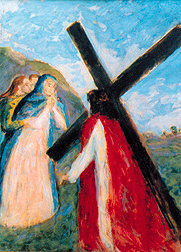 In 1935, Arapoff completed a series of fourteen paintings of the Station's of the Cross. These paintings were done in oil paint on canvas. Pictured here is the fourth station where Jesus bears the burden of the cross and meets his afflicted mother.
---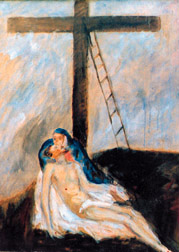 Pictured here is the thirteenth station. Here, Jesus is taken down from the cross and lies lifeless in his mother's arms.
---
A Search for Missing Sacred Paintings: Six Stations of the Cross were given to Boston College by the Boston Public Library. These paintings were hung in various university offices and houses. Unfortunately, these six Stations of the Cross have been missing since the 1980s. Any information regarding the whereabouts of these missing paintings would be greatly appreciated by Alexis Arapoff's daughter, Mary Arapoff. She can be contacted by email at arapoffm@channel1.com.
---
« back