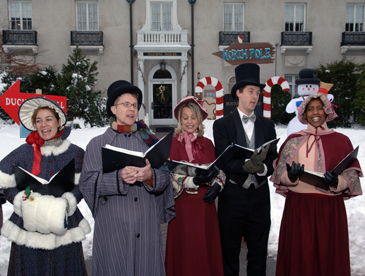 Winter Wonderland—A Magical BC Tradition. The Boston College Alumni Association invites you, your family, and your friends to Winter Wonderland. Festivities include strolling carollers, crafts for kids, photo opportunities with Santa, and horse-drawn carriage rides through Newton Campus.
Join fellow alumni for this special holiday event on Saturday, December 8, from 12:00–4:00 p.m. on Newton Campus. Those attending are encouraged to bring new, unwrapped toys for boys or girls (ages six to 14), which will be donated to a local organization benefiting children. Admission is $15 per family. To RSVP or for more information, contact the Boston College Alumni Association at 617-552-4700 or alumni.comments@bc.edu.
A Story Behind Every Plate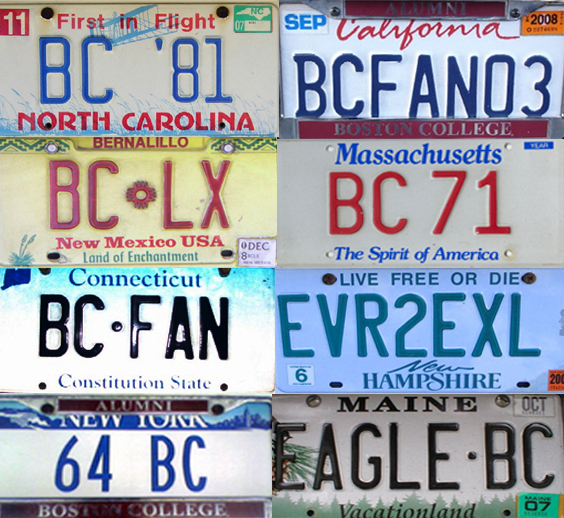 Thank you to the Boston College community for sharing photos of your BC vanity plates and the stories behind them. We received photos from states throughout the country, ranging from California to New Mexico to North Carolina. Read the inspiration behind these fantastic BC vanity plates.


No Humbug Here: Westchester County Chapter Shows Holiday Spirit
Throughout the year, BC's Westchester County Chapter in New York performs community service projects that benefit the Don Bosco Community Center, which assists the underprivileged in the Port Chester area. Chapter members often organize clothing drives, serve food in the soup kitchen, and help refurbish the center's facilities.
This year, the chapter will again cap its yearly service to Don Bosco with a Toys for Tots drive, which will be held during its holiday party on December 6. According to chapter leader Stephen Prostano '79, members usually donate hundreds of toys that are distributed to needier families in the community. "BC fosters such a strong service-oriented environment," says Prostano. "Alumni love to give back to the community and they love to reconnect with one another. That's what this chapter is all about." Read more on the Westchester County Chapter.
View events hosted by your local alumni chapter.
Scholarship Fund Honors Fr. Edward Hanrahan

Edward Hanrahan, SJ
Edward Hanrahan, SJ, an iconic BC figure known affectionately as "Father H.," recently retired as a special assistant in the Office of University Advancement, where he worked for the last 21 years. Previously, Fr. Hanrahan served as dean of students for 22 years.
Alumni may honor him by making a contribution to the Edward J. Hanrahan, SJ, Scholarship Fund. Please make checks payable to Boston College and mail to: Office of University Advancement, 220 More Hall, 140 Commonwealth Avenue, Chestnut Hill, MA 02467. Contributions may also be made online, where donors can designate their gift by entering "the Edward J. Hanrahan, SJ, Scholarship Fund" in the field marked "Other."
Alumni Go Global: El Salvador Immersion
Join fellow BC graduates on a weeklong immersion trip to El Salvador from May 3–9, 2008, marking the third consecutive year that a group of BC alumni will travel to the country. Alumni will have the opportunity to learn firsthand about the cultural, economic, and political realities of El Salvador.
Christine Cole '84 traveled with the BC contingent to El Salvador in January. "The experience continues to, without exaggeration, push me professionally, personally, and spiritually nearly every day," says Cole. "I also found a renewed connection to Boston College after being graduated, and in many ways separated, from the University for 23 years."
For more information, contact Dan Leahy at 617-552-3478 or leahyd@bc.edu.
Alumni in the News

Jim Unis '06, M.Ed.'08
Jack Falvey '60 has written feature articles for Barron's and the Union Leader, a New Hampshire newspaper. Read his article in Barron's published on November 10.
Cynthia Loesch '07 is the youngest president of the Codman Square Neighborhood Council and the new coordinator for FAMILY Inc., a nonprofit social services group. More
Former football player Jim Unis '06, M.Ed.'08, is a second-year assistant football coach and a first-year teacher in the Boston public schools. More
More news stories about alumni
BC Points of Pride:
Student-Athlete Graduation Rate
Last month, Alumni Connections asked BC alumni and friends what made them feel proud of BC. What follows is the reply from a parent of an alumnus.
Although I'm not a Boston College alumnus (my youngest son, Gregory, is a 2004 BC grad), I'm immensely proud of BC for the graduation rate of its student-athletes. Per the most recent NCAA statistics, BC tied for third among NCAA Division I football teams in Graduation Success Rate (GSR), and had 16 teams earn a 100 percent GSR score. Victory on the field of play certainly is a source of pride, with recent victories over Notre Dame and Virginia Tech as prime examples. But the fact that BC's student-athletes graduate from such a high-caliber school at such a high rate is an even greater source of pride. Congratulations to Boston College and its student-athletes for recognizing priorities and achieving important goals!
– James Highberger, P'04
Houston, Texas
Share your story of Boston College pride at uacommunications@bc.edu.
Capital Evening:
Speakers Draw Career-Minded Alumni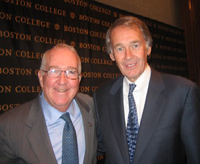 Kenneth Hackett '68 (left) and Edward Markey '68, JD'72
Kenneth Hackett '68, president of Catholic Relief Services, and Massachusetts Congressman Edward Markey '68, JD'72, spoke about their respective careers in service and politics to an alumni audience at the National Press Club in Washington, DC, on October 30.
"Congressman Markey and Ken Hackett complemented each other very well, and both waxed eloquent about what it means to fulfill the expectations of a Jesuit education," says Robert Sherwood, special advisor to the Alumni Association.
The event, which drew more than 150 alumni, was cosponsored by the District of Columbia Chapter and the Alumni Association's Career Services Committee.
Professors and Pastries
Professors and Pastries is a unique event series that brings together BC students and faculty to talk informally about their common interests and their plans and ambitions, whether academic, personal, or professional.
Alumni with expertise in a particular field, such as law, medicine, or social work, are invited to participate in the events, which are hosted by the Academic Advising Center. In fact, alumni play an important role by providing additional career advice to students. If you're interested, please contact the Alumni Association at 800-669-8430 or alumni.comments@bc.edu. For more information, visit the event website.