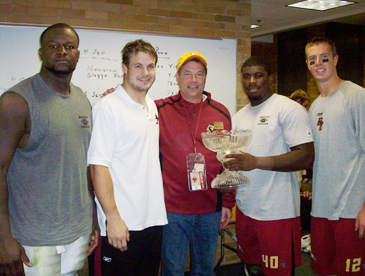 Victory in South Bend. Hundreds of BC alumni made the trek to South Bend, Indiana, on October 13 to watch the Eagles, then-ranked #4 in the nation, take on rival Notre Dame. BC won 27-14 and saw its ranking climb to #2 in the USA Today poll. Pictured above, Kenneth Pierce '79 (center), president of the Boston College Alumni Association, presents the Frank Leahy Trophy, which is awarded to the winner of the BC–ND game until the next matchup. Leahy coached at both universities. Accepting the award are team captains (l-r) Gosder Cherilus '07, MS'08; Nick Larkin '07, MS'10; Jo-Lonn Dunbar '07, MS'08; and Matt Ryan '07, MS'08 in the locker room following the win.
As the Eagles continue to soar in the polls, the national media has also taken notice of the team's stellar graduation rate. Read more.
Alumni in the News

William Vareika '74
Joseph Doria, MA'69, has been named commissioner of the New Jersey Department of Community Affairs. More
William Vareika '74 is celebrating the 20th anniversary of his art gallery, William Vareika Fine Arts, in Newport, Rhode Island. More
Daniel Wholey '81 is seeking the Democratic nomination to represent Pennsylvania's 18th Congressional District. More
More news stories about alumni
Clough Colloquium Hosts New York Times Company Leader

Janet L. Robinson
Janet L. Robinson, president and CEO of The New York Times Company, will speak about her personal journey as a business leader on Thursday, November 1, at 4:00 p.m. The event, held in Robsham Theater, is open to the public.
Sponsored by the Winston Center for Leadership and Ethics, the Clough Colloquium Series recognizes individuals who have made important contributions as ethical leaders in their fields and calls upon them to share their experiences. Previous speakers have included historian and author David McCullough and R. Nicholas Burns '78, undersecretary of state for political affairs.
From the Front Line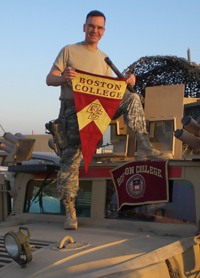 Lieutenant Colonel Brian Cummins '82
At the 7th annual Veterans Mass and Remembrance Ceremony later this month, the Alumni Association will honor all alumni who have served in the U.S. military. As we pay tribute to those who served, our thoughts also turn to alumni on current tours of duty in Iraq, Afghanistan, and elsewhere in the world. With gratitude for their service, we offer one alum's account of being recalled to active duty in Iraq.
Brian Cummins and I were classmates at BC, although our friendship has only now begun, 25 years later. Brian's wife, Patty '81, is a proud BC grad as well, and her parents, Dan '55 and Carolyn Foley '56, and Brian's father, Dan Cummins '58, are among our most loyal alumni volunteers. I've experienced firsthand the level of passion the family has for BC, and I can feel the love they have for each other. Brian and I have become "e-mail pals" since his deployment, and my heart goes out to him each time an e-mail arrives detailing the horrors that he sees, the brief interludes of happiness that generally come from the faces of small Iraqi children with whom he comes into contact, and the inner struggle he has searching for God in a combat zone.
– John Feudo '82, associate vice president for alumni relations
In late November 2006, I received a recall notice from the U.S. Army requesting me to don the uniform again and be part of the troop increase in Iraq. At that point in my life, I was gliding into middle age, with some kids in college (two at BC, another at Emmanuel) and others in high school. There are scores of reasons why the Army's request was an impossible one, but in my heart I couldn't say no.
Read more of Brian's story, and send stories of your service in the armed forces to uacommunications@bc.edu.
November to Remember: Basketball and Hockey Teams Heat Up Conte Forum
Alumni SuperFans can enjoy a full slate of basketball and hockey action this month.
Led by junior guard Tyrese Rice, men's basketball will start the regular season against New Hampshire on November 10, and later this season will host key games against ACC rival North Carolina and perennial power Kansas. Meanwhile, women's basketball will begin play at home against Wright State on November 9, before taking to the road for most of the month.
BC men's hockey, which started the season by finishing third in the Ice Breaker Invitational in St. Paul, Minnesota, will host big home games against Maine and Boston University this month. The women's hockey team's sole November home game is against Northeastern.
Individual and season tickets are available for men's and women's basketball and men's ice hockey. Please visit www.bceagles.com or call 617-552-GOBC for more information.
Do You Haiku? The Envelope Please...
Last month, we asked alumni to submit their best BC-related haiku. We received many great entries, but were finally able to narrow them down. Thank you to those who submitted haiku. The top three, in no particular order, are:
Leaves on Linden Lane,
sun glinting off the eagle, I smile now. I'm home.
– Joseph Ailinger, Jr. '85, MA'90
True to our mission,
our football team embodies
"Ever to Excel."
– Scott Habeeb '91
October thirteenth,
two ministries are opposed—
God shows his favor.
– Doug Keith '95
(BC vs. ND 10/13/2007)
Know Your Network: Alumni Online Community
While the new Alumni Online Community provides many terrific opportunities for alumni to connect, one key way is through the Alumni Career Network. This invaluable service allows students and alumni to contact alumni career advisors, who have volunteered to provide career advice and networking opportunities.
More than 9,500 alumni have signed up as advisors. Have you?
Log in to update your profile today. Or for first-time users, register here.
Spirituality and Remembrance
Annual Alumni Memorial Mass. Members of the Boston College community are invited to attend the Annual Alumni Memorial Mass to honor the memory of all deceased alumni on Sunday, November 4, at 11:00 a.m. in Trinity Chapel on Newton Campus. A reception at Alumni House will immediately follow. To RSVP for the reception, contact Dianne Duffin at 617-552-1171 or duffindi@bc.edu.
7th Annual Veterans Mass and Remembrance Ceremony. All members of the Boston College community are invited to participate in the 7th annual Veterans Mass and Remembrance Ceremony to be held on Veterans Day, Sunday, November 11, at 10 a.m. in Gasson Hall 100.
Advent Day of Recollection. On Saturday, December 1, the Boston College Alumni Association will again hold an Advent Day of Recollection at Alumni House. William McInnes, SJ, '44, MA'51, will direct a program of reflection and discussion from 9:00 a.m–5:00 p.m., concluding with Mass. For more information, contact Carol Quintiliani at 617-552-4753 or quintilc@bc.edu.
Lifelong Learning: A Call for Alumni Teachers
The Boston College Lifelong Learning Institute provides alumni of all ages with classes that examine a variety of subjects from the American Revolutionary War to modern medicine—all structured around peer learning and active participation. New teachers are always needed, and alumni with expertise in a particular field, such as politics, history, or literature, are invited to apply for teaching positions. If you're interested, please contact the Alumni Association at 617-552-4700 or alumni.comments@bc.edu.
BC responds to California Wildfires
In response to the wildfires ravaging Southern California, the BC Alumni Association sent an e-mail to some 2,650 alumni living in the region, offering them the opportunity to apprise the alumni community of their whereabouts. Pertinent e-mail responses are being posted here. E-mail your postings to uacommunications@bc.edu. Our thoughts and prayers are with all alumni, parents, and friends affected by this disaster.
Alumni Programs
Career Services
Chapters
Classes / Reunions
Lifelong Learning
Newton College
Travel / Study
Service and Spirituality
Got ideas for programs or services you'd like us to consider? Contact a member of our staff.
Alumni Services
As a Boston College graduate, you are able to take advantage of a whole range of benefits, including discounted auto insurance, life insurance, and medical insurance, as well as the BC Rewards Platinum MasterCard.