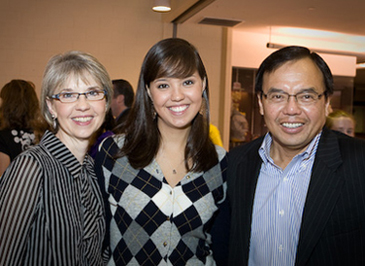 Photograph: Matthew Hakola
Families Unite for Parents' Weekend. More than 1,500 families weathered a rainy fall weekend in Chestnut Hill to celebrate Parents' Weekend on the Heights. While the rain didn't relent, neither did the excitement on campus. Among the weekend highlights, the Boston Pops Orchestra and guest soloist Brian Stokes Mitchell played to a full house in Conte Forum, and the BC Eagles shut out the Rhode Island Rams 42-0 in Alumni Stadium. Pictured above, Cecily Delapena '11 was joined on campus by her parents, Deanne and Wilfredo.
New Alumni Application for Facebook

Do you want to broaden your Boston College online experience? A new Boston College Alumni Connections application built on the Facebook platform is now available! When you log into Facebook and add the application to your profile, you will gain unlimited access to the following BC Alumni Online Community features and much more:

—updating your directory profile information
—posting your resume
—searching for classmates

To add the application to your profile, visit the home page and select "Add Application." Once you have added the application, you can select the hyperlink, "Link your Facebook account," to link your Facebook record to your BC Alumni Online Community record.
Upcoming Alumni Events
Help Feed the Hungry — October 10
Come join other BC alumni to serve meals to needy families in Lawrence, Massachusetts, at the Cor Unum ("One Heart") Meal Center, which feeds up to 600 people every day. Once a month, a group of alumni give a few hours of service, 4:00–7:00 p.m., to this worthwhile outreach. To volunteer, contact Dianne Duffin at 617-552-1171 or dianne.duffin@bc.edu by October 6.
A Run to Remember: The Welles Remy Crowther 5K — October 25

The late Welles Remy Crowther '99
The 4th annual Welles Remy Crowther Red Bandanna Run will take place on the Heights on Saturday, October 25, at 9:00 a.m. The race honors Welles Remy Crowther '99, an equity trader who gave his life saving others at the World Trade Center on September 11, 2001. Learn more of Welles's story and register.
Fall Tradition: Annual Alumni Memorial Mass — November 2

Boston College will hold its traditional annual Memorial Mass to remember all its deceased alumni and friends on Sunday, November 2, at 11:00 a.m. in Trinity Chapel on the Newton Campus. Immediately following Mass, all are invited to a reception at Alumni House. RSVP to Carol Quintiliani at 617-552-4753 or carol.quintiliani.1@bc.edu.


Veterans Memorial Mass — November 11
The ninth annual Veterans Remembrance Mass and Ceremony will be held on Veterans Day, November 11 at 10:00 a.m. in Gasson 100. The event honors those Boston College veterans who gave their lives in the line of duty. The guest speaker will be General John J. Sheehan '62, USMC (ret). An update on the Boston College Veterans Memorial will follow the Mass and ceremony. The Mass is open to the public, and all are welcome.
Alumni in the News

Jeanette Clough '82
Jeanette Clough '82, president and CEO of Mount Auburn Hospital in Cambridge, Massachusetts, has helped engineer the hospital's financial turnaround. More
Diana Leddy '81, an elementary school teacher in South Strafford, Vermont, was named Vermont's teacher of the year. More
Will McDonough '02 has a unique working relationship with New England Patriots quarterback Tom Brady. More
More news stories about alumni
Upcoming Chapter Events
D.C. Networking Night — October 16
The Alumni Association Career Services Committee, in partnership with the Washington, DC, and Baltimore Chapters, is hosting "Perspectives in Today's Media," a networking night for all alumni. 6:30–9:00 p.m., The University Club, Washington, DC. More
Gene DeFilippo in Dallas — October 22

The Alumni Association and the Dallas Chapter cordially invite alumni and friends to a reception featuring Gene DeFilippo, director of athletics. The reception will take place at Trece, 4513 Travis Street, Dallas, 6:00–8:00 p.m. Gene will address alumni at 6:30 p.m. Voted "Best Mexican Restaurant" by the Dallas Observer, Trece is made available through the courtesy of Paul Fulchino '69. RSVP by Thursday, October 16, to alumnichapters@bc.eduor 617-552-4700.
Find out about your chapter's upcoming events.
2009 Travel Study Programs

Several exciting destinations await alumni travelers in 2009, including the Galápagos Islands, Peru, and the Dalmatian Islands. Book now to save on most trips, and get ready to experience the joys of traveling with fellow alumni and friends. Reflecting on their trip in April to Dordogne, France, Jane and Joe Gannon '68, JD'72, P'01, offered, "Our accommodations and meals were excellent and every detail was covered. We applaud all those involved in making our BC alumni experience one to remember and we look forward to attending more in the years to come." Discover more.
Ignatian Family Teach-In for Justice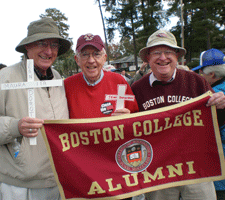 (From left) Rev. Leo Shea, M.M., '60, Bob Hart '60, MSW'62, and John Moynihan '64 represented BC alumni at last year's Teach-In.
Join fellow BC alumni for the Ignatian Family Teach-In for Justice (IFTJ) to be held November 21-23 in Columbus, Georgia. The annual event's goals are trifold: to commemorate the Jesuits and laywomen who were martyred in El Salvador in 1989, to call for an end to unjust institutions, and to reflect on the Jesuit commitment to justice. Each year, dozens of Jesuit high schools and universities as well as many Jesuit parishes are represented. Last year, the Boston College Alumni Association became the first alumni organization to send a delegation.
If you are interested in joining the BC alumni contingent, contact John Moynihan '64 at 617-558-5252 (w), 781-598-8981 (h), or moynihan_john@hotmail.com. For more information, visit the event website.
Volunteers Converge on the Heights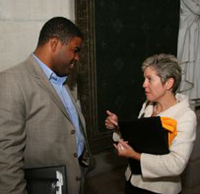 Cory Williams '04 and Sara McCarthy '90 were among the 70 alumni volunteers who participated in the first Volunteer Summit.
More than 70 alumni returned to campus for the first Volunteer Summit on September 19-20. The summit offered alumni volunteers an opportunity to reconnect with one another and build a deeper connection to BC. Highlights included a lunch with Father Leahy; an "insider's look" at today's BC with Jack Dunn, director of Public Affairs; volunteer training sessions; entertainment by Seamus Connolly and friends; and much more.
To become more involved with your alma mater, visit the volunteer website.
Reconnect: AHANA Reunion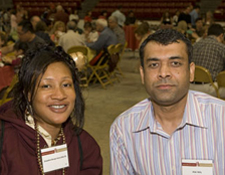 Join alumni and friends such as Jacqueline Renaye Henry-Rafiq '88 and Aftab Rafiq at the AHANA Reunion in July.
Save the dates July 17–19, 2009 for a special weekend on campus to celebrate BC's 10,000+ African American, Hispanic, Asian, and Native American (AHANA) graduates. The occasion also will mark the 30th anniversary of the University's decision to recognize its diverse student body with the acronym AHANA. The event promises to be the largest ever gathering of AHANA alumni, and will feature festivities sure to strengthen the bonds among graduates across the decades. All alumni, students, parents, and friends are welcome to take part.
First Year Students Welcomed to BC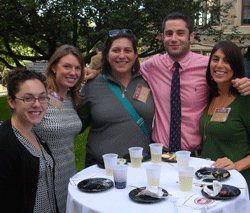 (From left) Emily Brady '04, MA'07, Alison Casey '05, MA'07, Cara Caponi '08, Robinson Murphy '06, MA'08, and Taryn Marino '04, LGSOE '12, visited the Heights to participate in First Year Academic Convocation.
On September 17, nearly 100 alumni, including many Golden Eagles of the Class of 1959, gathered on the Academic Quad for a reception prior to First Year Academic Convocation. Before processing to Conte Forum to hear a speech by J.R. Moehringer, author of The Tender Bar, the freshmen class lined up by dorm along Linden Lane. There, faculty and administrators welcomed them to Boston College and invited them to "set the world aflame."
A Legacy to Uphold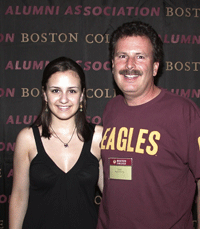 Allie '12 and her father Larry Burak '82.
More than 300 people gathered in the Murray Room in the Yawkey Athletic Center on August 29 for a First Year Student Reception. Hosted by the Alumni Association, the occasion brought together incoming freshmen and their alumni family members, much the way the Senior Legacy Breakfast, which occurs before graduation, will again for these families.