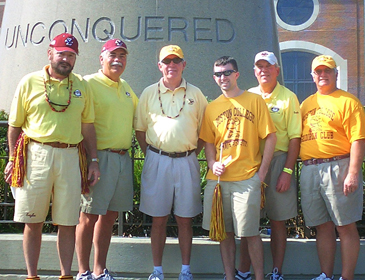 On the Line for Nine. When the BC Eagles kick off their home football schedule on September 6 against Georgia Tech, they will continue their quest to extend the nation's longest current bowl winning streak to nine games. And to do so, they'll need support from fans such as (pictured above, from left) Paul Mahoney '70, Gregory Miller '70, Thomas Sexton '70, Christopher Therrien '05, MS'06, Jerry Sexton, and Donald Therrien '70. More on BC football.

Fans are also encouraged to join the Eagles on the road this fall with Dodds Athletic Tours. Official Alumni Association football weekend tours include accommodations, game tickets, and exclusive BC pregame events. Find out more and register.
Alumni Association Names 2008 Alumni Award Recipients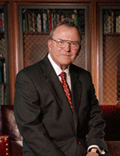 Trustee Robert L. Winston '60
The Alumni Association will bestow four alumni awards this year, including its highest honor, the William V. McKenney Award, to trustee Robert L. Winston '60, a retired senior vice president of American Funds Distributors. Winston and his wife, Judith, led other benefactors in founding the Carroll School of Management's Winston Center for Leadership and Ethics. Other 2008 award winners include Brendan Kennealey '98, recipient of the GOLD Award, given to a deserving "graduate of the last decade"; Philip Landrigan '63, honored with the Alumni Award for Professional Excellence; and Michelle Lyden '92, MS'97, recipient of the Ignatian Award, which recognizes a "person for others." Learn more about the four winners.
Alumni Connections Trivia: An Evolving Campus

Thank you to the more than 60 alumni who tested their knowledge of BC history with last month's Alumni Connections trivia question.
It must have been challenging because only 20 percent of the respondents answered correctly: six BC buildings were built between 1930 and 1950, including Fulton Hall (1948), a service building on Middle Campus (1949), and the Weston Observatory (1948/49). Three other temporary buildings, which were purchased from the U.S. Army, are no longer standing.
Did any of your classmates answer correctly? View a list of the winners.
Let's Get Political:
BC Political Science Alumni Network
The BC Alumni Association, in partnership with BC's political science department, has established a new networking platform for alumni who studied political science at the Heights: the Boston College Political Science Alumni Network (BCPSAN).
The mission of BCPSAN is to strengthen the bonds among alumni, current students, and faculty. The group already has assembled a 12-member Leadership Committee and sent out its first quarterly e-newsletter. To be part of BCPSAN, contact J.J. Dempsey '05 at bcpsan@bc.edu or Bob Sherwood in the Alumni Association at 617-552-3471 or robert.sherwood.1@bc.edu. More than 400 alumni have joined already. Don't be left behind at the polls!
BC Olympians in the News

Paul Moran '90
Charlie Davies '09 was one of four forwards on the U.S. soccer team that finished out of medal contention. Prior to his Olympics debut, he was a member of the Boston College soccer team from 2004–06, winning All-American honors in 2006. More
Carrie Howe '03, a former All-American captain of the Boston College Sailing Team, was a member of the three-woman sailing team representing the United States. Her team finished ninth. More
Paul Moran '90, a championship competitor in both wheelchair softball and tennis, will compete in the 2008 Paralympic Games in Beijing, China, to be held September 6-17. More
Jarrod Shoemaker, M.Ed.'08, the top American finisher at the 2007 ITU Beijing World Cup in September, finished 18th in the Olympic triathlon. More
More news stories about alumni
Upcoming Alumni Events
First Year Academic Convocation — September 18

J.R. Moehringer
Alumni are encouraged to attend First Year Academic Convocation, an event that unites the entire freshman class at the start of its BC experience. The Alumni Association will open the event with a complimentary reception for alumni and friends on the Academic Quad from 5:00 to 6:00 p.m. Alumni are then urged to cheer on the Golden Eagles of the Class of 1959 and the Class of 2012 as they process from Linden Lane across campus to Conte Forum, where Pulitzer Prize-winning journalist J.R. Moehringer will discuss his memoir, The Tender Bar. RSVP for the reception on the website, or contact the Alumni Association at 617-552-4700 or alumni.comments@bc.edu.
East Coast Technology Council Breakfast — October 1
Alumni are invited to an East Coast Technology Council Breakfast featuring guest speaker, Eric Rosengren, president and CEO of the Federal Reserve Bank of Boston, at the BC Club on October 1 at 7:30 a.m. The cost is $25 per person and includes a continental breakfast. The cost is payable with BC Club membership or by check made out to the BC Club on the day of the event. To attend, RSVP to Kate Loftus at 617-552-3469 or kate.loftus@bc.edu.

Find out more about the Tech Council.
Upcoming CWBC events
The Council for Women of Boston College (CWBC) is pleased to announce the following upcoming events for BC alumnae:
Continuing the Journey: The "How To's" of Finding Your Way Back to the Workplace — September 16
9:15 a.m.–1:00 p.m., Heights Room, Corcoran Commons. More
McMullen Museum of Art Event — September 17

Attend a private viewing of the exhibition Mystic Masque: Semblance and Reality in Georges Rouault, 1871-1958. 6:00 p.m., McMullen Museum of Art. More
Beginning the Journey in San Francisco: Leadership Skills and Career Advice — September 30
6:00 p.m., The Metropolitan Club. More
Advance registration is required to attend these events. To RSVP or receive more information, e-mail cwbc@bc.edu.
Ignatian Family Teach-In for Justice
(From left) Rev. Leo Shea, M.M., '60, Bob Hart '60, MSW'62, and John Moynihan '64 represented BC alumni at last year's Teach-In.
Join fellow BC alumni for the Ignatian Family Teach-In for Justice (IFTJ) to be held from November 21-23 in Columbus, Georgia. The annual event's goals are trifold: to commemorate the Jesuits and laywomen who were martyred in El Salvador in 1989, to call for an end to unjust institutions, and to reflect on the Jesuit commitment to justice. Each year, dozens of Jesuit high schools and universities as well as many Jesuit parishes are represented. Last year, the Boston College Alumni Association became the first alumni organization to send a delegation.
If you are interested in joining the BC alumni contingent, contact John Moynihan '64 at 617-558-5252 (w), 781-598-8981 (h), or moynihan_john@hotmail.com. For more information, visit the event website.
Save the Date: Parents' Weekend
Boston College welcomes families to Parents' Weekend, a longstanding tradition on the Heights, occurring on September 26–28. In addition to attending the annual Pops on the Heights Scholarship Gala and a football game against the University of Rhode Island, families will have the opportunity to participate in a new event this year—a Deans Open House. The deans of the four undergraduate schools will be available to meet families and talk about the student experience at their respective schools.
Call for Volunteers—Reunion Weekend 2009
For those whose graduation year ends in a four or a nine, it's not too soon to get excited for Reunion Weekend 2009! In fact, the BC Fund and the BC Alumni Association now welcome alumni to join their Reunion Gift and Social committees. Joining a Reunion committee is a great way to reconnect with fellow classmates and support BC. If you'd like to serve on your Reunion Gift Committee, contact the BC Fund at 888-752-6438 or bcfund@bc.edu. And if you'd like to serve on your Reunion Social Committee, contact the Alumni Association at 617-552-4700 or alumni.comments@bc.edu.
Reunion 2008 brought more than 5,000 alumni back to campus and raised a record-setting $58 million, an increase of $25 million from the previous year's total. Get a sneak preview of your upcoming Reunion by viewing photos from Reunion Weekend 2008.