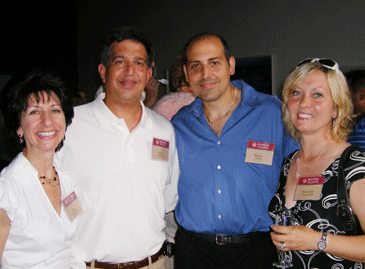 A Taste of Summer. Pictured above (from left), Lynn DeRosa Romanelli '84, Martin Romanelli '83, Michael DePane, P'10, and Elizabeth Chayka, P'10, were among 40 Long Island-area alumni, family, and friends who participated in a wine tasting event at the Castello di Borghese Vineyard in Cutchogue, New York. The event represents one of the dozens of chapter events happening this summer throughout the country.

Learn more about your local alumni chapter.
Alumni Connections Trivia: An Evolving Campus

Over the past five years alone, the Boston College campus has grown rapidly, punctuated by the construction of buildings at 110 St. Thomas More and 21 Campanella Way as well as the mega acquisition of the Brighton Campus. The future promises even more.
Looking back in time for a moment, how many buildings were built on campus between 1930 and 1950?
A. 0
B. 2
C. 5
D. 6

Answer by logging into the Alumni Online Community. The first 20 people to respond correctly will win a BC decal.


Maroon & GOLD Website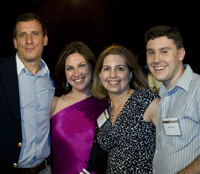 The Maroon & GOLD website caters to graduates of the last decade such as (from left) Matthew Bellico '98, Nancy Angiola Burke '98, Allyson Olewnik '98, and Rich
Gosselin '98.
Launched in May, the Maroon & GOLD website offers GOLD (Graduates of the Last Decade) alumni various opportunities to stay connected to their alma mater. Grads, for instance, can let their Eagle spirit shine by downloading "free stuff," which includes BC computer wallpapers, PDA themes, and buddy icons. Additionally, alumni can learn the many reasons why participation matters and how BC stacks up against its peers. Visit the website.
Upcoming Alumni Events
Irish Fest: Mass and Alumni Reception — August 17
Join the Wisconsin Chapter at Henry W. Maier Lakefront Festival Park for a fun-filled day at Irish Fest! The day will begin with the annual Alumni Mass at 9:30 a.m. followed by a reception at the BC Alumni Tent. All are then invited to stay for a full day of entertainment at the festival. RSVP by August 10 to Sean Andersen '97 at wibcalumni@gmail.com or 704-516-9106. Read more.
First Year Academic Convocation — September 18
Alumni are encouraged to attend First Year Academic Convocation, an event that unites the entire freshman class at the start of its BC experience. The Alumni Association will open the event with a free reception for alumni and friends on the Quad from 5–6 p.m. Alumni can then participate from 6–7 p.m. in a procession that will wind from Linden Lane across campus to Conte Forum, where Pulitzer Prize winning journalist J.R. Moehringer will discuss his memoir, The Tender Bar. RSVP for the reception by contacting the Alumni Association at alumni.comments@bc.edu or 617-552-4700.
Newton College Book Club — September 22

This summer, just in time for the 2008 presidential election, read best-selling author Jeffrey Toobin's The Nine: Inside the Secret World of the Supreme Court. Professor Judith Wilt, holder of the Newton College Alumnae Chair in Western Culture, will moderate the discussion, which will occur in Alumni House at 7:30 p.m. If you wish to attend, please respond by Thursday, September 18, to Julie Nuzzo, NC'74, assistant director, Newton College, at 617-552-4577 or julie.nuzzo@bc.edu. Contact Julie for details about participating by conference call.
Alumni in the News

Edward Spellman '82
Joe Maloy III '08 led his team to its second straight title at the Beschen-Callahan Memorial Lifeguard Races in North Wildwood, New Jersey. He received support from his teammate and younger brother, John '11, as well as Atlanta Falcons quarterback Matt Ryan '08, who was in attendance. More
Michael Motyl '01 is the new principal of Guadalupe Regional Middle School in Brownsville, Texas. More
Edward Spellman '82 is the first director of municipal finance for the town of Braintree, Massachusetts. More
More news stories about alumni
Call for Volunteers—Reunion Weekend 2009
For those whose graduation year ends in a four or a nine, it's not too soon to get excited for Reunion Weekend 2009! In fact, the BC Fund and the BC Alumni Association now welcome alumni to join their Reunion Gift and Social committees. Joining a Reunion committee is a great way to reconnect with fellow classmates and support BC. If you'd like to serve on your Reunion Gift Committee, contact the BC Fund at bcfund@bc.edu or 888-752-6438. And if you'd like to serve on your Reunion Social Committee, contact the Alumni Association at alumni.comments@bc.edu or 617-552-4700.
Reunion 2008 brought more than 5,000 alumni back to campus and raised a record-setting $58 million, an increase of $25 million from the previous year's total. Get a sneak preview of your upcoming Reunion by viewing photos from Reunion Weekend 2008.
No Mere Bluster:
Career Conversations in the Windy City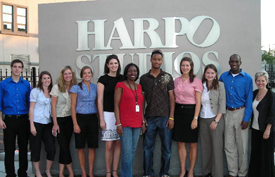 In front of Harpo Studios, home of The Oprah Winfrey Show, Candace Carter '91 (front center) and Sara McCarthy '90 (far right) pose with their nine student and alumni advisees.
When nine BC students and recent graduates sat down for dinner at Flat Top Grill in Chicago on June 10, they had more than make-your-own stir fry on their minds. Participating in the Career Center's new pilot program, "Career Conversations – Beyond the Heights," the BC contingent met with Candace Carter '91, executive producer of The Oprah Winfrey Show, and Sara McCarthy '90, a local real estate agent, to learn vocational and life-after-college insights.
Carter related her experiences working on several TV stations in different cities before her Oprah start 12 years ago. She stressed to the group the importance of using their Jesuit education as a positive force to give back to their local communities. McCarthy discussed the pressures of finding housing after graduation as well as getting internships and jobs. The Career Center hopes to present similar programs during the upcoming academic year in cities throughout the country.
Alumni interested in participating in a similar Career Center program in their area can contact Janet Costa Bates, MA'85, at janet.bates@bc.edu.
Save the Date: Parents' Weekend
Boston College welcomes families to Parents' Weekend, a longstanding tradition on the Heights, occurring on September 26–28. In addition to attending the annual Pops on the Heights Scholarship Gala and a football game against the University of Rhode Island, families will have the opportunity to participate in a new event this year—a Deans Open House. The deans of the four undergraduate schools will be available to meet families and talk about the student experience at their respective schools.