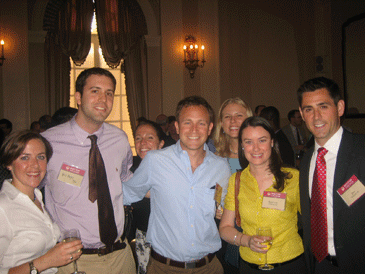 Master Plan Comes to NYC. Pat Keating, executive vice president of Boston College, shared the University's 10-year Institutional Master Plan and vision for the future at the Yale Club of New York City on June 12. Hosted by the BC Alumni Association's New York City Chapter in partnership with the BC Fund, the event drew approximately 115 alumni and friends.
Pictured above (from left), Catherine Guimaraes '02, Bill Boyce '06, Lauren Crocco '02, Michael Kopech '02, Jennifer Mitchell '03, Kathleen O'Brien '02, and Jeff Carman '02 were among the many young alumni in attendance.
Hockey Eagles Feted in the Nation's Capital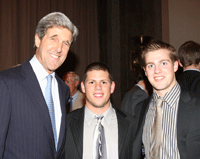 USA Hockey College Player of the Year Nathan Gerbe '09 (center) and BC 2008-09 team captain Brock Bradford '09 had the chance to meet U.S. Senator John Kerry during the team's trip to Washington, DC.
On June 24, Boston College's ice hockey team celebrated their national championship season with a trip to Washington, DC, that included visits to the Walter Reed Army Medical Center, the White House, and the U.S. Capitol. Read more.
Upcoming Alumni Events
The World According to Tip — June 22 – July 13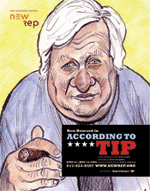 The memorable career of Thomas P. "Tip" O'Neill, Jr. '36, the former speaker of the House, is traced in According to Tip (PDF), a play written by Dick Flavin, a writer well-known to the BC community. The play will run at the New Repertory Theatre in Watertown, Massachusetts.
World Youth Day — July 15 – July 20

Ten Boston College students and recent graduates, along with two staff leaders, will travel to Sydney, Australia, for World Youth Day, the largest youth event in the world. The event will mark the first visit of Pope Benedict XVI to Australia. To learn more about the trip, ways to support the group, and how to enter a BC Athletics raffle, visit the website.
Newton College Book Club — September 22

This summer, just in time for the 2008 presidential election, read best-selling author Jeffrey Toobin's The Nine: Inside the Secret World of the Supreme Court. Based on exclusive interviews with the justices, Toobin's engaging, erudite, and candid story profiles the most elite legal institution in our country and explores the complex dynamic that exists among the nine members who interpret the law of the land.
Professor Judith Wilt, holder of the Newton College Alumnae Chair in Western Culture, will moderate the discussion, which will occur in Alumni House at 7:30 p.m. If you wish to attend, please respond by Thursday, September 18, to Julie Nuzzo, NC'74, assistant director, Newton College, at 617-552-4577 or julie.nuzzo@bc.edu. Contact Julie for details about participating by conference call.
From the Front Line, Part II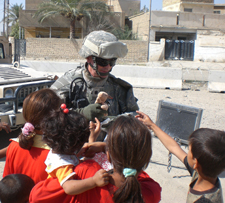 Lieutenant Colonel Brian Cummins '82 hands out Beanie Babies, which were sent to him in care packages from the BC Alumni Association, to Iraqi children.
In the fall of 2007, I submitted an article about my experiences as a military advisor to the Iraqi army to good friends who work at the BC Alumni Association. Excerpts from that article were published in November's Alumni Connections. Now that my tour has ended and I'm back home in Virginia after celebrating my daughter Maureen's graduation from Boston College, I decided to submit a second article.
During my tour, I kept a daily journal for professional reasons to document lessons learned and to record events, at least as I understood them. I must have a million stories, but these few journal excerpts will attempt to capture part of my odyssey. For the interest of Boston College alumni readers, I decided to emphasize my periodic encounters with my Catholic faith while in Iraq. God often found me. I just had to be observant.

Read more about Brian's tour of duty in Iraq.
BC Bloggers Be Heard!

In June's Alumni Connections, alumni were invited to submit their blog links. The following blogs cover topics such as sports, business, fitness, travel, and BC. Happy reading!
Davy Fields '08
I just started a blog containing assorted sports news. I'm sure once college sports roll around in the fall, I'll write about Boston College regularly.
Mary Hess Ph.D.'98
My blog contains religious reflections and my writings, among other items.
Nick Irons '94
My blog covers the latest in health, fitness, and nutrition news.
Scott Livingston '95
My blog is a mix of things. I write about general business issues, environmental topics, exercise, nutrition, vegetarianism, leadership, adventure travel, and adventure sports.
Bill Maloney '98
In December 2004, I created a blog dedicated to Boston College athletics.
Bill McDonald '68
I started a blog to reminisce about and celebrate the Class of 1968. My classmates are welcome to post entries!
Alumni Association Video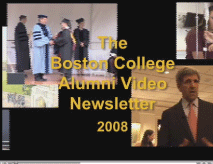 Each year, Professor William Stanwood assigns this special project to the undergraduates in his Advanced Video Production course: Make a high-quality, professional year-in-review video about the University for the BC Alumni Association. This year's video contains footage on the Gasson Hall reconstruction, BC's successful football season which included a meteoric rise to #2 in the national standings and a Heisman candidacy for Matt Ryan '08, as well as coverage of the Institutional Master Plan, and much more.
View the video. The video is viewable in QuickTime, which can be downloaded here.
Alumni in the News
In honor of Independence Day, below are a few alumni who have been featured for their service to our country.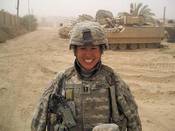 Allison Weiskopf
Chase '98
Allison Weiskopf Chase '98 is a captain in the U.S. Army stationed in Baghdad, Iraq. More
Michelle LaBonte, MBA'85, has been with the Foreign Service in the U.S. Department of State since 1989. More
Ben Simms '04 is a Peace Corps volunteer in Costa Rica. More
More news stories about alumni
Alumni Online Community: Turn the Yellow Pages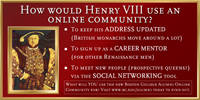 Looking for reliable and familiar products and services? Log into the Alumni Online Community and check out the Yellow Pages, where you can search for products and services advertised by fellow alumni and members from other communities. There are more than 80 searchable categories, ranging from photography to investment banking to consulting.
Log into the Alumni Online Community.
First-time users, register here.
Spots Still Open for Alumni Travel!
Space is still available for summer and fall Travel Study programs. It's not too late to sign up for:

The Wonders of Iceland — July 20–27
County Clare and Ennis, Ireland — July 31 – August 8
China and the Yangtze River — September 10–22
Village Life in Burgundy and Provence — October 10–18
Chianti in a Tuscan Villa — October 26 – November 3

For more information, contact Gail Darnell at gail.darnell@bc.edu.