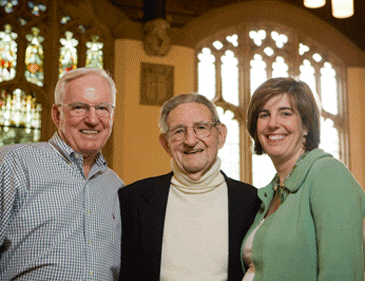 Photograph: Matthew Hakola
Reunion Weekend 2008. Nearly 5,000 alumni from 11 Reunion classes attended Reunion Weekend from May 29-June 1. They reminisced about the past with old friends, forged new memories, and reconnected with the evolving BC campus.

Pictured above, three generations of the Hogan family—William M. Hogan, Jr. '33, his son, William M. Hogan '63, and his granddaughter, Katheryn Hogan Ascione '93—all celebrated Reunion. The family gathered in Gasson Hall 100 at a Golden Eagle Society Breakfast on Saturday morning.

View photos from Reunion Weekend.
Welcome to the Class of 2008!
Very recent graduates Patrick Twomey '08 and Jamie Best '08 stand alongside their school's flag.
Photograph: Lee Pelligrini
On May 19, the Class of 2008 was welcomed into alumni status by acclaimed historian and author David McCullough, who delivered a Commencement speech that stressed the importance of lifelong learning and reading. McCullough was one of five recipients of honorary degrees at Commencement, along with Brother Celestino M. Arias, OFM Cap.; Jennie Chin Hansen Abrams, president of AARP and the winner of an Outstanding Alumni Award in 1998; Anne P. Jones '58, JD'61; and Vice President and Special Assistant to the President William B. Neenan, SJ.
The World According to Tip — June 22 – July 13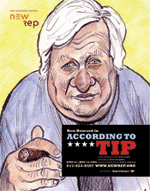 The memorable career of Thomas P. "Tip" O'Neill, Jr. '36, the former speaker of the House, is traced in According to Tip (PDF), a play written by Dick Flavin, a writer well-known to the BC community. The play will run at the New Repertory Theatre in Watertown, Massachusetts.
A Call for Volunteers — June 27

Come join your fellow alumni serve meals to needy families in Lawrence, Massachusetts, at the Cor Unum ("one heart") Meal Center, which feeds up to 600 people every day. Alumni will work from 4–7 p.m. on Friday, June 27. What's different about this outreach is that Cor Unum serves their meals restaurant style, which means that guests are served at their tables. RSVP to Dianne Duffin by June 18 at 617-552-1171 or duffindi@bc.edu. Cor Unum must know in advance how many people plan to volunteer.
Eagles in Ireland: European Alumni Weekend — June 27-29

The Boston College Alumni Association is planning a first-ever European BC Alumni Weekend in Dublin, Ireland, from Friday, June 27, to Sunday, June 29. The weekend will provide BC alumni with an opportunity to receive updates on the state of the University, connect with fellow alumni in Europe, and enjoy the cultural settings and surroundings of Dublin. Learn more.
Heartwarm Hill for BC Alums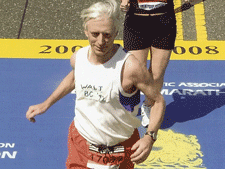 Walter Looney, Jr. '72
Any runner who has made it past mile 20 of the Boston Marathon knows what to expect at the top of Heartbreak Hill: thousands of cheering BC students and a carnival atmosphere. Marathon Monday on April 21 proved to be a special experience for several BC grads.

Walter Looney, Jr. '72
If you look closely, you'll notice a patch with my name and "BC '72," my graduation year. The cheers it elicited from BC students helped get me through Heartbreak Hill at mile 21. Unfortunately, I haven't discovered any tricks for the remaining five miles!

More marathon stories and photos.
Spots Still Open for Alumni Travel!
Space is still available for summer and fall Travel Study programs. It's not too late to sign up for:

Normandy and Brittany — July 8–19
The Wonders of Iceland — July 20–27
County Clare and Ennis, Ireland — July 31 – August 8
China and the Yangtze River — September 10–22
Village Life in Burgundy and Provence — October 10–18
Chianti in a Tuscan Villa — October 26 – November 3

For more information, contact Gail Darnell at gail.darnell@bc.edu.
Alumni in the News

Liz McCartney '94
Amber Bock, M.Ed.'87, is the new assistant superintendent of public schools for Weston, Massachusetts. More
Christina Kim '04 is an active volunteer with Partners Hospice in Waltham, Massachusetts. More
Liz McCartney '94 was recently named a CNN Hero for her work with the St. Bernard Project, an organization she founded to rebuild homes for Hurricane Katrina victims just outside of New Orleans. In January, 40 BC alumni performed a service project with McCartney's organization. More
More news stories about alumni
Alumni Volunteers Keep it Clean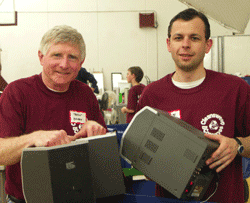 Dennis Razz Berry '70 (left) and Marcin Partyka '01 organize computer parts left by students for Cleansweep.
Throughout May, more than 100 members of the Boston College community participated in Cleansweep, the longstanding tradition on the Heights that allows departing students to donate clothes and other items to churches and non-profit social service agencies throughout greater Boston. This year, volunteers compiled some 50 microwaves, 60 refrigerators, and 75 lamps, among thousands of other integral household items, which were distributed to 60 agencies.
Maine's Mass with President Leahy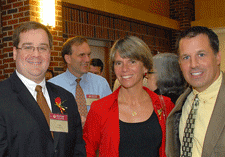 (From left) Peter Carignan '92, Alicia Danielson '81, and Stephen Saks '92.
A large contingent of alumni, family, and friends of the Maine Chapter—nearly 250 in total—attended a Mass on May 4 celebrated by University President William P. Leahy, SJ. The Mass occurred at Cheverus High School, a Jesuit college preparatory school in Portland, and was followed by a reception.
Building a Legacy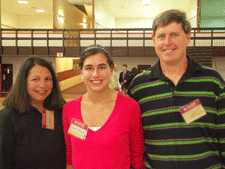 Courtney Chapman '08 (center) and her parents, Debbi and Gerald Chapman, LGSOE '01, were one of the many families at the Senior Legacy Breakfast.
While BC seeks to foster a family environment on campus for everyone, the University, for some students, is already kith and kin, literally. On May 18, more than 500 people attended a Senior Legacy Breakfast in the Plex. Hosted by the Alumni Association, the event brought together graduating seniors with their alumni family members to celebrate commencement and familial bonds on the Heights.
New DVD Release: A History of Women at BC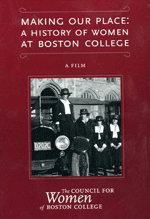 In 2002, University President William Leahy, SJ, commissioned The Council for Women of Boston College (CWBC) to increase the role of women as leaders and active participants in the University. Today, more than 100 alumnae are active in leadership roles on the council.

A new DVD sponsored by CWBC, Making Our Place: A History of Women at Boston College, is now on sale at the BC Bookstore. Learn more.



The Age of Exploration: Alumni Career Tours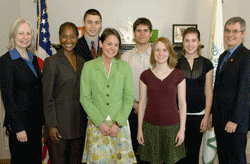 (From left) Fran Dubrowski, NC'70, Patricia Williams '77, Jonathan Pike '10, Sarah Buente '09, Andrew Rivera '11, Anne Kornahrens '11, Coley Krauss (from Beloit College), and Marcus Peacock, deputy administrator of the U.S. Environmental Protection Agency, at the Alumni Career Tour in Washington, D.C.
Finding the right job can be a challenge for many recent college grads. This spring, the Alumni Association's Career Services Committee provided BC students, many from the Class of 2008, with opportunities to attend career tours to discover more about an occupation that interests them. From March 3–4, four BC students traveled to Washington, DC, on an environmental career tour for an in-depth look at the government's environmental agencies.
The students met with several federal leaders, including James Connaughton, chairman of the Council on Environmental Quality, and Marcus Peacock, deputy administrator for the Environmental Protection Agency. "Coming from a Jesuit institution with a strong tradition of public service, BC students are a natural fit for government employers looking for smart, savvy, and dedicated public servants," says Fran Dubrowski, NC'70, chair of the Career Services Committee and an environmental attorney in Washington, DC.
More recently, from May 21–22, the New York City Chapter, headed by Jason Moore '03, hosted a career exploration tour for 12 BC undergraduates interested in the media and entertainment industry. The students met with executives from companies such as NBC Universal, HBO, and DIRECTV.