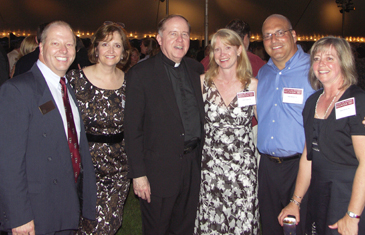 Reunion Weekend University President William P. Leahy, SJ, greeted members of the 25th anniversary class at last weekend's reunion. More than 500 alumni and guests from the Class of 1982 attended, and more than 630 classmates contributed to the class gift of $4.2 million--more than raised by each of the past two years' 25th reunion classes. Pictured above from left to right are Associate Vice President for Alumni Relations John Feudo '82, University Trustee Kathleen Corbet '82, Fr. Leahy, Kathy Kasper '82, Mark Bronzo '82, and Diane Bronzo '82. View photos from Reunion Weekend.
Welcome to the Class of 2007
John M. "Jack" Connors Jr. '63 earned an honorary doctorate of business administration and addressed some 3,000 graduates and 15,000 spectators at the 131st Commencement of Boston College.
Commencement 2007. John M. "Jack" Connors Jr. '63, a founding partner of the marketing communications company Hill, Holliday, Connors, Cosmopulos Inc., welcomed the Class of 2007 to alumni status when he delivered the Commencement speech on May 21. Connors offered the new graduates five pieces of advice for success, among them using imagination, maintaining meaningful relationships, and working for the love of the job. More about Commencement
Alumni in the News
Patricia Maguire Meservey, Ph.D.'88. Photo courtesy of Salem State.
Patricia Maguire Meservey, Ph.D.'88, has been named president of Salem State College. More
Thomas Regan, SJ '76, provincial superior of the New England Province of the Society of Jesus, delivered the Commencement address at Fairfield University. More
Lisa Signori '90 has been named director of administration and finance for the city of Boston. More
More news stories about alumni
New Flock of Golden Eagles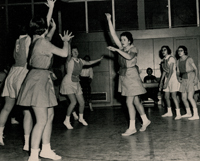 Pictured above is a group of women from the Class of 1957 playing basketball during their time on the Heights. Sub Turri 1957 photo, courtesy of the University Archives.
As the Class of '57 dons its golden wings after celebrating its 50th reunion, BC Connections strolls down Linden Lane and recaptures bits of life on the Heights (thanks to the class yearbook) circa 1957:
- Boston College had fraternities on campus, including Alpha Sigma Nu, the national honor fraternity of Jesuit colleges.
- Among the many on-campus clubs were the Rifle Team, for which campus sharpshooters competed in both local and national matches, and the Skindivers' Club, for individuals who sought enjoyment and relaxation in underwater activities.
- BC's main football rivals were neither national colleges nor ACC powerhouses, but local schools such as Holy Cross, Brandeis, and Boston University.
- The student publications The Heights and Stylus disseminated campus news and creative writing, respectively, as they still do today.
Furnishing the Community
In May, when most students are packing up and leaving campus for the summer, a cadre of volunteers, clad in identical T-shirts and wheeling blue plastic bins, returns to the Heights, heralding the start of another Cleansweep.
This spring, as in each of the past 15 years, over 100 members of the Boston College community helped gather and distribute items such as televisions, radios, microwaves, and clothes, which were left behind by departing students, to some 90 social service agencies and churches in the Boston area.
John McLaughlin '83 founded Cleansweep in 1991 as a practical way to give back to the community. "Cleansweep is great because it brings together so many different parts of the BC family--faculty, staff, students, alumni, and friends--for a common cause," explains McLaughlin.
For more information on Cleansweep, visit the website.
All in the Family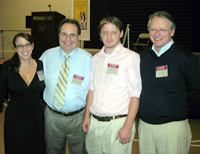 (From left to right) Sophie Forte '07, Mark Forte '77, James Daley '07, and Joseph Daley '77 were among the more than 500 alumni parents and graduating seniors who attended the legacy reception.
According to the Boston College Admissions Office, 15 percent of incoming freshmen in the Class of 2011 are children of BC alumni. This number ranks among the highest in recent history.
To reach out to this special group of BC students and their alumni parents, the Alumni Association last year began hosting two events to bookend their experience. Members of the Class of 2011 and their alumni parents will be welcomed by the Association at one of these events this fall. In four years, the Association will again welcome them--this time into the alumni ranks--at a capstone reception. Pictured above right are members of the Forte and Daley families at a reception for graduating students of alumni that was held on Commencement morning last month. The reception attracted more than 500 guests--alumni fathers, mothers, sisters, and brothers who came together to celebrate the family spirit on the Heights and foster a powerful alumni connection in the future.
The Real World Close-up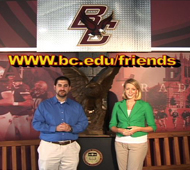 Dan Delaporta '06 came back to campus to work with Ali Bane '07 and her seven classmates in Professor Stanwood's Advanced Video Production class.
College campuses can sometimes be difficult places for students to understand the expectations of the "real world" they will enter upon graduation, yet a Capstone course, Advanced Video Production, taught by Professor William Stanwood aims to do just that.
Capstone courses are designed to give graduating seniors and second-semester juniors a glimpse into life after college. Boston College considers them valuable opportunities for students to review their educational and personal development and prepare for their upcoming careers.
For each of the last 10 years, Stanwood has charged the students in his course with the task of creating a video that highlights the main events on campus in the past year for a professional client, the Boston College Alumni Association. Read more.
View the video here.