Countdown to Reunion. Thousands of alumni are expected to return to the Heights for Reunion Weekend on May 31 to June 3. Pictured above are Nicole and Scott Buckley '01, JD'04, and Randy Romano '01 and guest at a performance by the Flutie brothers, whose band held its BC debut at last year's reunion. The band is due back for a repeat performance this spring. Register
Alumni Events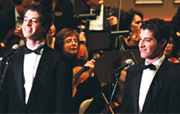 Last year's Family Night at the Pops included a duet by twins Anthony '06 (left) and Will '06 Nunziata.
Family Night at the Pops. To celebrate the University's 131st Commencement, the entire Boston College community is invited to swing into summer with the nationally acclaimed Keith Lockhart and the Boston Pops! Tickets are still available for the performance on May 18 in Symphony Hall in Boston. Purchase tickets
Boston Chapter's Fifth Annual Golf Tournament. The Boston Chapter of the Boston College Alumni Association will hold its fifth annual golf tournament on Monday, July 9, at Hopkinton Country Club. Registration and hole sponsorship forms can be found on the Boston Chapter's Website.
Alumni in the News

William Landay JD'90
Julianne Malveaux '74, MA'76, has been named president of Bennett College in Greensboro, North Carolina. More
Eric Hudson '84 is the founder of Recycline, a company that makes razors, toothbrushes, and other household items out of recycled materials. More
Prosecutor-turned-novelist William Landay JD'90 recently published his second crime novel, The Strangler, which is set in Boston during the 1960s. More
More news stories about alumni
Men and Women Serving Others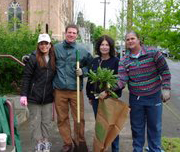 Alumni from Portland, Oregon, volunteered at a local Jesuit high school for their Day of Service.
Building on the success of last year's inaugural BC Alumni National Day of Service, 17 alumni chapters from across the country heeded the call to be "men and women for others" by participating in the second annual Day of Service on April 21.
From Connecticut to California, alumni from across the country served on volunteer projects to help their local communities. A group of alumni in Portland, Oregon, volunteered at a local Jesuit high school, St. Andrew's Nativity School, to work together with students to improve the facility through clean-up and gardening.
"We see this as a way to help students feel a sense of pride when they come to school, knowing that people in the community care about the place they are learning," said Stephen Grieco '99, M.Ed.'02, who headed the project. "This is an exciting opportunity to bridge two communities, Boston College and St. Andrew's, which might not have had a chance to interact otherwise." St. Andrew's provides an education to underprivileged children in urban Portland. Read more
Learn more about your local alumni chapter
The Art of Serving Tea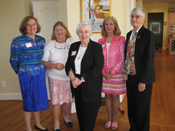 Alumnae from Newton College congregated for tea in the home of Lisa Kirby Greissing NC'72 in McLean, Virginia.
When students attended Newton College in the 1950s and 1960s, they were taught proper etiquette and social grace, including the art of serving tea. On April 22, as in each of the last 13 years, a group of some 30 Newton College alumnae reconnected in the Washington, DC, area over tea, hors d'oeuvres, and good conversation.
"It's been a great way to reconnect friendships that started so many years ago at Newton College and have grown over the years," says Pat Browne NC'60, who has organized all 14 of the annual tea events. "Meeting every year is very important for Newton College alumnae to keep our name and traditions alive. We are a group of women who have accomplished many great things, thanks in no small part to our college education."
Learn more about Newton College alumnae events
My Frozen Four Experience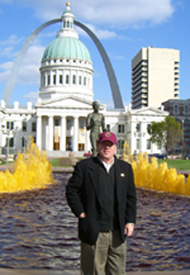 Kevin McLaughlin '78 had a close-up view of the BC hockey team during its recent appearance in the Frozen Four in St. Louis.
By Kevin McLaughlin '78

I'd like to relay a story of my unique experience at the recent Frozen Four Championship in St. Louis. My classmate Jack Stapleton '78, a member of the St. Louis Sports Commission, the group that hosted the Frozen Four, invited me to the tournament and provided me with the ultimate credentials. I couldn't believe my good fortune. I had been granted complete access to the hockey arena and all the events surrounding the Frozen Four.
On Saturday, the day of the championship game, I attended the early morning BC skate-around and practice in an empty and quiet arena. Only two nights prior in this very place, 19,000 fans had roared during our exciting game with the University of North Dakota. I stood alone near the ice wearing a BC hat when, at the end of practice, I looked up and saw a lone figure skating towards me. It was Head Coach Jerry York. "I like your hat," he said to me through the glass while gliding by. Read more