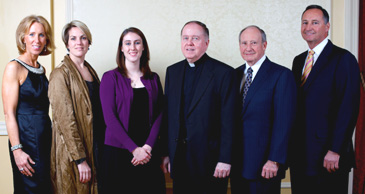 Venerable Volunteers – Boston College honored five distinguished alumni volunteers at the annual Volunteer Tribute Dinner on March 26 in Boston. Pictured with Father Leahy are, from left: Michaela Murphy Hoag '86; Nicole DeBlois '99; Carolyn K. Armgardt '09; Patrick Stokes '64, P'91, '94, '97; and William S. McKiernan '78. To see more photos from the event, click here.
Fake, Funny, and April Fool-ish - Heights Hoaxes


For decades, the Heights has provided April Fools' Day jokes and hoaxes, some sophomoric and some worse. Click here for samples from years gone by. Do you recall any other particularly good Heights hoaxes or do you remember a special April Fools' joke—by you or on you—while you were at BC? Let us know at uacommunications@bc.edu.
Help Out Your Neighbors and Community - National Day of Service
The Alumni Association's annual National Day of Service takes place Saturday, April 17. Last year, more than 450 people in 31 regions participated. Click here for information about service events happening in your area.
Good Luck to Men's Hockey!
The BC men's hockey team is in the NCAA "Frozen Four" for the third time in four years. The Eagles meet Miami (Ohio) in a semifinal game Thursday, April 8, 8:30 p.m. (Eastern Time) (ESPN2) If victorious, they will play for their second national championship in three years Saturday, April 10, 7:00 p.m. (Eastern Time) (ESPN) Go Eagles!
Living the Journey Conference - Registration Deadline April 7
Registration for "Living the Journey: Spirituality for the Second Half of Life" has been extended to April 7. Location for the day-long conference, to take place April 10, has been changed to Conte Forum, permitting greater attendance. The conference features a keynote address by AARP President Jennie Chin Hansen '70, H'08. Register by April 7 at www.bc.edu/journey.
Wall Street Council Tribute Dinner Supports Presidential Scholars
More than 250 extraordinary students at BC, those selected as Presidential Scholars, benefit from the annual Wall Street Council Tribute Dinner. Over the last two decades, the Tribute Dinner has raised more than $13 million for the Presidential Scholars Program. This year's event, on Thursday, April 22, at the Waldorf=Astoria in New York City, will honor Francis C. Rooney, Jr., H'86, P'76, '78, '87, chairman, H.H. Brown Shoe Co., Inc., who will receive the President's Medal for Excellence. For more information and to purchase tickets or table packages, click here.
Two months to go in 2010 Alumni Participation Challenge
Alumni have two months left to help BC reach this year's Alumni Participation Challenge goal and gain an additional $500,000 for financial aid. Deadline is May 31, the close of BC's fiscal year. The challenge, sponsored by an anonymous donor, runs throughout the Light the World campaign and could bring in as much as $3 million by 2015. But BC needs 11,984 more donors by May 31 to release the first $500,000 grant for financial aid. More
Some 12,500 alumni are already charter members of the William B. Neenan, S.J., Society. Donors of any amount during this fiscal year who also gave last year (before May 31, 2009) qualify for membership in the new society, which recognizes loyal alumni who make annual gifts in consecutive years. More
Join the Celebration: Reunion Weekend 2010
Alumni in classes ending in "5" and "0" are celebrating reunion this year, and activities will culminate at Reunion Weekend 2010. Here are answers to some frequently asked questions about Reunion Weekend. Click here to participate in your class experience and to register for Reunion Weekend 2010!
Upcoming Alumni Events
Asian-Pacific American Heritage Month
BC celebrates Asian-Pacific American Heritage Month in April. A festival of Asian-Pacific American culture takes place on O'Neill Plaza, Wednesday, April 7, 11:00 a.m.–5:00 p.m. Alumni are welcome to attend all events taking place throughout the month. Click here for a schedule. This year's theme is "Lighting the Past, Present, and Future." For more information, contact the Thea Bowman AHANA Student Center at 617-552-3358.
"Alternative Careers for Teachers" - BC Career Center – April 14
Teachers have transferable skills and many of them use those skills in second careers. Come hear BC alumni talk about how they translated their teaching experience into careers outside the classroom, in fields such as consulting, finance, research, higher education, the environment, and more. RSVP to Peter Hunt, MA'07, BC Career Center, at peter.hunt@bc.edu. For more details, click here (pdf).
Black Family Weekend Alumni Reception - April 16
A student-driven tradition for nearly 40 years, Black Family Weekend has blossomed into a campus-wide celebration of black culture at Boston College by alumni, family, and friends. The alumni reception takes place after the Voices of Imani spring concert in Trinity Chapel, Newton Campus, Friday, April 16. The reception is free and takes place at Alumni House. To RSVP, please contact Eva Maynard '97 at eva.maynard@bc.edu. For the entire weekend schedule, click here.
BC Business on Board Program - April 17, April 24, May 1
The Alumni Association and Carroll School of Management have engaged the Arts & Business Council of Greater Boston to present "BC Business On Board," exclusively for Boston College alumni. Deadline to register at the Arts & Business Council is April 12.
East Coast Technology Council Spring Dinner - April 27
The annual spring dinner of the East Coast Technology Council takes place Tuesday, April 27, 6:00 p.m., at the Sheraton Needham Hotel. Guest speaker is David Vieau, president and chief executive officer of A123Systems. Click here to register and purchase a ticket.
A Taste of the Festival - May 1
Mix and mingle with BC alumni, parents, and friends. Enjoy a festive reception with visual art, music from bOp! Classic (the BC bOp! alumni band), and presentation of the 2010 Arts Council Alumni Award to playwright/screenwriter, Bill Cain, S.J., '70. A cash bar will be available. The ticket price of $40 per person includes a ticket to your choice of evening performances at 8:00 p.m.—the Theater Department presentation of The Threepenny Opera by Bertolt Brecht or Dancing with bOp!, featuring BC dance groups performing live with our award-winning jazz ensemble, BC bOp!. To purchase tickets, click here.
Women's Lacrosse - May 1 - Council for Women of Boston College
Pops on the Heights Scholarship Gala - Tickets on sale now
You can now purchase tickets for the annual Pops on the Heights Scholarship Gala. This spectacular event will be held Friday, September 24, in Conte Forum on campus in conjunction with Parents' Weekend. The Boston Pops Esplanade Orchestra, with conductor Keith Lockhart, and the University Chorale will perform. Reserve seats today by calling 800-767-5591 or visiting the Web site.
Upcoming Spiritual Life Events
Marriage Preparation Program - May 1–2
This two-day program for prospective marriage partners takes place Saturday, May 1, 10:00 a.m.-4:00 p.m., and Sunday, May 2, 1:00-4:00 p.m., concluding with Mass. The program is limited to 24 engaged couples, and will be held at Alumni House on the Newton Campus. Cost is $150 per couple. Please contact Dan Leahy '82, MEd'91, P'11, 617-552-3478, daniel.leahy@bc.edu, or Ellen Kana, 617-552-3475, ellen.kana@bc.edu, in the Office of Campus Ministry.
Featured Alumni

Maria Louisa Wilson-Portuondo MEd'73
Navyn Datoo Salem '94 is founder of Edesia, a nonprofit enterprise in Providence, Rhode Island, that produces food supplements to aid malnourished children worldwide. More
Maria Louisa Wilson-Portuondo, MEd'73, received the 2010 John A. Dineen, S.J., Hispanic Alumni Community Service Award from the Archbishop Oscar A. Romero Scholarship Committee in ceremonies March 13. She is an educational consultant with Decision Analytics, Inc., and a resident of Waban. More
Patrick Dunphy '73 was featured in the Wisconsin Law Journal and named one of Milwaukee's "super lawyers." More
Making a Difference: Alumni Career Network
The jobs market is still somewhat in the doldrums. The Alumni Career Network on the Alumni Online Community could be the wind in your sails to get moving again. You will find thousands of alumni working in a wide range of occupations who are available for career advice and assistance. More advisors are always needed, so we also invite you to register as a career advisor. If you are already registered as a career advisor and no longer want to be one, please log into the online community and update your status.
Log into the Alumni Online Community
First-time users register here

Arts Alumni Gather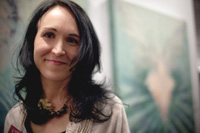 Susan Breen '91
Alumni and friends gathered for an "evening of art" at Boston Art, Inc., February 25. They were welcomed by Mathieu Gagne '93, MBA'02, MS'03, and Erin Haran MacCurtain '01, leaders of the BC Arts Alumni Network, as well as John Kirby '83, owner of the host gallery on Boston's waterfront. The evening featured a collection of paintings by Susan Breen '91, and musical selections by bOp! Classic, the alumni iteration of BC bOp!, led by Patrick Osborne '97. For more information or to join the Arts Alumni Network, visit www.bc.edu/artsalumni.
Introducing the Woods College Alumni Association Web Site
The Woods College Alumni Association invites alumni from the In-town School, Evening College, and Woods College to visit its new Web site! Alumni are encouraged to view the site frequently for information on programs and upcoming events.
Political Science Alumni Panel
Some 45 undergraduates majoring in political science attended a career panel and networking session February 24 on campus, cosponsored by the BC Political Science Alumni Network (BCPSAN) and undergraduate Political Science Association. Participating on the panel were: Timothy Anderson '73, president, World Computer Exchange; Diane Green '82, vice president, Havens & Company; Michael Sullivan '82, JD'85, clerk magistrate, Middlesex County, Massachusetts; Richard Salcedo '84, assistant general counsel, Massachusetts Department of Children and Families; Setti Warren '93, mayor, Newton, Massachusetts; and Gretchen Sherwood '97, assistant district attorney, Suffolk County, Massachusetts. Panel moderator was Dennis Hale, P'00, '05, associate professor of political science. For more information on BCPSAN, click here.
"One Pacifier, Two Diapers . . ."
BC researchers are studying how babies keep track of quantities of things. They are seeking local alumni who could bring their infants in for a short visit to the Infant and Child Cognition Laboratory, a new research facility operated by Sara Cordes, assistant professor of psychology. Click here (pdf) for more information or visit the Web site. You may also contact Liz Heller at 617-552-8652 or BcBabyLab@gmail.com for more information or to schedule a visit.
Alumni Travel: More Early Booking Discounts
Join Boston College alumni and friends on exciting and stimulating travel study programs! Several early booking discounts are available:
• book "Samba Rhythms Cruise to South America" by April 7 and save $2,000 per stateroom
• reserve space on "Village Life in Tuscany" by April 29 and save $600 per couple
• register for "Treasures of South Africa" by May 4 and save $500 per couple
Also, new to the BC travel study program is "Egypt and the Eternal Nile," 17 days for $4,295, which includes air, land, and extras. Click here to learn more, or call Gail Darnell at 617-552-8035.
BC Athletics Update
Spring Football Game

Join the Eagles Saturday, April 24, for the Jay McGillis Memorial Spring Football Game and Family Fun Day. Family Fun Day, which has food, music, fun, and games, takes place 11:00 a.m.–1:00 p.m. at the Flynn Recreation Complex. The football game will kick off at 1:00 p.m. in Alumni Stadium. Following the game, there will be an autograph session. Be sure to check out bceagles.com for more information.
Football Season Tickets

Led by all-ACC first-team players Anthony Castonzo (at right) and Luke Kuechly, all-ACC second-team running back Montel Harris, and a cast of seasoned veterans and promising newcomers, the Eagles are poised to continue their winning ways. We hope you will be a part of our program and join Coach Spaziani and the Eagles in their quest for a third ACC Atlantic Division title in four years. The 2010 season features a challenging seven-game home schedule, including Virginia Tech, Notre Dame, and Clemson. Season tickets are available at a range of prices:
• upper-deck endzone, $175
• lower-deck endzone, $245
• upper-deck sideline corners, $220
• upper-deck sidelines, $315
For tickets, click here. If you have any questions, please e-mail athletic.tickets@bc.edu or call the ticket office at 617-552-GoBC (4622).



april 2010
In This Issue
Heights' April Fool Hoaxes
National Day of Service
Good Luck to Men's Hockey!
Living the Journey Conference
Wall Street Council Tribute Dinner
Alumni Participation Challenge
Reunion Weekend 2010
Upcoming Alumni Events
Upcoming Spiritual Life Events
Featured Alumni
Alumni Career Network
Arts Alumni Network
Woods College Alumni Web Site
Political Science Alumni Panel
Infant Study Volunteers
Alumni Travel
Athletics Update
University News
A $20 million gift from Barbara and Patrick Roche '51, H'01, P'81 will support the Center for Catholic Education. BC Chronicle coverage, Boston Globe page one article. The center will be named in honor of the Roches and will welcome a new director, Patricia Weitzel-O'Neill, superintendent of schools for the Archdiocese of Washington, DC. More
School News
Catherine Cornille, associate professor, is the first female chair of the theology department in the College and Graduate School of Arts and Sciences. More
BC Club

With more than 2,300 members, the Boston College Club is proud to be Boston's premier private business and social club. Visit the Web site for more information.
Campus Calendar
"President Obama, National Security, and Executive Power," a day-long conference on the Obama administration's approach to combating terrorism, Friday, April 9, Heights Room, Corcoran Commons. Sponsored by the Clough Center for the Study of Constitutional Democracy. More
On Eagles' Wings

Submit your prayers and intentions through On Eagles' Wings, an online service provided by the Alumni Association.
C21 Corner
Lecture: "Seeing," Ron Hansen, April 15
Presentation and book signing: "Practicing Catholic," James Carroll, April 21
C21 Online offers two courses beginning April 20: "The Creed: What We Believe" and "What Makes Us Catholic, Part II: Leap of Faith, Justice, Loving beyond Borders, and Growing Spiritually." For further information on upcoming courses and workshops, please contact Jessica Salefski at jessica.salefski@bc.edu or visit www.bc.edu/c21online.
STM Continuing Education
For continuing education opportunities from the School of Theology and Ministry in April, visit www.bc.edu/stmce.
New Benefits and Discounts for BC Alumni
Boston College alumni now join BC employees in being eligible to receive discounts and special promotions with national and local companies. You can get a 20 percent discount on regularly priced floral and gift items at From You Flowers. For information on this and other discounts, click here.
BC Rewards Card
Did you know that each purchase on your Boston College Platinum MasterCard® earns you points that you can use toward exclusive BC rewards such as tickets to athletic events, a round of golf with a BC coach, and travel to an away football game?

Click image to apply
Plus, if you use your Boston College Platinum MasterCard® at a BC bookstore, you will receive a 10 percent discount on select items. And rewarding yourself also supports the Boston College Alumni Association. Each year, with dollars funded by the card program, the Alumni Association awards $150,000 in scholarships for children of BC alumni.
Health Insurance Available through the Alumni Association
Many of our alumni, new graduates, and their family members are in need of health insurance for a variety of reasons: a gap between their current coverage and the start of benefits from a new job, temporary or long-term unemployment, or even the loss of or reduction in benefits from a current employer. Short-term and permanent health insurance options are available through the alumni insurance program.

Click image for info
Information is typically distributed to new graduates just before and after graduation, but since the number of Americans without health insurance is expected to top 50 million this year, we're spreading the word as broadly as possible in response to the increased need. This coverage is also perfect for alumni children who are graduating (even if they did not attend BC) and aren't yet covered under another plan. For more information, please contact the program manager directly at www.meyerandassoc.com/ma/BC or 800-635-7801.
Transportation Alternatives for Senior Drivers
As the ability to drive diminishes with the onset of medical conditions and the normal cognitive and physical changes associated with aging, some senior drivers should consider alternative modes of transportation:
• ITNAmerica - With affiliates in 10 communities across the country, the Independent Transportation Network® offers rides to seniors 24/7 in private automobiles
• Public transportation
• Volunteer services: Consult your local agency on aging to see if volunteer transportation services are available in your community

Boston College alumni are eligible for a discount on auto, homeowners, and renters insurance through Liberty Mutual. For more information about this program, please call 888-393-GOBC or visit www.libertymutual.com/bc.

Reprinted with permission from Liberty Mutual. ©2009 Liberty Mutual Group.
Official Reunion Airline
Jet Blue is the official airline for BC's Reunion Weekend 2010.
Reunion Weekend 2010 is June 4–6. Visit the reunion Web site for updates on all reunion-related activities.
Alumni Programs
Affinity Programs
Career Services
Chapters
Classes/Reunions
Newton College
Spirituality & Service
Travel/Study

Have ideas for programs or services you'd like us to consider? Contact a member of our staff.
Quick Links