Celebrating BC's Hispanic Community. On Satuday, March 15, more than 250 alumni, students, and friends gathered in the Murray Room of the Yawkey Athletics Center to celebrate the presentation of the John A. Dineen, SJ, Hispanic Alumni Community Service Award. Olga Lattarulo, MSW'97, earned this year's accolade for her service and dedication to the Peruvian community.
Save the Date! Reunion 2008!
Reunion 2008 will be here before you know it, so make plans now to join the festivities on May 30–June 1. Reconnect with old friends, attend your class party, and tour the Brighton Campus. More than 4,000 alumni from 11 Reunion classes will attend, so don't be left out! Discover more.
Want to send a classmate a warm reminder of the Heights before Reunion? Send a BC electronic postcard today.
Alumni Connections Trivia: Mod-ern Times

Thank you to the nearly 150 alumni who put their Mods expertise to the test for last month's Alumni Connections trivia question.

More than half (53 percent) of the respondents answered correctly: The Mods have been a staple of the Heights since 1970!
Did any of your classmates answer correctly? View a list of the winners—those lucky first 20 alumni who proved to be Mods mavens and earned themselves a BC decal.


Mod Memories:
The Mods' First Resident Goes Home Again
Mod 1A as it looks today, 38 years after Jim Lewis '72 and his roommates lived there.
By Jim Lewis '72 (Mod 1A)

When we returned to BC in September 1970, my friends and I were supposed to live in Williams Hall on Upper Campus. Shortly before our arrival, however, we were informed that we would be moved to temporary housing at the Hotel 128 in Dedham to await new "modular apartment units," which would be trucked in prefabricated to Lower Campus.

After we commuted from Dedham for several weeks, BC finally held a housing lottery for the new Mods, and my friends and I drew the first number for Mod 1A. As the big day of the first Mod arrival approached, our excitement and anticipation mounted. On a bright October morning, we all gathered to see our "home away from home" lowered onto the foundation with a boom crane. As half of our Mod lowered down, the cable broke and our Mod crashed to earth, shattering in hundreds of pieces! Needless to say, our move-in date was postponed by many days as we awaited the arrival of our replacement unit.

In memory of my two deceased roommates in Mod 1A: Gerry Zyla '73 and Dick Brodalski '72.

Read more of Jim's story and other Mod memories.
Upcoming Alumni Events
Educational Symposium: Teaching and Ignatian Spirituality
On Saturday, April 5, and Saturday, May 3, the Alumni Association will host a two-part symposium, entitled "Go Forth and Teach: Reflections on Applying the Timeless Educational Principles of Ignatian Spirituality to the Art of Teaching." Both programs will be held at Alumni House on Newton Campus and begin at 9:00 a.m. To register or for more information, contact Dan Leahy in the Office of Spirituality and Service at leahyd@bc.edu.
Nobel Laureate, Former South African President to Address Clough Colloquium


F.W. de Klerk
F.W. de Klerk, former state president of South Africa, will speak about his work to end apartheid in his country on Monday, April 7, at 4:00 p.m. He was awarded the 1993 Nobel Peace Prize for his efforts. The event, held in Robsham Theater, is free and open to the public.
Sponsored by the Winston Center for Leadership and Ethics, the Clough Colloquium Series recognizes individuals who have made important contributions as ethical leaders in their fields. More.

Arts in Bloom: 2008 Alumni Evening at the Arts Festival

Alumni are invited to return to campus for the 2008 Alumni Evening at the Arts Festival, which will take place Saturday, April 26 at 5:30 p.m. The alumni evening includes live music, dinner, a cash bar, and the presentation of the Arts Council Alumni Award, given annually in recognition of post-graduate artistic achievement. This year's award recipient is Tom McCarthy '88, an actor, director, and filmmaker. Following the award presentation, alumni may choose between two performance options: a Festival Concert featuring BC bOp! and The Voices of Imani Gospel Choir, who will perform excerpts from Duke Ellington's Sacred Concerts; or the Tony Award-winning musical Urinetown in Robsham Theater.

Tickets for the event cost $40 per person and include dinner and a ticket to your choice of performance. To RSVP, please contact Eva Maynard at eva.maynard.1@bc.edu or 617-552-4700.

Tom McCarthy '88
A networking reception for alumni who work in the arts will be held on Friday night from 6 to 8 p.m. in the Higgins Hall atrium. Admission is $15 per person. RSVP by April 22 to alumnichapters@bc.edu or Natalie Caruso at 617-552-8293. Following the reception, alumni are invited to an exclusive screening of The Visitor, which was written and directed by Tom McCarthy '88, at 8 p.m. on O'Neill Plaza. For more information on the festival, visit the website.
Alumni Globetrotters:
Make Your Vacation Plans!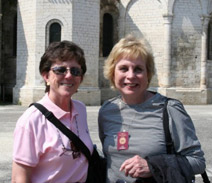 Cynthia Scalzi '66 (left) and her friend Lee Schmidt stand in front of the Église Sainte-Marie, an abbey in the town of Souillac, France, on a recent alumni trip.
The Alumni Travel and Study program is offering a full slate of trips this spring and summer, including an Icelandic adventure with stops at the Reykjavik peninsula and the Golden Circle. A trip to Rome and the Amalfi Coast to visit the Circus Maximus and the Colosseum is among other unforgettable tours. Additionally, couples can save $300 on a September trip to China and the Yangtze River if booked by April 22.

The Alumni Travel and Study program sponsored several successful trips in 2007, including an April journey to the Dordogne region in southwestern France. Professor Ourida Mostefai accompanied the travelers and provided local insight into the destination. "Professor Mostefai was a delight to travel with, and her lectures and presentations were impressive," said Cynthia Scalzi '66.

Learn about upcoming trips.
Alumni in the News

Enrico Campitelli '03
Enrico Campitelli '03 writes a popular Philadelphia sports blog, www.the700level.com. More
Marsha Smith, MA'89, is founder of Normandy Allies, a nonprofit organization that provides trips to France's D-Day landmarks for high school students, World War II veterans, and others interested in history. More
Laura Sen '78 is the new president and chief operating officer of BJ's Wholesale Club Inc. More
More news stories about alumni
Nominate Your Fellow Eagles
2008 Alumni Awards of Excellence
Each year, the BC Alumni Association proudly recognizes outstanding alumni in a variety of professions. It also honors an exceptional graduate of the last decade and confers its highest accolade, the William V. McKenney Award, on a distinguished alum. Nominations are due April 10. View the website for more information.
Professor Mahoney Delights Alumni Audience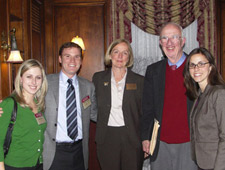 Rattigan Professor of English Emeritus John L. Mahoney (second from right) with, from left: Anne Bloom; Philip Jordan, JD'05; Lifelong Learning Institute Program Manager Carol Naber; and Beth Newmark, JD'03.
More than 50 alumni and friends gathered on March 13 in Alumni House to hear Rattigan Professor of English Emeritus John L. Mahoney recite the spoken verse from a selection of Irish poems he's recently released on a compact disc—with works ranging from William Butler Yeats to Seamus Heaney.
Spring into Faith with C21 Online
Visit C21 Online to sign up for any of the Church in the 21st Century Center's three courses that begin this month, including "Women Envisioning Church," "What Makes Us Catholic, Part II," and "Christian Faith and Moral Character."

In addition, C21 Online has partnered with the BC Alumni Association's Lifelong Learning Institute (LLI) to enable alumni to register for C21 Online classes through LLI at discounted rates. For more information, contact LLI's Carol Naber at 617-552-2950 or bclli@bc.edu, or C21 Online's Melinda Donovan at 617-552-0185 or melinda.donovan@bc.edu.