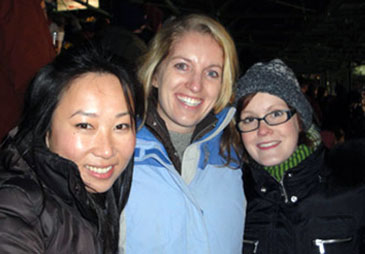 Hockey Fans Celebrate Frozen Fenway. Thousands of BC hockey fans were among the 38,000-plus who filled storied Fenway Park for the BC-BU men's hockey game January 8. It was the largest crowd ever to watch a college hockey game in the East. Among the Eagles fans at Fenway were, from left: Feng Chang, Jean Blosser, and Mary Wertz, all Class of 2006. BC Chronicle coverage
Beanpot Memories – Audio Slideshow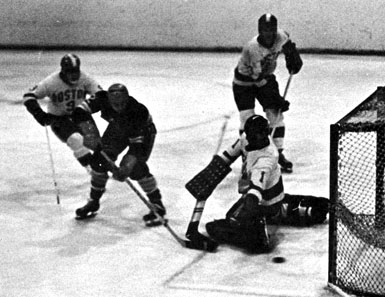 The Eagles play in the 58th annual Beanpot hockey tournament February 1 and 8. The fabled and distinctive matchups of BC, Boston University, Harvard, and Northeastern each February have provided lasting memories, including the performances of John Cunniff '66 (above, scoring against BU), one of the best Eagle "Beanpotters." Reid Oslin '68, MSP'71, P'01, '03, associate director of public affairs at BC and BC's unofficial sports historian, shares some of his memories, including the Eagles' three-tournament win streak in the '60s, in this audio slideshow. If you have Beanpot memories, please share them in an e-mail to uacommunications@bc.edu.
Welcome to China Chapter
Boston College's first China Chapter was launched by Deborah Ehrlich '07 and Kevin Meenan '06, MA'08, in Beijing in fall 2009. Since its inception, the China Chapter has managed to connect with alumni in Beijing, Shanghai, Hong Kong, Nanjing, Xiamen, Dalian, and other locations.
The China Chapter is continuing to work with Boston College to provide whatever it can for Eagles in China, and it seeks to increase knowledge and recognition of BC throughout China. Alumni can contact the China Chapter at chinabceagles@gmail.com. For more information and a photo, click here. Happy New Year, 新年快乐, and go Eagles!
Alumni Awards of Excellence Nominations
The Alumni Association is accepting nominations for this year's Alumni Awards of Excellence, which will be bestowed upon four alumni. The awards include the William V. McKenney Award, the highest honor given by the Alumni Association; the Ignatian Award, which recognizes an individual who lives the mission of "men and women for others"; the GOLD Award, given to a Graduate Of the Last Decade; and the Alumni Award for Professional Excellence. Visit the Web site to make your nomination.
Board of Directors: Your Alumni Leaders
Alumni are encouraged to submit nominations for the Boston College Alumni Association Board of Directors. Members of the board serve three-year terms. Please submit, no later than March 15, the name of any graduate you feel would best serve Boston College and represent its nearly 152,000 alumni. To submit a nomination, please complete the nomination form online and or use the pdf version and e-mail it to Maggie Edmonds at maggie.edmonds@bc.edu or fax to 617-552-4626.
Alumni Participation Challenge
The Alumni Participation Challenge (APC), the multiyear challenge that could bring in an additional $500,000 to BC for financial aid this year, has a deadline of May 31 this year. APC is a challenge from the same anonymous donor who provided $1 million for financial aid with the success of last year's Neenan Challenge. APC runs throughout the Light the World campaign and could bring in as much as $3 million by 2015, but BC needs to achieve its annual target this year to trigger the release of a $500,000 gift for financial aid. More
All those who gave last fiscal year (before May 31) and give again this year—at any level—are charter members of the William B. Neenan, S.J., Society. The new society recognizes alumni who make annual gifts of any amount in consecutive years. More
Black History Month
Student organizations have planned a number of activities on campus to mark Black History Month, which is February. Included among the events are lectures, panel discussions, and films, focused this year on the theme "Celebrating OUR History." More (pdf)
Stay Connected to BC
Learn how you can keep BC's Jesuit, Catholic tradition after graduation, whether it's decades or just days behind you, with "Always an Eagle," the new alumni brochure. Explore the opportunities available to you, which range from keeping in touch with fellow Eagles to making a difference through volunteer work. This brochure is your guide to discovering the many ways in which the Alumni Association offers opportunities for you to continue to stay connected with the Boston College community. To find the right volunteer opportunity for you with the Alumni Association and the BC Fund, visit the "volunteer passport."
Life and Times Survey
All are invited to participate in the Life and Times survey conducted by the Sloan Center on Aging & Work in collaboration with the Graduate School of Social Work and the University Institute on Aging. If you are interested in participating, please go to: www.bc.edu/journeysurvey. The survey will be available until April 6 and results will be shared at the Living the Journey conference April 10. Survey participants will be entered into a drawing to win one of eight prizes: one $250 Visa gift card; two pairs of fall 2010 BC football tickets; and five BC gift packs. Participation is voluntary and any connection of names or other identifying information to actual surveys will remain confidential. You do not need to attend the conference to participate in the survey.
Hispanic Alumni Community Service Award
Nominations are being accepted for the 2010 John A. Dinneen, S.J., Hispanic Alumni Community Service Award. For more information, visit the Web site.
Featured Alumni

Scott Brown, JD'85, P'10
In what many observers called one of the greatest political upsets in history, Scott Brown, JD'85, P'10, a Republican state senator, has been elected U.S. Senator from Massachusetts. He won the special election held January 19 to fill the seat vacated by Edward M. Kennedy, H'66, on his death. Brown is father of Ayla Brown '10, a member of the women's basketball team. With Brown's election, he joins John Kerry, JD'76, to make Massachusetts' senatorial delegation a tandem of BC Law graduates. The BC Chronicle will have a feature article on Brown available beginning February 4.

Pamela Mordecai NC'63
Kevin Armstrong '06, a writer for SportsIllustrated.com, originally described the letter-writing relationship of BC football star Mark Herzlich, '10, who was fighting cancer, and a nun who is a Notre Dame fan. His article was the basis for a video by ESPN featured in the November edition of Alumni Connections. Archive of Armstrong columns
Jacqueline Heard, PhD'96, directs Monsanto's program for drought-tolerant crops at its research center in Mystic, Connecticut. More
Pamela Mordecai NC'63 is a writer, poet, and teacher. A native of Jamaica, she and her family live in Toronto, Canada. More
Upcoming Alumni Events
West Coast Technology Council Dinner - February 9
University President William P. Leahy, S.J., and Evelyn J. And Robert A. Ferris Professor Michael Naughton will speak at the West Coast Technology Council dinner Tuesday, February 9, Rosewood Sand Hill Hotel, Menlo Park, California. Check the Web site for more information.
Council for Women of Boston College - An Evening with Mary Tomer '03 - February 9
Mary Tomer '03, founder and contributing editor of Mrs-O.org, a Web site devoted to the fashion of First Lady Michelle Obama, and author of Mrs. O: The Face of Fashion Democracy, will speak Tuesday, February 9, 7:00 p.m., Shea Room, Conte Forum. To register, please contact Lauren Michel, lauren.michel@bc.edu or 617-552-9157.
Council for Women of Boston College - Museum Reception - February 10
Council Members and Associate Members of the Council for Women of Boston College, alumnae, and friends are invited to a reception at the McMullen Museum, Wednesday, February 10, 6:00 p.m. Guests will be able to view the museum exhibit Asian Journeys: Collecting Art in Post-War America. To register, please contact Nicole Huard Daly at nicole.huard-daly@bc.edu. For more information about the council and upcoming council events, please visit the Web site.
Boston Winter Ball- February 20
The 2010 Boston Winter Ball, an event sponsored by alumni of Boston College, will celebrate the last quarter century of excellence at Boston College with a special evening February 20 in the grand ballroom of the Fairmont Copley Plaza hotel. This year, the event sponsors have decided that all proceeds will benefit financial aid at Boston College. Please visit bostonwinterball.com for more information and for tickets, or e-mail info@bostonwinterball.com.
Chicago Chapter Annual Alumni Mass - February 21
Chicago-area alumni are invited to the Chicago Chapter's annual alumni Mass, Sunday, February 21, 10:30 a.m., St. Ignatius High School, Chicago. Richard J. Clifford, S.J., dean of the School of Theology and Ministry, will be the celebrant. Immediately following Mass, the Chapter will host a breakfast reception at St. Ignatius, which will be a great opportunity to renew friendships and learn about the new School of Theology and Ministry from Fr. Clifford. For more information and to register, please click here.
Real Estate Class - Not Just for First-time Home Buyers - February 22
Come learn how to take advantage of current real estate market conditions at this presentation Monday, February 22, 7:00–9:00 p.m., Stuart Hall, East Wing 120, Newton Campus. A banker, realtor, attorney, and accountant will be on site to discuss the varied aspects of home purchase. For more information and to register, click here.
'An Evening at Boston Art'- Arts Alumni Network Inaugural Event - February 25
Join members of the new Boston College Arts Alumni Network at "An Evening at Boston Art," its inaugural networking reception Thursday, February 25, 6:00–9:00 p.m., Boston Art Inc., 23 Drydock Avenue, 2nd Floor, Boston. Please click here for more information and to register.
Alumni Day at Men's Hockey - March 6
The Alumni Association and the Varsity Club invite you to come to Alumni Day at Men's Hockey, Saturday, March 6. This special alumni reception begins at 5 p.m., preceding the BC-New Hampshire game. For more information and to register, click here
Upcoming Spiritual Life Events
Lenten Series: Praying for New Life — February 24, March 3, 10
The Alumni Association and the Church in the 21st Century Center co-sponsor a weekly series of inspirational presentations for the Lenten season. All sessions are Wednesday evenings, 5:30–7:00 p.m., on the Newton Campus. For more information, click here.
Laetare Sunday — March 14
Laetare Sunday will take place March 14 and includes Mass at 9:30 a.m., followed by brunch with seating by class. Patrick Rombalski, vice president for student affairs, is keynote speaker. Join classmates for this annual tradition and experience Laetare Sunday as a special liturgical event that distinctively connects us as graduates of a Jesuit university. For more information and to register, click here.
Living the Journey: Spirituality for the Second Half of Life — April 10
A daylong conference, "Living the Journey: Spirituality for the Second Half of Life" will be held April 10 on the Chestnut Hill Campus. The conference is open to the public and features Jennie Chin Hansen '70, H'08, president AARP. Attendees will hear her and other experts from the fields of theology, ministry, and health discuss how the challenges of growing older are being redefined by faith and service. Continuing education units (CEUs) are available to professionals in the fields of nursing, social work, theology and ministry, and mental health counseling. Registration is available online at www.bc.edu/journey. Register now for early-bird pricing.
Alumni Travel: Early Booking Discounts
Early booking discounts are available for the "Crossroads of the Mediterranean Cruise" and "Treasures of South Africa" travel study programs. Cabins remain available for the "Oberammergau Passion Play & River Cruise" departing July 1. Click here for more information or contact gail.darnell@bc.edu.
BC Athletics Update
ACC Basketball Tournament Tickets on Sale


Tickets are now available for the 2010 men's and women's ACC basketball tournaments. The men's tournament will take place in Greensboro, North Carolina, March 11–14, and tickets (covering all games) are $396 per person. The women's tournament will take place March 4–7, also in Greensboro, and tickets are $99. Please call 617-552-GoBC(4622) to order your tickets.