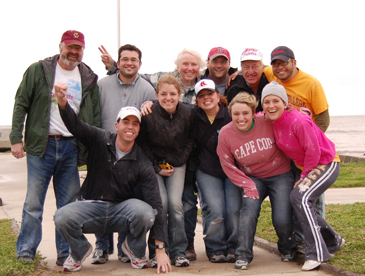 Service Success—New Orleans Trip Makes Local Impact. From January 13–19, some 40 BC alumni participated in the first formal Alumni Association service trip to the Gulf Coast. Alumni from as far afield as California and Connecticut, and ranging in age from recent grads to Golden Eagles, assisted in the reconstruction and cleanup efforts of the hard-hit St. Bernard Parish area, which is adjacent to New Orleans's Lower 9th Ward. Pictured above, a group of BC alumni on the service trip take a moment to pose on the Gulf Coast.
View more photos of the alumni service trip.
Politically Speaking:
Past UGBC Leaders Reconnect on Campus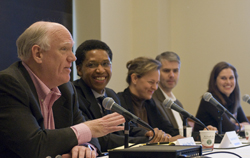 Former student leaders discuss their experiences during the first-ever UGBC Reunion. Pictured above (left to right), Michael Ryan '70, Duane Deskins '76, JD'79, Jill Alper '87, Richard Culliton '91, and Grace Simmons '05. (Photo by Lee Pellegrini)
In 1968, life was certainly different on the Heights than it is today: the University was not completely coeducational, the upper reservoir had not yet been entirely filled in, and the student body just elected its first president, Michael Ryan '70, to serve on the Undergraduate Government of Boston College (UGBC).
For the 40 years since Ryan's election, UGBC has been the official voice of the student body. For the first time, BC's past student leaders gathered to discuss their experiences and the future of student government at the University. Held November 30–December 1, UGBC's inaugural reunion of past presidents and vice presidents drew 35 former student leaders, 25 current and former administrators, and 15 current UGBC cabinet members.

"I was amazed by how much we all had in common during our respective tenures, and by our mutual respect for BC students and the University's mission," said Grace Simmons '05, a former UGBC president in attendance.

Read more (PDF) and view photos of the UGBC Reunion.
BC Trivia:
Rekindling the Golden Lantern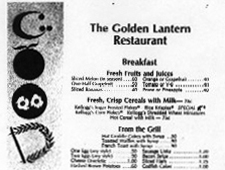 A glimpse of a classic menu from the Golden Lantern circa 1982. View (PDF) for a more complete sampling of the Lantern's offerings.
Thank you to the more than 200 alumni who took a stab at answering the trivia question in last month's Alumni Connections. An outstanding 48.5 percent of respondents answered correctly. The Golden Lantern, a full-service restaurant in Walsh Hall, was open from 1981 to 1993.
View a list of the winners—those lucky first 20 alumni who answered correctly and won a BC decal.
BC Marching Band Hits Right Note for Alumnus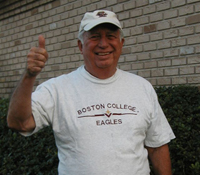 Tom Aglio '53, MSW'55
Last month, Alumni Connections asked alumni to submit their favorite memories from BC's terrific 2007 football season. Tom Aglio '53, MSW'55, shared a story about a special parade in Winter Park, Florida (a town near Orlando), involving the BC and Michigan State marching bands on the day prior to the Champs Sports Bowl. In 2000, Tom won the Alumni Award of Excellence for Public Service for his work with Catholic Charities in Orlando.

By Tom Aglio '53, MSW'55

Today was one of those days that you save in memory for a very long time—a day of great joy and pride, a day of reminiscing, and a day of nostalgia. It was a day of thoughts of the heart, rather than musings of the head.

The Boston College Marching Band is in town accompanying the football team to the game tomorrow at the Champs Sports Bowl against Michigan State. A local man, who recently had seen a band event at Purdue University, arranged for BC's and Michigan State's large marching bands to parade and then provide a brief concert for the gathered well-wishers on Park Avenue in Winter Park.

Park Avenue was full of spectators to witness this first-ever event. No other groups, no floats, no fire engines, no clowns were present—just the two bands along with their spectacular cheerleaders and mascots. The weather was perfect: December sunshine, blue sky, a tender breeze, and temperatures pushing up almost to 80 degrees...

Read more of Tom's story, including his memorable encounter with BC's Fr. Don MacMillan.
Alumni Love Is in the Air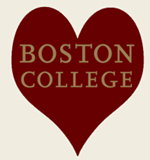 As February 14 approaches and Cupid's arrows are ready to sling, we wish a Happy Valentine's Day to all BC couples! Please share stories of how you met and any wedding photos that contain BC alumni for next month's Alumni Connections at uacommunications@bc.edu.





Alumni in the News

Jeffrey Sellinger '95
Michael Maurer '99 has opened a restaurant in Southwest Florida that has the look and feel of Fenway Park. More
Karen Nober, JD'87, has been named the executive director of the Massachusetts State Ethics Commission, the state agency that investigates ethical breaches by government officials. More
Jeffrey Sellinger '95 is the new senior vice president of CBS Mobile. More
More news stories about alumni
Boston's Mayor Menino Addresses
BC's Lifelong Learners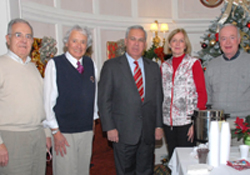 The Lifelong Learning Institute welcomed Boston Mayor Thomas Menino to Alumni House. Pictured above (left to right), Ken Caldwell, LLI President Frank Smith '59, Mayor Menino, LLI Program Manager Carol Naber, and John McGrann.
Boston College's Lifelong Learning Institute (LLI) hosted Boston Mayor Thomas Menino on December 10, when he discussed "Boston's Priorities: Today and in the Future."
Speaking to members of the LLI course "Key Questions in the Role of Government Today," Menino stressed the need to maintain and expand support for public education.

"Mayor Menino gave us a firsthand overview of the 'big picture' in Boston, including the key issues of the economy, public safety, development, and public education," said Lisa Whalen, former LLI director and active LLI participant.

The Lifelong Learning Institute has been offering a variety of fall and spring semester courses to BC alumni and friends for over 15 years.
Spirituality Events:
Join BC's Lenten Traditions
Annual Lenten Retreat—February 23
Lent comes early this year, so plan now to take time to hear God's voice and join the BC Alumni Association for its annual Lenten retreat. Held at the Connors Family Retreat and Conference Center in Dover, the retreat will feature talks on Ignatian spirituality, quiet time for reflection and prayer, and the celebration of the Eucharist. Join us for the day on Saturday, February 23, or stay overnight through Sunday. Space is limited, so sign up soon. For more information and reservations, contact Carol Quintiliani at 617-552-4753 or carol.quintiliani.1@bc.edu.
Laetare Sunday—March 2
This year marks the 57th anniversary of BC's Laetare Sunday celebration, which will feature Mass, brunch with seating by class, and a discussion by keynote speaker Cutberto Garza, provost and dean of faculties at Boston College. Join your fellow classmates and remember why Laetare Sunday is a special liturgical experience that connects us in a distinctive way as graduates of a Jesuit university. The celebration will take place on Sunday, March 2, starting at 9:30 a.m. in Conte Forum. Visit the Website for upcoming details and RSVP information.
Annual Lenten Breakfast Series—February 13 and 27, March 12
Boston College alumni are invited to the third annual Lenten Breakfast Series at the BC Club in downtown Boston. Designed to offer a focus for Lenten meditation, the first program, "Using the Imagination in Prayer," featuring Jack Butler, SJ, will occur on Wednesday, February 13, from 7:30–9:00 a.m. The second program, "God Wants Friendship," featuring William Barry, SJ, will take place on Wednesday, February 27; and the third and final program, "The Paschal Mystery of Christ in the Spiritual Exercises," featuring Casey Beaumier, SJ, will be on Wednesday, March 12.

All programs will include a continental breakfast, prayer, a brief talk, and an open discussion. Cosponsored by the BC Alumni Association's Office of Spirituality and Service and The Church in the 21st Century Center, the programs are free, but space is limited. For reservations, contact Dianne Duffin at 617-552-1171 or duffindi@bc.edu.
C21 Online Faith Renewal for Lent
C21 Online is offering two courses corresponding with the Lenten season. Beginning on February 4 is the six-week course "Encountering Mark, Matthew and Luke: The Synoptic Gospels," featuring videos with Fr. Michael Himes and text by Philip Cunningham, Ph.D.'92, former executive director of BC's Center for Christian-Jewish Learning. Beginning on February 18 is the four-week course "Spirituality Matters," also featuring videos with Fr. Michael Himes. In partnership with the Alumni Association's Lifelong Learning Institute (LLI), alumni may register at the discounted rate of $35 per course. For this special rate, contact the LLI at 617-552-2950 for the registration code. For more course information, visit C21 Online.



February 2008
In This Issue
UGBC Reunion
BC Trivia Answer
BC Football Memory
Valentine's Day Stories
Alumni in the News
Boston Mayor Menino's LLI Visit
Upcoming Lenten Events
C21 Online

Boston College News
A new dual degree program offered through the Institute of Religious Education and Pastoral Ministry (IREPM) and the Carroll School of Management allows students to earn their master's in pastoral ministry and business administration. Read more.
Newton College
"March" Arrives Early for Newton College Book Club
Newton College alumnae and members of the Lifelong Learning Institute (LLI) are invited to attend a book club meeting to discuss Geraldine Brooks's novel March, which won the 2006 Pulitzer Prize for fiction. The novel is the compelling story of the absentee father in Louisa May Alcott's classic novel Little Women.

The meeting will occur Monday, February 11, starting at 7:00 p.m. at Alumni House. If you wish to attend, RSVP to Julie Nuzzo, NC'74, at 617-552-4577 or julie.nuzzo@bc.edu by Thursday, February 7. You may also participate by conference call and should contact Julie for more details.
Alumni Events
Alumni Go Global:
El Salvador Immersion
Join fellow BC graduates on a weeklong immersion trip to El Salvador from May 3-9, marking the third consecutive year that a group of BC alumni will travel to the country. Alumni will have the opportunity to learn firsthand about the cultural, economic, and political realities of El Salvador. For more information, contact Dan Leahy at 617-552-3478 or leahyd@bc.edu.
Chapter Events
A Winning Pitch:
Eagles vs. Red Sox
Join the Southwest Florida Chapter and the BC Alumni Association on February 28 when the BC Eagles take on the World Series Champion Boston Red Sox in an exhibition game at City of Palms Park in Fort Myers, Florida. A pregame cookout will be held on the practice field at City of Palms Park at 11 a.m., followed by the first pitch at 1 p.m.

Tickets are $50 per person and include entrance to the pregame cookout and baseball game. Deadline for receipt of payment is Friday, February 22. Contact the Alumni Association at 800-669-8430 or alumnichapters@bc.edu with questions or to reserve your ticket. Tickets are limited and advance purchase is required.
A Campus Calendar
Writers Among Us
James Smith, associate professor of English, reads from Ireland's Magdalen Laundries and the Nation's Architecture of Containment, a study of the controversial workhouses where many Irish women and girls were confined throughout the 19th and 20th centuries. Marianne Bolger, vice consul for the Consulate General of Ireland in Boston, will provide an introduction to the reading. Sponsored by Boston College Magazine, this event is part of the Writers Among Us series, which celebrates recent book publications by Boston College faculty. Tuesday, February 5, 7:00–8:00 p.m., Gasson Hall 305. For more information, please contact Leigh Carlisle at 617-552-4576.
A Conversation on Women in Faith
Join The Church in the 21st Century Center and the Women's Resource Center at Boston College for a panel discussion "Foremothers in Faith: Historic Women For Our Time" with four BC professors and the vice provost for faculties, to be followed by a reception. To reserve your spot, contact Nayla Raffol at 617-552-0470. Wednesday, February 6, 5:30 p.m., Heights Room, Corcoran Common.
Read more.
Boston College Men's Basketball vs. Maryland
The Eagles go for a regular season sweep in this rematch against the ACC stalwart Maryland Terrapins. Wednesday, February 6, 7:00 p.m., Conte Forum.
Catholic Writers Converge
In celebration of the book Take Heart: Catholic Writers on Hope in Our Time, Boston College will sponsor a public forum on the meaning of hope led by prominent Catholic writers: Fr. Robert Imbelli, associate professor of theology at Boston College; Kevin Cullen of the Boston Globe; Clare Dunsford, associate dean of the College of Arts and Sciences; and Colleen Griffith, adjunct associate professor of theology at Boston College. Ben Birnbaum, Take Heart editor and special assistant to the president, will moderate. Cosponsored by Boston College Magazine and The Church in the 21st Century Center. Monday, February 18, 7:00 p.m., Devlin Hall 008. For more information, please contact Leigh Carlisle at 617-552-4576.
Featured Website
Change for the Common Good
Each spring, the Carroll School of Management's Leadership for
Change program recruits a diverse learning community of business professionals who've successfully integrated responsible leadership skills into their workplace. Through monthly learning modules, workshops, and team meetings, cohorts of 25 participants further enhance their personal skills, gain diverse business and social perspectives, and experience collaborative leadership for the common good. Early acceptance deadline is February 15, and the regular application deadline is May 15. Twelve graduate credits are awarded.
Alumni Programs
Career Services
Chapters
Classes / Reunions
Lifelong Learning
Newton College
Travel / Study
Spirituality and Service
Got ideas for programs or services you'd like us to consider? Contact a member of our staff.
Alumni Services
As a Boston College graduate, you are able to take advantage of a whole range of benefits, including discounted auto insurance, life insurance, and medical insurance.
Quick Links
Update your address information
BC Rewards
Do you have the all-new BC Rewards Platinum
MasterCard—the card that lets you earn exclusive BC rewards like season tickets and trips with the team?