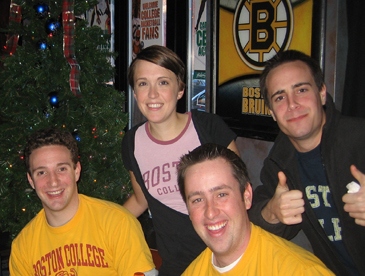 A Season to Remember. Alumni chapters throughout the country gathered in local haunts and homes to cheer on the Eagles over the course of this unforgettable football season. Pictured above (left to right), Michael Leonard '07, Tiffany Nilsson '07, Christopher Burke '07, and Geoffrey Vogel '07 were among the more than 250 alumni who gathered at The Greatest Bar in Boston to watch BC compete in its first ACC championship game versus Virginia Tech.
Although the Eagles lost their rematch with the Hokies, the 2007 campaign was a categorical success, highlighted by a #2 ranking in the national polls, a Heisman candidacy for Matt Ryan '07, MS'08, and a 10-win regular season. The Eagles capped it all off in style with a 24-21 victory over Michigan State in the Champs Sports Bowl, thus pushing the nation's longest current bowl winning streak to eight games.
Share your favorite memories of this past season for next month's Alumni Connections at uacommunications@bc.edu.
Tired of Tedious Texting?
Send a BC Electronic Postcard!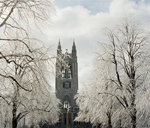 Choose from a wide variety of electronic postcards, such as one of Gasson Tower in winter.
Want to stay in touch with fellow classmates, friends, and family, while also sending them a warm reminder of life on the Heights?
Select from nearly two dozen free electronic postcards, each featuring a quintessential campus shot and plenty of room for personalized greetings.
Send a postcard today.




BC Trivia:
Knowledge Is Power (and Maybe a Free Decal)
Did you know that BC Dining Services once ran a full-service restaurant, the Golden Lantern, in Walsh Hall? During what years was the restaurant open?
A. 1968-1979
B. 1976-1992
C. 1981-1993
D. 1984-1995
Answer by logging into the Alumni Online Community. The first 20 people to respond correctly will receive a BC decal in the mail.
Home Is Where the Heights Is:
Alumni Couple Creates Own BC Museum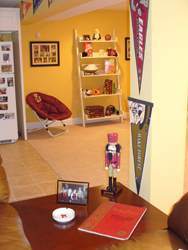 A view of the Schiffs's BC shrine
If a home's décor says a lot about those who live there, then there's little risk Bradford Schiff '77 and Catherine Stanton Schiff '87 will be confused for Notre Dame alumni. The couple has built a veritable BC museum...in their house. What began as a passion for collecting all things BC has, for the Schiffs, morphed into an artistic vision. According to Catherine, the couple visits online auction sites and attends other auctions in person in order to purchase vintage BC items—the most cherished being a football signed by Hail Mary heroes Doug Flutie '85 and Gerard Phelan '85.
"My husband and I have such a strong connection to BC, and we've always been big BC sports fans," says Catherine. "This seemed like a great way to show our BC pride." The Schiffs made the most of their Braintree, Massachusetts, home this football season, hosting several football viewing parties with classmates and many members of a large BC family.
View more photos of the Schiffs's home.
Quick Highlights from the Heights in 2007
–Boston College produced 18 Fulbright recipients, including 13 from the German Studies department alone.

–More than 700 students attended spring break service trips in March, including 631 who participated in the Appalachia Volunteers Program.

–The McMullen Museum of Art presented Pollock Matters, the highly acclaimed art exhibit that showcased the artistic connection between abstract expressionist painter Jackson Pollock and photographer Herbert Matter. The exhibit contributed to the international discussion about the authenticity of several works attributed to Pollock.

–BC biologists discovered that a high-fat, low-carbohydrate diet designed to treat epilepsy in children significantly decreases the growth of brain tumors in laboratory mice—a breakthrough published in the online journal Nutrition & Metabolism.

–BusinessWeek placed the Carroll School of Management #14 in its annual survey of U.S. undergraduate business schools. The ranking marked a rise of nine places for BC from 2006.
Alumni in the News

Archbishop Timothy Broglio '73
Archbishop Timothy Broglio '73 has been named head of the U.S. Archdiocese for the Military Services. More (PDF)
Theresa McLoud '64 has been named president of the board of directors of the Radiological Society of North America. More
Paul Reynolds '82 is president and cofounder of FableVision, a multimedia company that produces educational films, books, and software. More
More news stories about alumni
BC's Relay for Life
Alumni and friends of Boston College are invited to join the Relay for Life of Boston College to celebrate those who've survived cancer, remember those we've lost, and fight back against a disease that affects so many lives. Money raised will benefit the American Cancer Society.
BC's Relay for Life will begin on Friday, February 15, at 6 p.m. in the Flynn Recreation Complex with a Survivors' Reception, where people can meet and spend time with other cancer survivors and their families. Opening ceremonies at 7 p.m. will kick off the relay. Here's how it works: participants form teams, and one member of each team must walk around the track at all times until 6 a.m. the next morning. To register, contact Mike Giblin '10 or Ainsley Jones '08 at bcsurvivorship@gmail.com.
Considering a New Job in the New Year?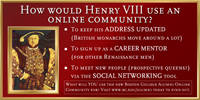 There's no need to pursue your new year's resolution alone. Log into the Alumni Online Community and check out the Alumni Career Network, where you can access a database of more than 9,000 alumni career members. Trying to enter a new industry or occupation? Find out all the facts before your interview by using CareerBeam's organization and industry databases.
Log into the Alumni Online Community.
First-time users register here.
Your Eagle ID is:
Online Spiritual Renewal
The BC Alumni Association's Lifelong Learning Institute (LLI) is partnering with C21 Online so that alumni may register for up to three C21 Online classes through the LLI at a discounted rate of $35 per class plus registration fee. These designated classes include: "Encountering Mark, Matthew, and Luke: The Synoptic Gospels" (February–March); "Spirituality Matters" (February–March); and "What Makes Us Catholic, Part II" (April–May)—you can register for Part II without having taken Part I. Alumni who register for any of these three classes will be placed together in online conversation groups. For more information, contact the Lifelong Learning Institute at 617-552-2950 or bclli@bc.edu.
C21 Online also offers additional four-week courses which will begin on January 22: "The Creed," featuring videos with Fr. Michael Himes; "Parents Handing on the Faith," featuring Professor Thomas Groome; and "Teaching Religion." Additional courses are offered throughout the semester, including some free two-week introductory courses for you to explore.
Find out more.
16th Annual Baseball Night in Boston:
Support the Really Local Nine
The 16th Annual Baseball Night in Boston—the largest single-event fundraiser for BC Baseball—is crucial to the continued success of the program.
This year's event will take place on Thursday, January 24, from 6:00–9:00 p.m. in the Yawkey Athletics Center. The featured speaker will be widely respected sports writer Bob Ryan '68.
Space is limited to 250 guests for this event. Tickets will be sold on a first-come, first-served basis and will cost $150 each. Tickets may be purchased by contacting the Office of Athletic Development at 617-552-0772 or by mailing checks payable to "Boston College Baseball" to the Office of Athletic Development, Conte Forum, 140 Commonwealth Avenue, Chestnut Hill, MA 02467. Gifts to BC Baseball may also be made by calling the number above or mailing a check (please write "no tickets needed").