Boston College Welcomes Rescued Torah to Its New Home
Donation of sacred scroll to the Center for Christian-Jewish Learning is 'a huge first' for BC's Jewish community
By Mark Sullivan, Staff Writer
Photos by Lee Pellegrini
A Torah rescued by a Catholic priest from a Polish synagogue burned by the Nazis in 1939 has found a new home at Boston College, thanks to the generosity of a BC alumnus.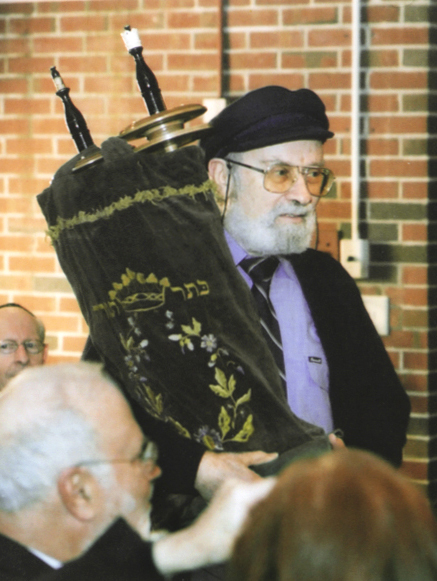 Yale Richmond '43 donated the Torah, given to him by a Polish priest who had rescued it from a burning synagogue in 1939.
On Friday, Oct. 11, a festive ceremony completed the Torah's serendipitous route to Chestnut Hill and marked a historic first in Jewish worship at Jesuit Boston College.
A procession for the Torah - carried under a wedding canopy to Klezmer music played by a band led by violinist Prof. Daniel Kirschner (Biology) - was held in the University's Multi-Faith Worship Space at 66 Commonwealth Avenue, where the scroll was installed in an ark specially constructed by Boston College carpenters.
Inscribed 83 years ago in Krakow, the Torah was rescued from the flames of a burning synagogue during the Holocaust by a priest, his name lost to memory, who in 1960 conveyed the scroll to an American Jew who was a cultural attaché at the American embassy in Poland.
The diplomat, Yale Richmond, a 1943 Boston College graduate who also served in Germany, Austria, Laos and the Soviet Union during three decades in the Foreign Service, held the Torah in safekeeping for the past 42 years.
While browsing the University's Web site recently, Richmond read about the fledgling Center for Christian-Jewish Learning at Boston College, and decided to contact the center with an offer.
"I sent an e-mail asking, 'Would you like a Torah?'" he recalled. The answer - immediate - was in the affirmative.
So the retired Foreign Service officer last week drove from his home in Washington, DC, to hand-deliver the sacred scroll.
The Roxbury native, one of only four Jews in his BC graduating class, said the rescued scroll underscores the bonds between Christians and Jews.
"A Catholic priest rescued it, and sheltered it for 20 years," said Richmond. "Boston College sheltered me for four years, and gave me the bachelor's degree that allowed me to set out on a 30-year career in the Foreign Service."
The gift of the Torah to the Jewish community at Boston College represents "a huge first," said Assoc. Prof. Ruth Langer (Theology), a rabbi who is associate director of the Center for Christian-Jewish Learning. Readings from the Torah, comprising the first five books of the Hebrew Bible, or Old Testament, are central to Jewish worship. Placement of the scroll in the Multi-Faith Worship Space allows the chapel to function fully as a synagogue on those occasions when Jewish students gather for prayer.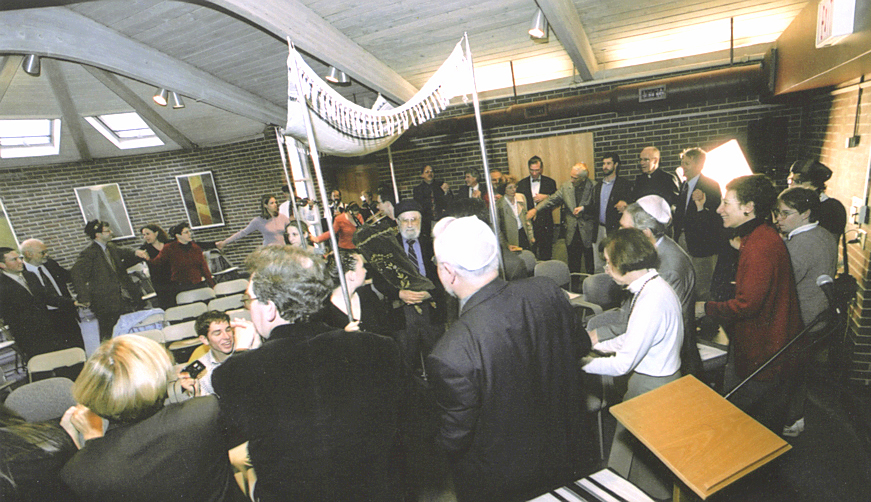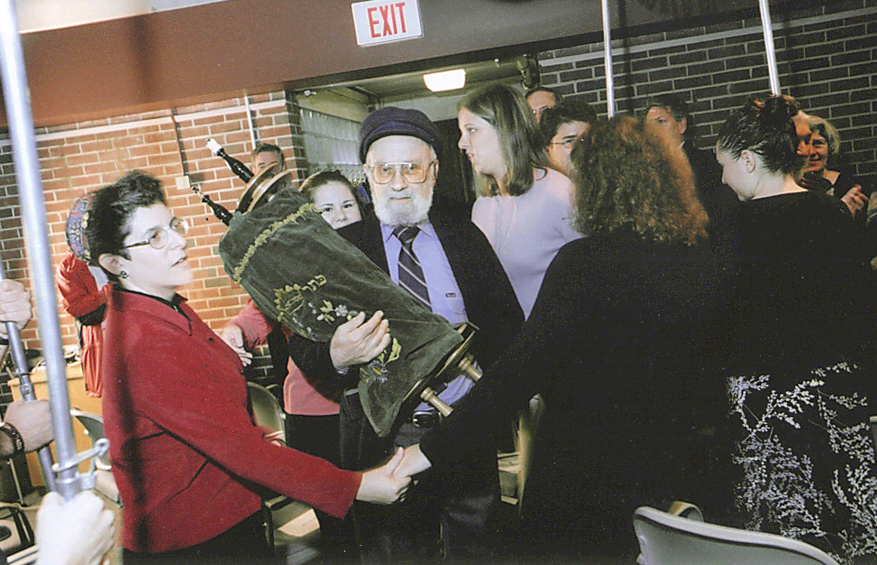 The community dances around the Torah to welcome it to Boston College.
"Full Jewish liturgical life is not possible without a Torah scroll," said Rabbi Langer. "In many ways, a Jewish community is not complete without a Torah; the scroll is not only essential to the community, but it even enables the community to exist fully.
"Jewish students have been present at BC more or less throughout the University's history, but they have never had a way to be a religious community on campus. Until the dedication of the Multi-Faith Worship Space [in 2000], there was no 'religious space' for non-Catholics on campus. Now that space can, when appropriate, function as a synagogue. This coincides with the remarkable growth in energy of the Hillel community on campus over the past eight years, to the point that the new freshman class has a remarkable number of Jewish students who came expecting to continue their involvement in Jewish life on campus.
"As to the Catholic end: there is a long history of Catholic anti-Judaism that has begun to be corrected only since the Holocaust. BC's Center for Christian-Jewish Learning is playing an important role in the continuing work of this repair. This Torah and its presence on a Catholic campus is symbolic of that repair.
"This Torah is a marker of a reconciliation, embodying that priest's daring act of resistance - whoever he was, he almost certainly risked his life for this scroll - and the fact that a Jewish group can have a religious life on Catholic property."
Less than 1 percent of Boston College's 8,900 day undergraduates are Jewish, according to the Boston College chapter of the Jewish campus organization Hillel, but the small but thriving Jewish community at BC has had impact beyond its numbers.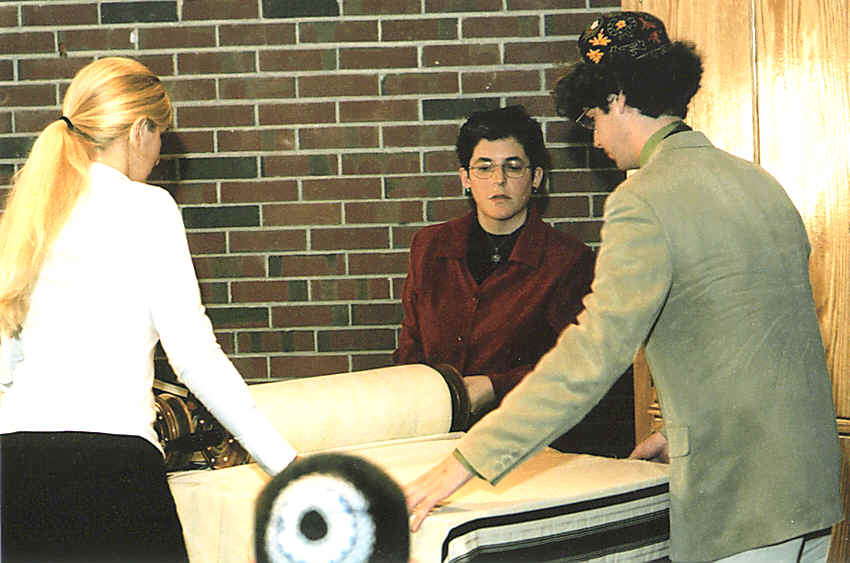 Center associate director, Rabbi Ruth Langer assists Hillel students in unrolling the Torah scroll.
Boston College Hillel sponsors student Shabbat observances and a BC community Seder as well as lectures and charity drives. President Brian Lerman '03 currently serves as president of the New England board of Hillel, and was recently honored by the national organization for his efforts at fostering a Jewish presence on campus. Past BC Hillel President Ari Shapiro '01 previously served as president of the New England Hillel board.
Vice President for University Mission and Ministry Rev. Joseph Appleyard, SJ, who helped organize the Oct. 11 ceremony, expressed gratitude to the Polish Consulate for its assistance with the event.
Hillel president Brian Lerman accepted Mr. Richmond's gift on behalf the BC Jewish community.
Boston College Hillel's formal acceptance of the Torah scroll
Brian Lerman, president, Boston College Hillel
What an incredible day it is for the Jewish community of Boston College. Only three years ago, my family, like so many, thought that there was limited Jewish life at Boston College. However, we very soon learned that not only does the campus have a tremendous Jewish community, but the Jewish faculty and staff, combined with the Greater Boston Jewish community, open their arms to Jewish students at this magnificent institution.
While the Jewish student organization had only a small number of active students just six years ago, today we can say it is not only growing, but also thriving. As a student organization, we are a very tight knit group. We all share a passion for Jewish life, some of us who know no other way, and some of us have found that away from home, at a Jesuit school, their faith has come alive and they want it to be a major part of who they are. The student board is extremely committed to enhancing Jewish life in whatever way is necessary and their ability to work so well together makes the process all the more easier.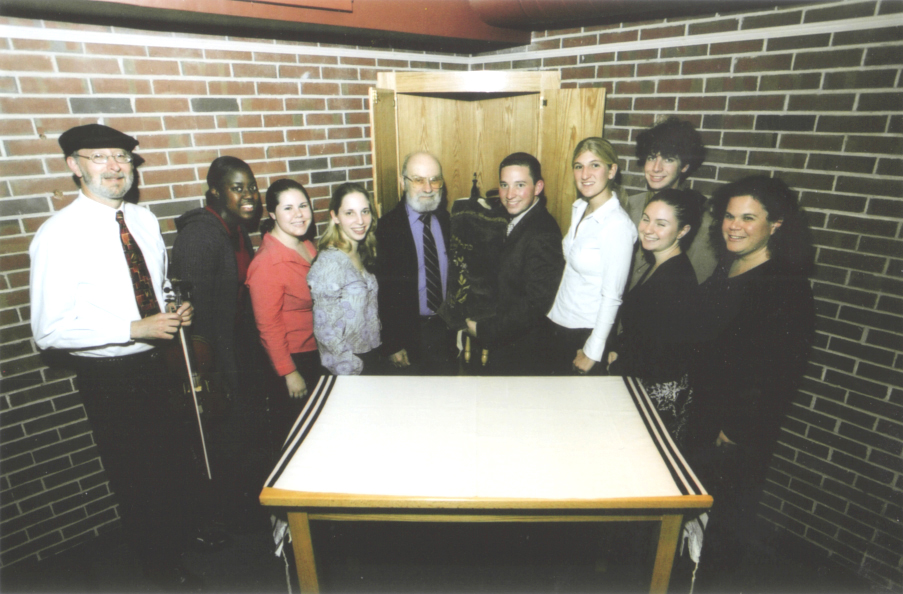 Prof Daniel Kirschner, Hillel Faculty Advisor (left) Ailene Gerhardt, BC Hillel Director (right) gather around Yale Richmond and BC HIllel president Brian Lerman (center) in front of the ark holding the rescued Torah scroll.
There is no better time than right now for such an incredible gift for BC Hillel. Jewish student life is undergoing great change as we are now fortunate, thanks to Hillel Council of New England, to have a Hillel professional on campus a few days a week. With Hillel Council's help provided by Ailene Gerhardt, Director of Regional Student Services, Jewish student leaders, have been able to work more closely with the administration to be sure that Hillel is thought of not only as a club on campus, but more than a club, a center for Jewish campus life. Ailene's work has supplemented the great resource our faculty advisor, Dan Kirschner, has provided students. And now with the exciting growth of the Center for Christian-Jewish learning, the Jewish students have more resources now than ever! What seemed like the impossible only a few short years ago, has now become the actual. Jewish students more and more can call Boston College Hillel a Jewish home away from home, and the center for Jewish life at BC.
Thanks to the generosity of Mr. Richmond, Jewish students will now have access to their very own Torah, an essential missing piece to BC Hillel's community. To a Jewish community a Torah is more than a scroll; it is the story of a people. In the Mishnah it is written, "The World stands on three things – on the Torah, on the service of G-d, and upon acts of loving-kindness." The Torah, our story, is part of our community and essential to a Jewish life. Up until now, our Jewish community had our people's story only in memory.
Today we can teach each other and learn together. This beautiful Multi-Faith Chapel where we are gathered together today will house our story. The scrolls needed to practice our faith will be a part of our community, not just to look at, but to use, and to enhance our spiritual home. We want to offer the greatest of thanks to Mr. Richmond for his extreme generosity, and for making sure that this scroll would be available for students to use. Todah Rabah, Thank you very much!