In Memory of Rose Thering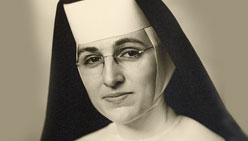 Dr. Rose Thering, a Sister of St. Dominic of Racine, WI and professor emerita at Seton Hall University died on May 6 at the age of 85.
In 1961 she completed a pioneering doctoral dissertation at St. Louis University, part of a wider series of studies sponsored by the American Jewish Committee, which explored whether American Catholic religion textbooks promoted or hindered intergroup amity.
Entitled, "Potential in Religion Textbooks for Developing a Realistic Self-Concept," her study discovered widespread negative assertions about Jews and Judaism in the religion texts, including the following:
Christ, by his miracles and preaching, tried conquer the obstinacy of the Jews and to bring them to repentance. The Jews, on the contrary, by the bad influence of their hypocrisy and pride, hindered the spread of the knowledge of God among the nations.

Since Pilate could not find anything wrong with Christ, he decided to disfigure his pure and beautiful body, so that even the bloodthirsty Jews would back down and say that Christ had had enough. However, when the mob saw this, the chief priests took up a cry that put a curse on themselves and on the Jews for all time: "his blood be on us and on our children."
The American Jewish Committee and Msgr. John Oesterreicher of Seton Hall University brought Thering's study to the attention of Cardinal Augustin Bea, who had been charged by Pope John XXIII to prepare a declaration "On the Jews" for consideration by the Second Vatican Council. The eventual document approved by the Council and promugated by Pope Paul VI in October 1965, Nostra Aetate, thus was partially inspired by Sr. Rose's dissertation when it declared, " what happened in [Jesus'] passion cannot be charged against all the Jews, without distinction, then alive, nor against the Jews of today," and "The Jews should not be presented as rejected or accursed by God, as if this followed from Holy Scripture."

"They were 15 lines in Latin," Thering recalled later, "but they changed everything."

The results of Thering's dissertation were published by John Pawlikowski in his 1973 book, Catechetics and Prejudice. Her research also served as the basis for two later dissertations that studied Catholic religion textbooks: by Eugene J. Fisher in 1976 (Faith Without Prejudice: Rebuilding Christian Attitudes Toward Judaism [1977, rev. 1993]) and Philip A. Cunningham in 1992 (Education for Shalom: Religion Textbooks and the Enhancement of the Catholic and Jewish Relationship, 1995).

Eugene Fisher,

now Associate Director of the Secretariat for Ecumenical and Interreligious Affairs, U.S. Conference of Catholic Bishops, remembered Rose Thering as "one of the giants of her generation, pioneering Catholic-Jewish relations even before the Second Vatican Council. Indeed, her unflinchingly honest analysis of the treatment of Jews and Judaism in Catholic teaching materials ... profoundly influenced the development of the Council's groundbreaking declaration, Nostra Aetate. It also profoundly influenced my own life, since it was her study that I updated for my own PhD degree in 1976."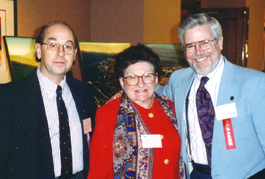 Philip A.Cunningham, now Executive Director of the Center for Christian-Jewish Learning at Boston College, recalled being with Sr. Rose and Dr. Fisher at the 1994 National Workshop on Jewish-Christian Relations in Tulsa, OK: "On that occasion the three of us who had examined American Catholic religion textbooks were able to chart the dramatic reversals in Catholic teaching about Jews that resulted from Nostra Aetate and to which Rose Thering had made such an important contribution. The transformation from the materials that Rose had analyzed through those of Gene's study to mine were truly startling. I think it was very gratifying for Rose to be able to see such tangible evidence of the impact of her work on later generations of Catholics, including me. Her story is a testimony to how one person can make a difference."

Sr. Rose worked tirelessly to bring about the reconciliation between Catholics and Jews, continuing her analyses of Catholic teaching materials, leading joint groups of Jews and Catholics to Israel, fighting for Soviet Jewry, and pioneering in Holocaust education, both in Catholic education and for the State of New Jersey's public schools, producing resources that were used and emulated across the nation.

In 1968, Thering joined the faculty at Seton Hall University where she tirelessly promoted Christian understanding of Judaism, including leading 54 tours to Israel. In 1986, she went to Austria to protest the inauguration of President Kurt Waldheim, the former United Nations secretary general, who had served in a Nazi army unit implicated in the deportation of Jews from Greece in World War II. In 1987, she went to the Soviet Union to protest the government's treatment of Russian Jews. In 1992

the Rose Thering Endowment for Jewish-Christian Studies was established at Seton Hall; it has given scholarships to 350 teachers for graduate studies on the Holocaust and other subjects.

As a member of a commission appointed by Gov. Thomas Kean, she helped write a 1994 law mandating Holocaust education in all New Jersey elementary and high schools.

In 2004, "Sister Rose's Passion," a 39-minute documentary film on her life produced by Oren Jacoby, won an award at the Tribeca Film Festival, and it was nominated for an Academy Award in 2005. The Power of One Foundation will shortly be distributing the documentary to schools throughout the United States. Thering also received more than 80 humanitarian awards, including the Anti-Defamation League's Cardinal Bea Interfaith Award in 2004, the first to go to a woman.
Upon learning of her death, the American Jewish Committee stated that it was "deeply saddened by the passing of Sister Rose Thering, a cherished friend of the Jewish people. With courage and conviction, Sister Rose took a stand long before the Second Vatican Council and challenged the longstanding precepts of Catholic teachings regarding Jews and Judaism. Her pioneering efforts in the mid-twentieth century contributed in large measure to changing the course of Catholic-Jewish relations."
The Anti-Defamation League praised her as "a true Woman of Valor, [who] changed the course of history through her words and her deeds and set a standard for people of all faiths to emulate. Her legacy resides in all those she taught and touched."
Rabbi Louis Reiser of Etz Hayim Synagogue in Derry, New Hampshire, recalled being a participant in one of Rose Thering's numerous tours to Israel, perhaps the thirtieth one in 1989. "It was an amazing trip, perhaps the most memorable I have had to Israel. She was a small lady but I remember her standing at the front of the bus as we began the tour and railing at the participants – 'When you return to your communities, do not tell them you went on a tour of the Holy Land – you went to Israel!' The trip grounded the religious story in the life of the land – and that remains a valuable understanding for me nearly 20 years later. Sr. Rose was a powerful and inspiring person."
It is perhaps strangely fitting that Sr. Rose's passing occurred during the fortieth anniversary year of Nostra Aetate, the revolutionary document whose birth she helped bring about and whose transformative influence will continue to unfold for years to come.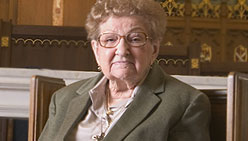 ---

Tribute to Sr. Rose from Bishop Richard Sklba, chairman of the Bishop's Committee on Ecumenical and Interreligious Affairs:
Sister Rose Thering, a Racine, Wisconsin, Dominican, was one of the great pioneers of Catholic-Jewish relations even before the Second Vatican Council. Her meticulous content analysis of the treatment of Jews and Judaism in the U. S. Catholic teaching materials of the late 1950's was an important part of the documentation used by Cardinal Bea and the Pontifical Commission for Christian Unity, to understand the negative aspects of Christian teaching over the centuries and to develop the Council's historic declaration, Nostra Aetate ("In Our Time"). Updates of her doctoral dissertation for St. Louis University were done, also as doctoral dissertations, in 1976 by Dr. Eugene Fisher for New York University and in 1992 by Dr. Philip Cunningham for Boston College. These established objective data showing the increase in understanding of Judaism in Catholic textbooks and in the Church's much more positive assessment of it and of the Jews as Chosen People of God.
Sister Rose served as a member of the Advisory Committee on Catholic-Jewish Relations to the Bishops' Committee for Ecumenical and Interreligious Relations for twenty years, from 1967 to 1987, giving invaluable advice and scholarship to us, as she did informally since then.
Sr. Rose worked tirelessly to bring about the reconciliation between the Catholic Church and the Jewish people. She continued to keep track of Catholic teaching materials, as well as liturgical issues, for areas of improvement. She lead numerous joint groups of Jews and Catholics to Israel, and was a mainstay in the cause of Soviet Jewry. Her pioneering work in Holocaust education, both in Catholic schools and for the State of New Jersey, provided guidance and resources that were used across the nation.
Sr. Rose will be missed by all her friends and those she has so profoundly influenced over the years. She was one of a kind, a woman for our time and for all time. May God gather her up into eternal Shalom. And may her name be for a blessing."