In Memory of John M. Corcoran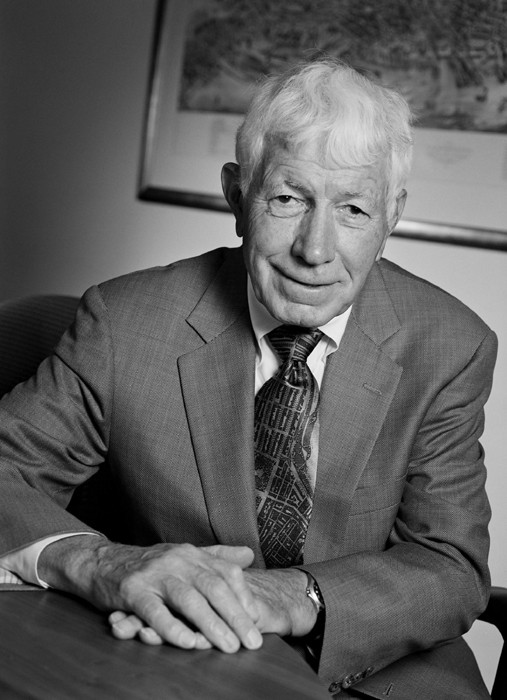 The Boston College community mourns the death of John Corcoran on October 22, 2003. An alum (class of '48), benefactor, and trustee of Boston College, Mr. Corcoran also provided the foundational endowment for the Center for Christian-Jewish Learning.
A first-generation Irish American, Mr. Corcoran was born in Dorchester in 1923. Having earned a fortune in real estate development, he was very committed to philanthropy and to responsible citizenship. In addition to his generous support of his alma mater, Boston College, Mr. Corcoran sponsored numerous worthwhile projects throughout greater Boston, including the St. Mary's Women and Infant Center in Dorchester, inner city parochial schools, the Anti-Defamation League's Torch of Liberty Award dinner, and many speaker and lecture series.
In 1998, during the public debates over the recently issued Vatican document, We Remember: A Reflection on the Shoah, Mr. Corcoran expressed his desire to president William P. Leahy, S.J. that Boston College take a prominent role in the improvement of Catholic-Jewish relations. "As a boy growing up, he saw prejudice against members of the Jewish community," Fr. Leahy noted.
At a dinner held in his honor in 2001, Mr. Corcoran recounted his experiences as boy in unwittingly hawking copies of Fr. Charles Coughlin's antisemitic writings on the Boston Common. Especially after serving in the military with Jewish Americans in the Second World War (he was one of the first Americans to land on the beaches of Normandy on D-Day), he vowed that if he ever had the means to do so he would promote understanding between Jews and Christians.
His dedication to this goal led him in 2000 to donate over five million dollars to establish the Center for Christian-Jewish Learning. In accordance with his wishes, the Center is committed to encouraging mutual knowledge between Christians and Jews at every level through academic research and dialogue, educational programs, and the development of resources locally, nationally, and internationally. A special concern of his was that the Center's work really have positive effects on relationships between Jews and Christians in local synagogue and church communities.
"He was very giving and generous," observed Fr. Leahy. "He didn't like the limelight, but he did so much good."
Inspired and grateful for his vision and generosity, the Center renews its commitment to the mission that was so important to John M. Corcoran. May his name be a blessing for years to come!