Boston College
Center for
Christian-Jewish Learning

Boston, USA
Catholic Theological Union

Cardinal Bernardin Center


Chicago, USA
Katholieke Universiteit Leuven
Leuven, Belgium
Pontifical Gregorian University
Cardinal Bea Centre for Judaic Studies
Rome, Italy
---
Ariccia Consultation (October 19-22, 2006)
The 2006 Ariccia consultation was an opportunity for the participating scholars to have focused time together to share their ideas and insights on a key theological question. It provided an informal environment for the free exchange of ideas. Participants brainstormed, launched "trial balloons," and advanced experimental hypotheses with colleagues who shared their expertise and concerns.
The participating scholars spent concentrated time exploring this meta--question:
How might we Christians in our time reaffirm our faith claim that Jesus Christ is the Savior of all humanity, even as we affirm Israel's covenantal life with God?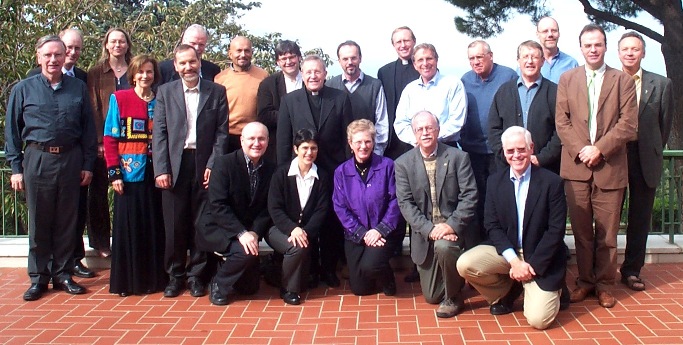 Standing (l to r): T. Norris, J. Svartvik, B. Meyer, T. Cohn Eshkenazi, Sievers, H.H. Henrix, P. Gamberini, E. Kessler, Cardinal W. Kasper, D. Hercsik, N. Hofmann, M. Signer, J. Pawlikowski, R. Pesch, D. Madigan, D. Pollefeyt, H. Heinz; Kneeling: J. Massa, E. Procario-Foley, M. Boys, M.McGarry, P. Cunningham.
The deliberations of the 2006 Ariccia consultation can be charted on this concept map.