Dear 1L, L.L.M. and transfer students,
Welcome to BC Law. We are looking forward to working with you over the coming months. We know that you will be spending many productive hours in the Law Library. Please take a few minutes to read the articles in the fall Law Library Newsletter to help you make the most of academic year 2017-2018.
Did you know that BC Law students have access to online study aids that can do everything from clarifying the elements of a cause of action in an intentional tort to quizzing you on the differences between personal and diversity jurisdiction before your civ pro exam? Please peruse this newsletter to find out more about this particular resource as well as other useful topics, such as the ten things that you need to know about the Law Library, tips on improving your citation skills, and free access to the New York Times, Financial Times, and Washington Post. You will also find a law themed diversion in the article about the Daniel R. Coquillette Rare Book Room's exhibit on the history of case books.
Law school is intellectually stimulating and arduous. Please take care of your health. Try to pace yourself as the semester progresses. You might enjoy using the Contemplation/Meditation Room (Room 427) in the Law Library for individual meditation and contemplation breaks. If you would like, please consider joining the weekly meditation group. We sit, breathe, and meditate together from noon-12:30 p.m. every Monday in Room 427 in the Law Library. In the meantime, best wishes for the success of academic year 2017-2018.
Peace,
Filippa Marullo Anzalone
Professor of Law
Associate Dean for Library & Technology Services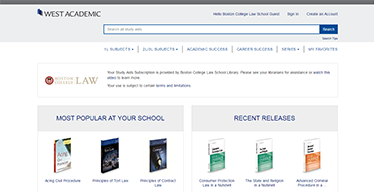 Online Study Aid Access
The BC Law community has access to West Academic study aids through the Library! Take advantage of the complete access you get to these electronic resources that can clarify the elements of a cause of action in an intentional tort, quiz you on the differences between personal and diversity jurisdiction before your civ pro exam, and help you navigate the waters of drafting a good brief in Law Practice I & II.
Point your mouse to the Law Library List of Databases to get started. Read more about access in this Legal Eagle blogpost!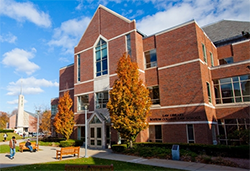 Special 1L Sessions at the Law Library
We are enjoying all our interactions with the 1L class members – what a great group of students! During October, watch for an e-mail message from the lawref group: we are sending special invitations to 1L class sections. Your invitation sets the day and time for you to spend 45 minutes at the Law Library in a small group setting. You will learn about the Library's collection of study aids and how you can use these tools that are available in print, electronic, audio, and audiovisual format. You will also have time to ask any questions you may have about BloombergLaw, Lexis or Westlaw issues. Looking forward to seeing you soon.

Listen to Your Casebooks
Save your eyesight and listen to your casebooks using AudioCaseFiles, one of the components of Courtroom Cast, one feature of the Courtroom View Network. BC Law students have access to downloadable MP3 files of edited judicial opinions in popular law school casebooks through the Law Library's subscription to Courtroom View Network. Access the audio files by registering at https://courtroomcast.lexisnexis.com/signup using your BC e-mail address. You can browse the list of casebooks included there to find your course text using the links at the bottom of the Courtroom View home page. Download your assigned opinions to listen on the go, or listen to them on ANY mobile device. Questions? Stop by the Information Desk or e-mail lawref@bc.edu.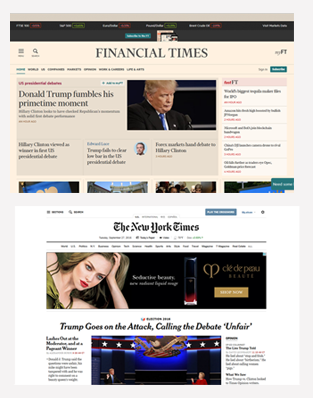 Online Access to the New York Times, Washington Post, and Financial Times
New York Times: The Law Library has partnered with the New York Times to offer personal digital subscriptions to current members of the BC Law community. To set up your subscription, click on this link . Enter your email address in the firstname.lastname@bc.edu format and create a password when prompted. These will be your credentials for your account.
Financial Times: Boston College Libraries offer personal digital subscriptions to the Financial Times. To create an account, search for Financial Times in the Law Library's A-Z database list.
Washington Post: The Post offers free digital subscriptions with a valid .edu email address. Click on this link to sign up.
For assistance with any of these digital newspaper subscriptions, please contact Deena Frazier, the Law Library's Collection Services Librarian.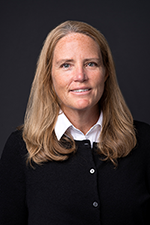 Introducing Amy Bruce, New Law Librarian
Amy will be working as part of the Education and Reference team, providing research support to faculty and students, and teaching legal research courses. Previously, Amy was the senior manager of research services at Goodwin Procter LLP. She holds an M.S. in Library and Information Science from Simmons College, a J.D. from Vermont Law School and a B.A. from Bates College. Amy is excited to return to Boston College Law Library, where she held an internship during her master's degree program at Simmons.
Amy looks forward to meeting many members of the BC Law community this semester. Her office is Law Library Room 257, her telephone extension is 2-2896, and her e-mail address is amy.bruce@bc.edu.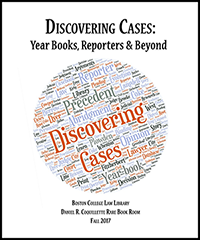 Rare Book Room Exhibit and Study Space
Our new Rare Book Room exhibit, "Discovering Cases: Year Books, Reporters, and Beyond," is up and running! The exhibit moves through the history in Anglo-American legal literature of making case law accessible to lawyers and law students. One of the featured items is a 1534 Year Book with cases from the reign of Edward III which was given by Dan Coquillette. There are early reports and abridgments of James Dyer and Edward Plowden, as well as cabinets on Sir Edward Coke, the more modern English law reports, and then early American law reports.
Take a look at the exhibit webpage for some highlights. Please come visit in person when you get a chance! Keep in mind that the Rare Book Room is open to students as a quiet study space (no food and drink) from 9 am – 5 pm, Monday through Friday. Bring your laptop and a hoodie, and enjoy being in such a beautiful space as you study.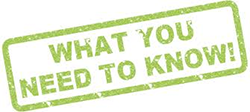 Ten Things You Need to Know About the Boston College Law Library
1) Our webpage is at www.bc.edu/lawlibrary - but all the computers in the library will open to that page automatically.
2) You can use our catalog to find books and other materials in the law library. To search the catalog, click on the word books – type in your search words and hit enter – because the catalog contains materials from all BC Libraries, look for the words "find in law library" or use the library filter on the right, or run a search of just the law library holdings using the pull-down menu on the search bar – or click on the advanced search link. Just look for that word "Law".
3) You can get to all sorts of useful information about BC using the bc.edu links in the top right hand column of this or any other university web page. Information ranges from the bus schedule or the hours of the dining service to a number of services you need to log in to use MyBC or Agora.
4) The law library subscribes to hundreds of databases. Click on the "All Law Library Databases" link under the blue banner to go to an alphabetical listing of the databases that includes a brief description of each database and also provides links that will allow you to authenticate. We subscribe to hundreds of databases, and since we've already paid for them, be sure to come in through our links to access them for free. The link to "All BC Research Databases" takes you to another 800 databases subscribed to by the university.
5) Our web page also has links directly to the four databases you will be using the most in law school – Lexis, Westlaw, Bloomberg Law, and HeinOnline. Access to Lexis, Westlaw, and Bloomberg Law is by personal password, and we have already sent you activation codes for all three services. If you have not already done so, sign up for all three services today! If you need help with the activation, stop by Law Library 253 during the next part of the law Library orientation to get help.
6) You can get to your class webpages by clicking on the Course Web Pages link under the quick links banner on our homepage. Sign in to go to your customized list of course websites.
7) The library keeps on Course Reserve a copy of every required text assigned each semester. There is a Course Reserves link that will take you, after you authenticate, to a list of the courses you are registered for. Click on the course number to get a list of the materials we have on Reserve for each course.
8) You can reserve a study room for a group of two or more people. Each group can reserve a room for up to two hours per day.
9) There are print release stations on every floor of the library. Each student automatically gets 500 pages per semester. If you need to print more than that, you can add pages to your account at 3 cents a page using Agora. Use your Eagle 1 card to release your print jobs. By the way, your Eagle One card is also you library card so bring it to the Information Desk to check out books and other items.
10) We are here to help you! The whole library staff wants to make your law school experience the best it can be. Just ask.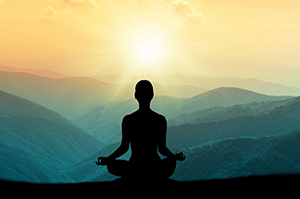 Achieving Mindfulness Through A Regular Meditation Practice
Mindfulness is a hot topic lately; and there are good reasons to practice mindfulness in our daily lives. Mindfulness means being awake in the present moment, being aware, not judging, not ruminating about the past, or worrying about the future. When we are mindful we experience life as it happens.
Meditation is one way to become more mindful. It is like going to the gym to improve our physical capability and cardiovascular power. Meditation is a habit that helps one to become more mindful.
Regular meditation is known to ease stress levels, improve cognition, and encourage compassion. If you are intrigued with the idea of developing a meditation practice and becoming more mindful, please consider participating in the Law School's weekly meditation session. We hold weekly group sits in the Contemplation & Meditation Room (Room 427) in the Law Library. We invite you to join us on Mondays during the common lunch hour. The group sit is open to complete beginners, veteran meditators, and anyone wishing to benefit from a meditation break at the beginning of the week.
We begin at noon and spend a few minutes on introductions, read a poem or other inspirational reading, do some breathing exercises, and then we normally meditate for about 15 minutes. There is no obligation to attend every week; but we welcome regular attendees.
The Contemplation & Meditation Room (Room 427) is open during Law Library hours for individual meditation and silent contemplation sessions. There are floor pillows and comfortable chairs in the room. Please maintain a respectful silence in the room; it is a cell-free and study-free zone.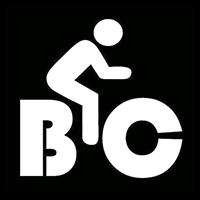 Borrow a Bike through BikeBC
BikeBC is a Boston College registered student organization aimed at improving the bicycling infrastructure and community around campus. And now the BikeBC Bike Share program has come to the Newton Campus! The program allows certified members of BikeBC to participate in Boston College's bike share and borrow a free bicycle through the O'Neill Library and Law Library for a period of three days. In order to borrow a bike, you must attend a training session sponsored by the organization and sign their liability form.
For more information, go to the BikeBC website: http://bc.orgsync.com/org/bikebc#bikeshare or drop by the Law Library's Information Desk and pick up a brochure.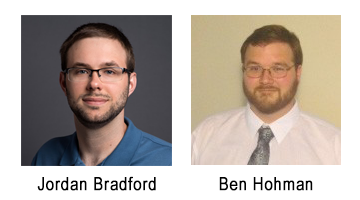 Welcome Jordan and Ben
Jordan Bradford was hired this summer as our new Law School Associate Technology Consultant. Jordan will be responsible for provide technology help to all members of the Law School community. Jordan is a recent graduate (May 2017) of the joint Master's in Philosophy and Theology (Concentration: Faith, Science, and Philosophy) here at Boston College. Jordan received his Bachelor's degree in Philosophy (summa cum laude) from Toccoa Falls College in Toccoa Falls, Georgia in the fall of 2013. For the past two years, Jordan has served as a Graduate Technology Consultant (GTC) for the Humanities Division of Boston College. Prior to coming to Boston College, Jordan worked for the J. M. Smith Corporation, a pharmaceutical distribution center, for a year. Jordan loves to read in science, philosophy, and theology; he confesses to enjoying fried food (especially Southern fried chicken) and heavy metal music.
Benjamin Hohman joins the Law Library staff as our Law School Graduate Technology Consultant (GTC), providing assistance in the Law Library's Student Computing Help Center. Ben is a third year Ph.D. student in the Department of Theology at Boston College. Ben's interest is in Systematic Theology. Ben received his first Bachelor's degree (Philosophy, magna cum laude) from the University of Alabama. Please be aware that Ben is a hard core Alabama football fan. Ben went on to earn a second Bachelor's degree (Theology, summa cum laude) from Marian University in Indianapolis. Before enrolling in the BC Theology Ph.D. program, Ben earned a Master of Theological Studies degree from the Boston College School of Theology and Ministry. Prior to Ben's work here at the Law School, Ben worked as Graduate Assistant for the Boston College Church in the 21st Century program and was an Adult Learning Facilitator for the School of Theology and Ministry's online learning program.