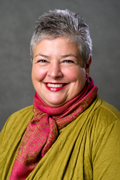 Dear colleagues,
This newsletter highlights the BC Law Library's new services. Please take a moment to read about LexisNexis Practice Advisor, a service from Lexis that allows you to leverage the power of LexisNexis. The librarians will be offering a number of training opportunities this semester. Some of these training opportunities include: law review training; moot court training; and RA training. Please do encourage your students, and RAs, to attend the appropriate training sessions.
In this issue, we also have a story about the upcoming Rare Book Room exhibit. It is called Twenty Years of Exhibits: A Rare Book Room Retrospective. This special exhibit celebrates the last 20 years of Rare Book Room exhibits. Please stop by and enjoy the exhibit when you get a chance. Later in the spring, we will be having a festive event to mark the 20th birthday of the Daniel R. Coquillette Rare Book Room (and the Law Library itself!).
We hope you will join us for the Law Library's seventh annual Diversity Read in March during the common lunch hour. This year's title, Bryan Stevenson's Just Mercy, takes the reader through Bryan's journey defending Walter McMillian, a young man who was sentenced to die for a notorious murder he insisted he didn't commit. The case drew Bryan into a tangle of conspiracy, political machinations, and legal brinksmanship—and transformed his understanding of mercy and justice forever. The book talk and discussion will be held on Monday, March 21st – so read the book over break. Watch for an announcement about where we will hold the discussion in the next couple of weeks.
Please share your reactions to these services and don't forget to join us for our upcoming events!
Best wishes for a joyful and productive spring semester!
Peace,

Filippa Marullo Anzalone
Professor of Law
Associate Dean for Library & Technology Services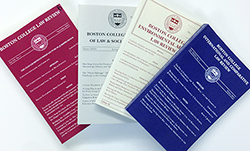 BC Law Review and Journal Trainings
Each semester, reference librarians prepare a series of workshops designed to help law review and journal members tackle their tasks. In the fall, workshops included topics such as interlibrary loan, Perma, catalog searching, HeinOnline, locating statutes, and administrative law resources. These workshops were designed to help new journal members learn where they might need to look for source collection as well as help them begin the note writing process.
This semester, each journal is free to contact their library liaison to establish training sessions catered to their needs. For example, on Feb. 1, the BCLR will receive training on advanced statutory searching, using print case law resources, legislative history, and interlibrary loan procedure.
BC Law Library journal liaisons are:
Karen Breda – Journal of Law and Social Justice
Sherry Chen – International and Comparative Law Review
Patricia Dickerson – Boston College Law Review
Mary Ann Neary – Uniform Commercial Code Reporter -Digest
Joan Shear – Environmental Affairs Law Review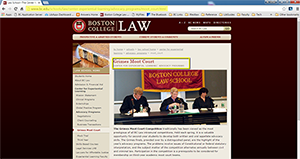 Grimes Moot Court Competition
Every spring BC Law organizes the Grimes Moot Court Competition for 2L students. It is a great opportunity for students to develop and sharpen advocacy skills. The competition is an invaluable experience that is a prerequisite for participation in the national moot court competitions for 3Ls. This year, new librarian Anupama Pal (Anu) will conduct a legal research training for students in the competition.
The dates of the competition have yet to be released, but you have any questions, please feel free to ask Anu at palan@bc.edu.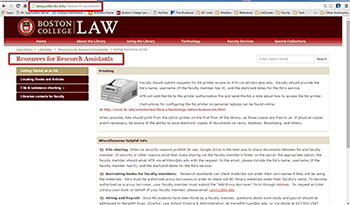 Research Assistant Training
BC Law Librarians are pleased to provide research training to faculty RAs for the spring and summer. To request a training, please contact your library liaison. The librarians will be happy to work with students to schedule a time. We have also designed a LibGuide, Resources for Research Assistants, that can help RAs get started. The guide is accessible from the Law Library webpage.

Bepress Launches New SelectedWorks Platform
Bepress launched the new SelectedWorks platform for faculty webpages in January. The new platform makes a number of significant improvements, including:
Updated page design and greatly improved page appearance on mobile devices
More flexibility in page organization and no more limits on the number of categories on the page
Support for more types of content, including streaming video, datasets, images, and teaching materials
BC Law faculty members have two webpages - one that is hosted on the Law School site, and one that uses SelectedWorks. To request updates to either page, please contact Nick Szydlowski.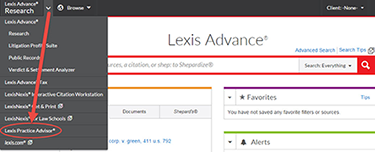 Lexis Practice Advisor Offers Practice Expertise and Drafting Assistance
For faculty and students interested in practice areas of banking, mergers & acquisitions, securities law, labor, bankruptcy, IP and real estate, Lexis Practice Advisor offers practical expertise backed by attorneys with years of experience, and swift and smart drafting tools for easy use. For each practice area, Lexis Practice Advisors offers guidance documents, analysis on most relevant cases and codes, annotated forms, insights, and well-established treatises on its platform. Notable treatises include Collier on Bankruptcy, Nimmer on Copyright, Warren's Forms of Agreements, Milgrim on Trade Secrets and more.
As a faster and smarter drafting assistant, Lexis Practice Advisor makes it easier for you to find valuable and relevant precedents that might impact your drafting. It also organizes the documents according to your course of actions. Instead of sifting through unrelated documents, you will be able to quickly locate the right document by selecting the type of matter you are working on.
To access Lexis Practice Advisor, please use the "Lexis Advance Research" dropdown menu on the upper left corner from the main Lexis Advance search page.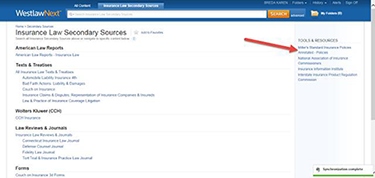 Two Essential Insurance Resources Now Available on Westlaw!
If you intend to practice law, you will likely have to read and analyze an insurance policy at some point, if not on a regular basis. This is true regardless of whether you practice civil litigation (liability insurance), real estate (title insurance, fire insurance, property and homeowners insurance), estate planning (life insurance and annuities), or business law (property, casualty, fidelity, errors and omissions and liability insurance, just for starters). Boston College Law School students and faculty now have electronic access to two excellent and authoritative insurance resources on Westlaw: Miller's Standard Insurance Policies Annotated and the publications of the National Association of Insurance Commissioners.
Miller's Standard Insurance Policies Annotated is one of the essential resources on every insurance lawyer's wish list. It is an enormous, 13 volume loose-leaf set which includes over 100 standard insurance policies, over 1000 policy endorsements and over 180,000 annotations of cases interpreting the specific provisions of the standard policies. It is available in print in the Law Library at KF1160. M54 and recently became available electronically to law students and law faculty on Westlaw.
To access Miller's, simply log onto Westlaw and click on the Miller's link under Tools & Resources within Insurance Secondary Sources.
The National Association of Insurance Commissioners publications are 1) NAIC Model Laws, Regulations and Guidelines, a six-volume set which contains every NAIC model law, regulation and guideline, plus legislative history, a state adoption table and selective annotations of important judicial interpretations, 2) the NAIC Compendium of State Laws on Insurance Topics which contains numerous charts surveying state laws and regulations on specific issues in insurance and 3) NAIC's White Papers discussing policy issues in emerging insurance industry topics. Because the National Association of Insurance Commissioners publications are not included in the Westlaw for Law Schools Academic password, the Law Library purchased a special reference desk username and password to the NAIC publications on Westlaw.com. If you need to access NAIC publicationsem, ask one of the reference librarians for assistance.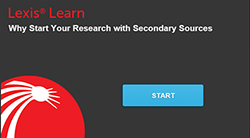 Lexis Learn: Updated eLearning Tool for First Year LRR&W
To complement the first year LRR&W curriculum, LexisNexis has expanded its Lexis Learn platform by incorporating new and updated videos covering various legal research topics, including:
Online Legal Research Basics
Why Start with Secondary Sources
Finding the Right Statutes and Statutory Interpretation
Finding the Best Cases to Support Your Analysis
Making Sure You're Citing Good Law
Researching Administrative Law Issues
Researching Legislative History
Drafting Documents for Transactional Practice
Drafting Briefs, Pleadings & Motions
Each video is about 10-15 minutes long. In addition to updated videos, Lexis Learn also offers fully integrated quizzes students may complete at their own pace. On the Instructor Analytics dashboard, faculty may track students' progress with ease. The new eLearning platform is also seamlessly integrated with Lexis Advance—Lexis' main research platform.
New in the Rare Book Room: A Retrospective Exhibit
We are happy to announce the opening of a new exhibit. This May marks the 20th anniversary of the dedication of our Daniel R. Coquillette Rare Book Room. In celebration of that milestone, a new retrospective exhibit takes a look back at the many wonderful exhibitions that have graced the shelves of our reading room over the past twenty years. We have had exhibits devoted to law student notebooks, generous benefactors like Kathryn "Kitty" Preyer, collectors like our own Dan Coquillette and Jim Rogers, legal postcards, Francis Bacon, international legal materials, and more. We welcome you to visit this beautiful space and to learn more about the richness of our collections and the many collaborations and exhibits that have been on display over the past two decades.
For a peek at the exhibit, take a look at the exhibit webpage!
BC Law Library's 8th Annual Diversity Read
Each year the Law Library sponsors a community wide Diversity Read during the spring semester, culminating in March for Diversity Month. The title selected for this year is Just Mercy: A Story of Justice and Redemption by Bryan Stevenson. Just Mercy details Stevenson's work representing underserved populations most in need of justice – including those wrongly convicted of crimes putting them on death row.
The Law Library will be purchasing copies of the book for students and faculty to check out. We will also be hosting a book discussion on March 21st at Noon. Watch your email for more information!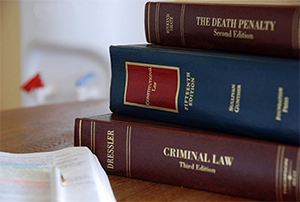 Law School Affordable Course Materials
Interested in incorporating open course materials into your classes? The Law Library has a research guide to help you in defraying the costs of student course book purchases. Offering descriptions of open casebook platforms and links to low-cost course materials, the guide is intended to help you locate course content. Please contact the Law Librarians with any questions.