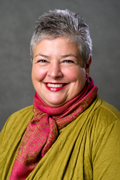 In learning you will teach and in teaching you will learn. -Phil Collins
Dear friends and colleagues,
Welcome back to school for academic year 2014-2015. Now that we have had a week or two of classes and the semester is underway I would like to invite you to peruse our Law Library Newsletter to learn about new services and resources.
Read about a very exciting new resource ALM's Legal News and Rival Edge that brings you news regarding the world of law practice and law firm competitive intelligence.
Westlaw's Drafting Assistant may be of interest to you, and you will find a law themed diversion in the article about the new Rare Book Room exhibit on legal postcards.
Did you know that there is a mobile app for our new learning management system, Canvas? Read on! This newsletter is filled with information about these topics and many more such as: a new LibGuide for the Center for Experiential Learning, help for your RA and new personnel changes at the Law Library.
Remember, please contact the Law Library with questions about services, resources, or anything else you can think of. We are your partners in this wonderful education enterprise of education men and women for others.
Let's raise our glasses in a toast to the success of academic year 2014-2015!
Peace,

Filippa Marullo Anzalone
Professor of Law
Associate Dean for Library & Technology Services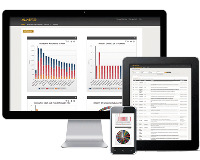 Researching law firms, attorneys and the legal services industry
Boston College Law Library now offers access to ALM Legal Intelligence and ALM Rival Edge for all law students, law faculty and staff. Select ALM from the Law Library's database list; this link will identify you as part of the Boston College Law School community. ALM is American Lawyer Media; this group publishes the well-known AmLAw100. ALM Legal Intelligence provides profiles of attorneys and law firms. The ALM Rival Edge product offers the latest news on legal industry developments, for example, you can search for data on attorney hiring by geographic location. Interested in following a particular law firm in the news? You can set up an e-mail alert to receive notifications of articles on your preferred topic. The Law Library has video tutorials posted on using ALM Legal Intelligence and ALM Rival Edge.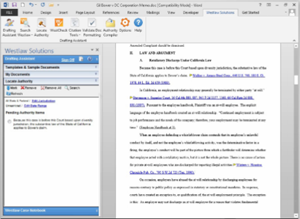 Westlaw Drafting Assistant
Westlaw Drafting Assistant is a suite of drafting tools that can be added to the MS Word toolbar on your computer. We are excited to be able to offer access to this practitioner tool for our BC Law students and faculty through a special pilot program with West! Drafting Assistant includes these features:
Drafting Assistant software which provides templates and forms for litigators and transactional attorneys
Link to Practical Law Company which provides forms, checklists and guidance
Deal Proof, a proofreading tool that locates substantive errors and inconsistencies
West Check which efficiently verifies and checks legal citations
TOA and Cite Formatting which suggests correct citation format and creates a table of authorities
A radio button which opens a Westlaw research session right from your document
Please note that Drafting Assistant works with Windows, but is not compatible with Macs. There are PC emulator options available for your Mac; here are 2 emulator options and their costs: Parallels 9, http://www.parallels.com/products/desktop/ $79.99 from vendor, $55.27 from Amazon.com or VMWare, Fusion 6 http://store.vmware.com/store/vmware/home, $59.99 from vendor.
For more information and to obtain the download link and a registration key, contact Karen Breda, bredaka@bc.edu or Mary Ann Neary, nearyma@bc.edu.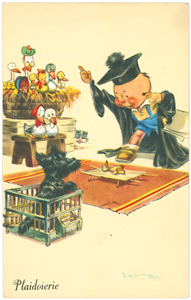 New Exhibit on Display in the Rare Book Room
Michael H. Hoeflich, John H. & John M. Kane Distinguished Professor of Law at the University of Kansas School of Law, has given us two gifts of antiquarian and modern Roman law books in the past. This year, he continued his generosity with our institution by donating a collection of legal postcards, trade cards, and other ephemera. All involve depictions of the law in one form or another—serious, humorous, nostalgic, whimsical, and sometimes puzzling!
The cards were the basis of his book, The Law in Postcards and Legal Ephemera 1890-1962 (The Lawbook Exchange, 2012). In the book, he pulls out certain themes and trends that manifest themselves in the collection—cards involving animals and kids, holidays, love, money, advertising, etc. Many of those categories are reflected in our exhibit. Regardless of the subject matter and tone, Professor Hoeflich notes that the cards provide "a rich source for understanding the role of lawyers, the courts, and the law in popular culture" (ix).
We are deeply grateful to Professor Hoeflich for his generous donation. The exhibit was curated by Laurel Davis and will remain on view into early 2015.
Any professor interested in scheduling a Rare Book Room visit for a class is encouraged to contact Laurel at davislp@bc.edu. We love to get students interacting with the collection!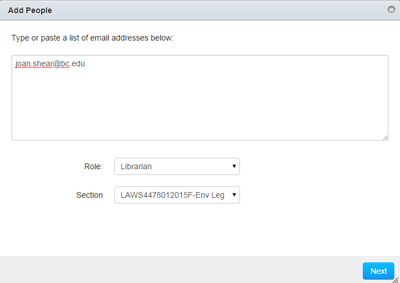 Integrate Your Library Contact to Your Canvas Course
Is there a paper or other research activities associated with one or more of your courses? Canvas makes it easy to link your Library Contact directly to your Canvas Course.
Start by selecting the course to which you want to add a librarian.
Then click on the "People" bar on the left-hand side.
Next click on the blue "+ People" button; this will open an "Add People" box.
Type or paste your librarian's email in the box in the form username@bc.edu, select librarian from the pull-down "Role" menu, and click the "next" button.
If the email address was correct you will get a message that says, "Validated and ready to add users."
Click the "Add Users" button. You will get a message saying, "The following users have been enrolled."
You now have a choice of clicking "add more users" or "done."
The librarian will receive an email invitation to participate in the course. Until the librarian accepts the course invitation, her status will display as pending.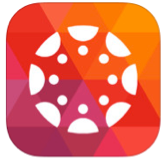 Canvas is Mobile Ready
Did you know you can get your Canvas notifications or access your course page on your mobile phone? Just search for "canvas" in your Android or iOS app store. Then set your notification preferences for where you want them: e-mail, phone, or facebook.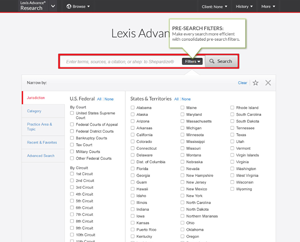 Lexis Advance® has a new look!
If you have used Lexis Advance recently you probably noticed the new, streamlined interface that was released on Monday, September 8th. This new interface makes it easier to navigate and review results with enhanced access to key features such as Shepard's. You'll find additional enhancements to Alerts, Tables of Contents, Browsing, Filters, Mobile Apps and more. The following resources offer more details on the new look and enhanced features:
Lexis.com® access remains available! If you wish to continue using a more traditional research service while learning Lexis Advance, you can access lexis.com through Lexis Advance® within the Lexis Advance Research menu [PDF with screenshot].
Our Lexis representative, Reeves Nelson, will be offering training sessions in the coming weeks. View the training calendar or email Reeves by logging into Lexis Advance and navigating to the LexisNexis for Law Schools page. As always, feel free to contact your library liaison with any questions.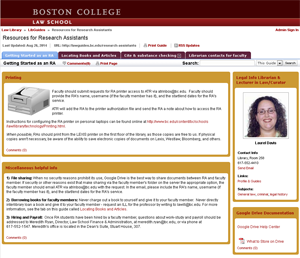 Do You Have a Research Assistant?
Please take a look at our new LibGuide called "Resources for Research Assistants", and recommend it to your RA as well. This guide is designed to help RAs with common questions, ranging from printer set-up to detailed instructions on how to perform a cite and substance check. Other content is aimed at helping them locate books and articles, including a detailed description of the rules and recommendations surrounding interlibrary loan (ILL) requests.
The cite and substance checking tab is quite detailed and provides many examples. If you can think of additional examples that commonly trip up research assistants, please let us know, and we can work on adding them to the guide.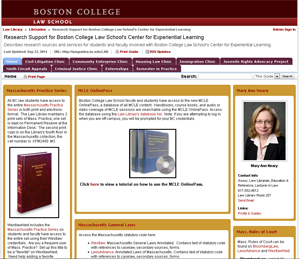 Research Guide for Students Engaged in Experiential Learning
BC law librarians have created a new research guide for students participating in programs at the Center for Experiential Learning. As the new Center brings all of BC Law School's experiential learning programs under one roof, the new research guide aims to connect students to the various resources and tools in different practice areas and to improve their efficiency and productivity in experiential learning.
The research guide designates a tab for each program or clinic at the Center. Students who are actively engaged in experiential learning—from clinics that provide legal services in civil litigation to overturning wrongful convictions, to advocacy programs for juvenile rights, to enterprises that hone transactional law skills—will all find a dedicated place in the guide for their specific interest. Students may go to their clinic or program's tab for a wide array of resources and research tools available to them in the area, from the titles of important treatises and practice guides, to subscription databases and free government websites. Both print and electronic sources are featured on the guide.
To learn to use the resources or tools on the guide, students may contact any reference librarian at the Law Library for a quick overview or in-depth workshops.
The new research guide, "Research Support for Boston College Law School's Center for Experiential Learning" can be found at http://lawguides.bc.edu/LAB.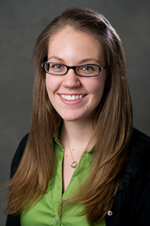 New Access Services Librarian
As you come into the law library and pass by the first office on your right, you may notice a new face there. Lily Olson, the new occupant of room 204, is our brand new Access Services Librarian. While she is new to the position, Lily has worked at the law library as a Law Library Assistant since 2010, so her face is very likely a familiar one. Among her many responsibilities, such as overseeing the daily operations of the information desk and supervising our student workers, Lily will also manage the law library's website. We are very lucky to have Lily in this new position!