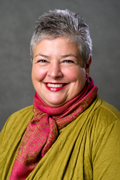 Dear 2L & 3L students,
Welcome back to BC Law! Please read the articles in the fall Law Library Newsletter to help you make the most of academic year 2014-2015.
Read about a very exciting new resource ALM's Legal News and Rival Edge that brings you news regarding the world of law practice and law firm competitive intelligence.
Westlaw's Drafting Assistant may be of interest to you, and you will find a law themed diversion in the article about the new Rare Book Room exhibit on legal postcards.
Did you know that there is a mobile app for our new learning management system Canvas? Read on! This newsletter is filled with information about these topics and many more such as: a new LibGuide for the Center for Experiential Learning; unusual check-out items; and free access to the New York Times.
Let's raise our glasses in a toast to the success of academic year 2014-2015!
Peace,

Filippa Marullo Anzalone
Professor of Law
Associate Dean for Library & Technology Services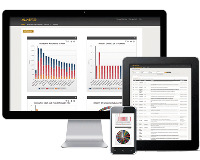 Researching law firms, attorneys and the legal services industry
Boston College Law Library now offers access to ALM Legal Intelligence and ALM Rival Edge for all law students, law faculty and staff. Select ALM from the Law Library's database list; this link will identify you as part of the Boston College Law School community. ALM is American Lawyer Media; this group publishes the well-known AmLAw100. ALM Legal Intelligence provides profiles of attorneys and law firms. The ALM Rival Edge product offers the latest news on legal industry developments, for example, you can search for data on attorney hiring by geographic location. Interested in following a particular law firm in the news? You can set up an e-mail alert to receive notifications of articles on your preferred topic. The Law Library has video tutorials posted on using ALM Legal Intelligence and ALM Rival Edge.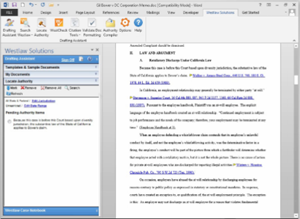 Westlaw Drafting Assistant
Westlaw Drafting Assistant is a suite of drafting tools that can be added to the MS Word toolbar on your computer. We are excited to be able to offer access to this practitioner tool for our BC Law students and faculty through a special pilot program with West! Drafting Assistant includes these features:
Drafting Assistant software which provides templates and forms for litigators and transactional attorneys
Link to Practical Law Company which provides forms, checklists and guidance
Deal Proof, a proofreading tool that locates substantive errors and inconsistencies
West Check which efficiently verifies and checks legal citations
TOA and Cite Formatting which suggests correct citation format and creates a table of authorities
A radio button which opens a Westlaw research session right from your document
Please note that Drafting Assistant works with Windows, but is not compatible with Macs. There are PC emulator options available for your Mac; here are 2 emulator options and their costs: Parallels 9, http://www.parallels.com/products/desktop/ $79.99 from vendor, $55.27 from Amazon.com or VMWare, Fusion 6 http://store.vmware.com/store/vmware/home, $59.99 from vendor.
For more information and to obtain the download link and a registration key, contact Karen Breda, bredaka@bc.edu or Mary Ann Neary, nearyma@bc.edu.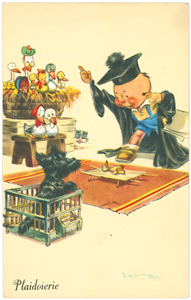 New Exhibit on Display in the Rare Book Room
Michael H. Hoeflich, John H. & John M. Kane Distinguished Professor of Law at the University of Kansas School of Law, has given us two gifts of antiquarian and modern Roman law books in the past. This year, he continued his generosity with our institution by donating a collection of legal postcards, trade cards, and other ephemera. All involve depictions of the law in one form or another—serious, humorous, nostalgic, whimsical, and sometimes puzzling!
The cards were the basis of his book, The Law in Postcards and Legal Ephemera 1890-1962 (The Lawbook Exchange, 2012). In the book, he pulls out certain themes and trends that manifest themselves in the collection—cards involving animals and kids, holidays, love, money, advertising, etc. Many of those categories are reflected in our exhibit. Regardless of the subject matter and tone, Professor Hoeflich notes that the cards provide "a rich source for understanding the role of lawyers, the courts, and the law in popular culture" (ix).
We are deeply grateful to Professor Hoeflich for his generous donation. The exhibit was curated by Laurel Davis and will remain on view into early 2015. Students are welcome and encouraged to use the Rare Book Room as a quiet study space, whenever the room is open (generally weekdays 9 a.m. – 5 p.m.)!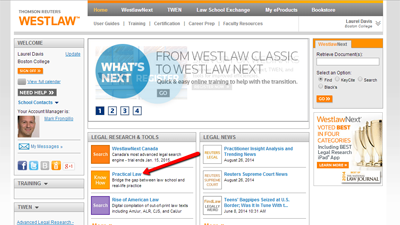 Practicing Law Company Comes to Westlaw
Westlaw recently acquired the legal research platform Practical Law Company (PLC). The screenshot here indicates where to access PLC from Westlaw's main law school page.
Geared toward practitioners, PLC has a plethora of incredibly useful materials in a variety of different practice areas including bankruptcy, securities, corporate and M&A, IP, labor and employment, tax, and others. The content is produced and maintained by practitioners in each area of the law. There are practice notes describing major topics within the area of law and pointing out practical considerations; standard documents and clauses; checklists; state-specific resources and comparison tools; and more.
It's a tremendous resource that all students should keep in mind, particularly during externships for academic credit and for clinics. The PLC focus can be helpful as you try to put what you have learned in law school into practice!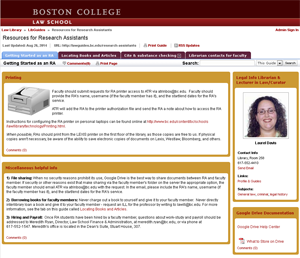 Working as a Research Assistant?
Check out our new LibGuide called "Resources for Research Assistants." This guide is designed to help research assistants (RAs) with common questions, ranging from printer set-up to detailed instructions on how to perform a cite and substance check. Other content includes information on locating books and articles for your professor, with a detailed description of the rules and recommendations surrounding interlibrary loan (ILL) requests.
The guide also provides a list of each faculty member's library liaison. This is the legal research librarian who should be your first point of the contact in the library if you need any research assistance. Please let us know if you can think of other helpful information that could be added to the guide!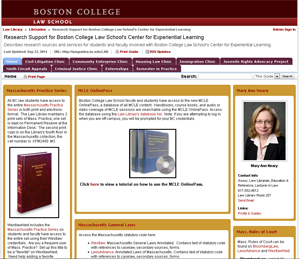 Research Guide for Students Engaged in Experiential Learning
BC law librarians have created a new research guide for students participating in programs at the Center for Experiential Learning. As the new Center brings all of BC Law School's experiential learning programs under one roof, the new research guide aims to connect students to the various resources and tools in different practice areas and to improve their efficiency and productivity in experiential learning.
The research guide designates a tab for each program or clinic at the Center. Students who are actively engaged in experiential learning—from clinics that provide legal services in civil litigation to overturning wrongful convictions, to advocacy programs for juvenile rights, to enterprises that hone transactional law skills—will all find a dedicated place in the guide for their specific interest. Students may go to their clinic or program's tab for a wide array of resources and research tools available to them in the area, from the titles of important treatises and practice guides, to subscription databases and free government websites. Both print and electronic sources are featured on the guide.
To learn to use the resources or tools on the guide, students may contact any reference librarian at the Law Library for a quick overview or in-depth workshops.
The new research guide, "Research Support for Boston College Law School's Center for Experiential Learning" can be found at http://lawguides.bc.edu/LAB.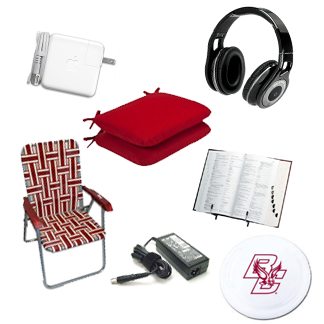 The Library Has Stuff!
The Law Library offers much more items to check out than just books! Did you know that you can check out a lawn chair, or a Mac power cord, or charge your mobile device, borrow a seat cushion, get ear plugs and so much more at the Law Library? Stuff you can check out from the library's Information Desk:
Laptop, iPhone, and iPad chargers
Headphones
Seat Cushions
Book Stands
Lawn Chairs
Frisbees
And, of course, case books, Bluebooks, and other reserve materials!
Also, keep an eye out for candy and therapy dogs during finals, and the Diversity Read in March.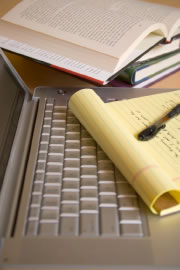 Legal Research Classes Offered in Spring 2015
Interested in honing your research skills before your summer job or starting out into practice? Here are your options for Spring 2015: Advanced Legal Research, Research for Criminal Law Practitioners, Tax Law Research. See the course descriptions here.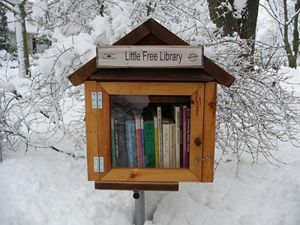 Take One, Leave One
Did you know that the library has a "leave one, take one" shelf? It's up on the 4th floor, in the student lounge. Feel free to leave a book, or take one – the shelf was re-stocked recently and it is full!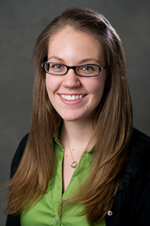 Lily, new Access Services Librarian!
As you come into the law library and pass by the first office on your right, you may notice a new face there. Lily Olson, the new occupant of room 204, is our brand new Access Services Librarian. While she is new to the position, Lily has worked at the law library as a Law Library Assistant since 2010, so her face is very likely a familiar one. Among her many responsibilities, such as overseeing the daily operations of the information desk and supervising our student workers, Lily will also manage the law library's website. We are very lucky to have Lily in this new position!