Fictional Eagles
BC "alumni" are central characters in an array of movies and TV shows.
Everybody, it seems, wants to go to Boston College. For proof, consider the staggering 39,875 applications that the University received for the Class of 2025, the most ever submitted for a class. Or, just look at Hollywood. BC "alumni" are central characters in an array of television and movie productions. Some are spies or broken-down attorneys seeking redemption, while others are resistance leaders in the struggle against alien invaders or basketball coaches working to improve the lives of their players. Whoever they may be, what many of these fictional characters share is a call to service and a concern for their fellow humans that rings authentically BC. In the pages ahead, we profile some of our favorite fictional graduates of Boston College. Share yours with us at bcm@bc.edu and we'll publish the best responses in an upcoming issue.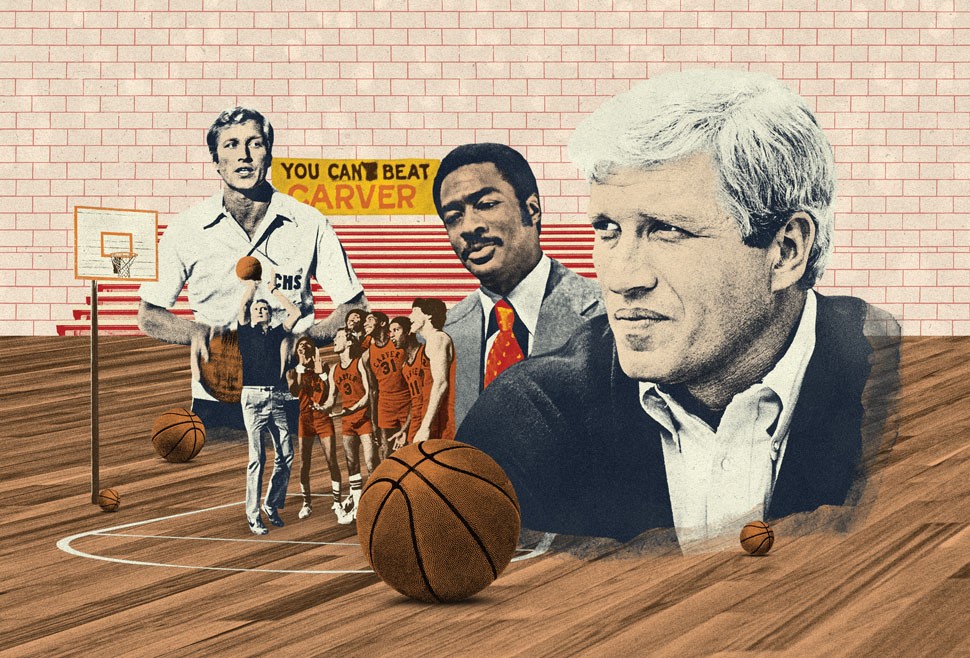 Ken Reeves
The White Shadow
Ken Reeves is a former star forward for the Boston College basketball team who has gone on to play in the NBA for the Chicago Bulls. But when a knee injury ends his career, Reeves passes on the glamorous post-retirement opportunities available to pro athletes and instead becomes the basketball coach at a Los Angeles high school where his former BC teammate is the principal. Such is the setup for the influential CBS drama The White Shadow, which ran for just three seasons, from 1978 to 1981, but is remembered decades later for being among the first network series to address issues such as race, poverty, inequality, and sexual identity.
Reeves, portrayed by the actor Ken Howard (who played college ball himself at Amherst College), takes over as coach at the fictional Carver High School, only to discover that his players, most of them of color and poor, have little trust in a privileged, white former professional athlete. But Reeves is a wildcard. Suspicious of authority himself, he is able to find common ground with the players. Sometimes that means providing the kind of guidance and mentorship we expect in television dramas. But sometimes it means something more surprising, such as protecting his players' dignity and humanity in a harsh world. In one memorable scene, a Carver player working an afterschool job as a grocery bagger is excoriated by a manager for putting a customer's produce at the bottom of a bag instead of the top. After first demonstrating that the groceries were actually bagged correctly, Coach Reeves throws the bag at the manager. When the bully fails to catch it, stumbling in the process, Reeves cocks an eyebrow and observes, "You got bad hands and your legs are going."
Reeves's recruitment as coach begins when Carver High Principal Jim Willis (played in the pilot by the actor Jason Bernard and in the series by Ed Bernard) finds him shooting practice hoops in the United Center, home to the Bulls. Willis has sought out Reeves because he knows his former BC teammate's NBA career is fading. Willis tells Reeves that he's "over the hill," and then makes his pitch for him to take the job at Carver.
"How much does it pay?" Reeves asks.
"Less," responds Willis.
"Less than what?"
"Less than you can live on."
"That," Reeves responds with a smile, "makes it irresistible."
Reeves takes the job, of course, leading his sister to question the decision not to pursue a TV gig like every other washed-up baller. But Reeves, like so many BC grads, is drawn to an opportunity for service, in this instance coaching for almost nothing at an underperforming high school. As is so often the case, however, there is a turbulent transition period for the coach. He ruffles feathers in his first week, especially after putting his hands on a rebellious player named Hayward. An outraged school official complains to Principal Willis about the new coach: "He's cocky, sarcastic, and he doesn't know a damn thing about education."
"You're right, on all three counts," Willis replies.
"Then why did you hire him?"
"He's the right man for the job."
As the show grew in popularity, BC was so taken with Reeves's character and his connection with the University that, in 1980, it hosted a "White Shadow Day" and brought in Howard for the occasion. Reeves, a fictional character, may not have been an actual BC alum, but according to the broadcasting legend Lesley Visser '75, who emceed the celebration, the man who played him embodied Boston College. "Ken Howard fulfilled all the requirements," Visser says. "BC's academic, he was smart. We have a tradition of athletics, he was a great basketball player. A lot of the time, you see an actor try to speak the language of sports and it doesn't work, but it was very natural for him."
During the show's finale, aired in 1981, Reeves checks in with some of his former players, who have since entered adult life. Hayward is in college and considering law school, while another player has since found his niche answering phones at a suicide-prevention center. But a pall is cast over the Carver alumni game as Reeves and the players are reminded of an absent and beloved former teammate who was recently killed by a stray bullet—an innocent bystander to a robbery. "He was just in the wrong place, at the wrong time," the vice principal tells Reeves.
"Sometimes," Reeves offers in a rare moment of sentimentality, "I forget how much I like doing this job…. I forget that we really are accomplishing something here."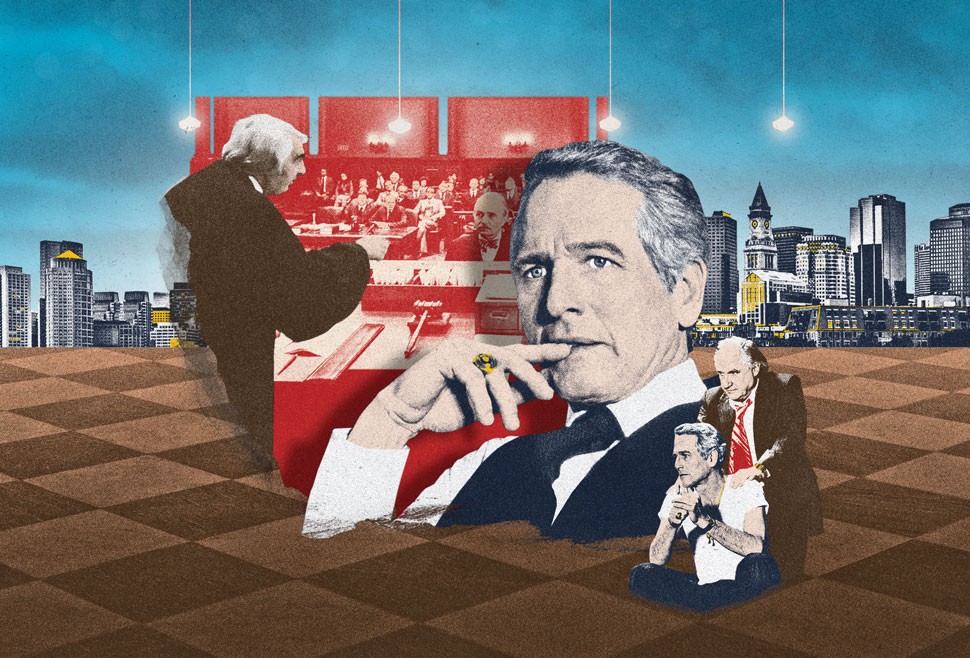 Frank Galvin
The Verdict
"The weak," exclaims Frank Galvin in the 1982 film The Verdict, "the weak have got to have somebody to fight for them." He may not seem the obvious choice, but that somebody turns out to be Galvin himself, an alcoholic lawyer (played by Paul Newman) who graduated second-in-his-class from BC Law, but now practices on the fringes. He's the kind of down-on-his-luck ambulance chaser who searches the obituary pages for aggrieved widows to whom he can pass his business card at wakes. But when Galvin is handed a case by powerful interests who want a quick— and unjust—settlement, he instead finds himself with an opportunity for redemption. Appearances notwithstanding, Galvin embodies the distinctly BC blend of determination, faith, and service.
Galvin, it turns out, had much in common with the writer who created him, the renowned medical malpractice attorney and novelist Barry Reed. In the course of his career, Reed, who graduated from BC Law in 1954, won the Clarence Darrow Award for trial excellence and held leadership positions with the American Society of Law and Medicine and the Massachusetts Academy of Trial Lawyers. Less known was his work representing the poor. "'He did a lot of little things and never looked to get any credit or acclaim," Joseph Mulligan, Reed's former law partner, told the New York Times. "For the small cases he just wouldn't take a fee."
When Reed, who died in 2002, wasn't practicing law he was writing novels. The Verdict, published in 1980, was just one of several books he authored. Boston College figures prominently in its film adaptation, which was nominated for five Academy Awards. Galvin keeps his BC diplomas on his office wall, and his ruby-and-gold class ring—the glimmer of an old promise—functions as a moral north star in moments of doubt. But more than anything, it's the spirit of Boston College that runs through The Verdict. "If we would have faith in justice," Galvin declares to the jury, "we need only to believe in ourselves, and act with justice."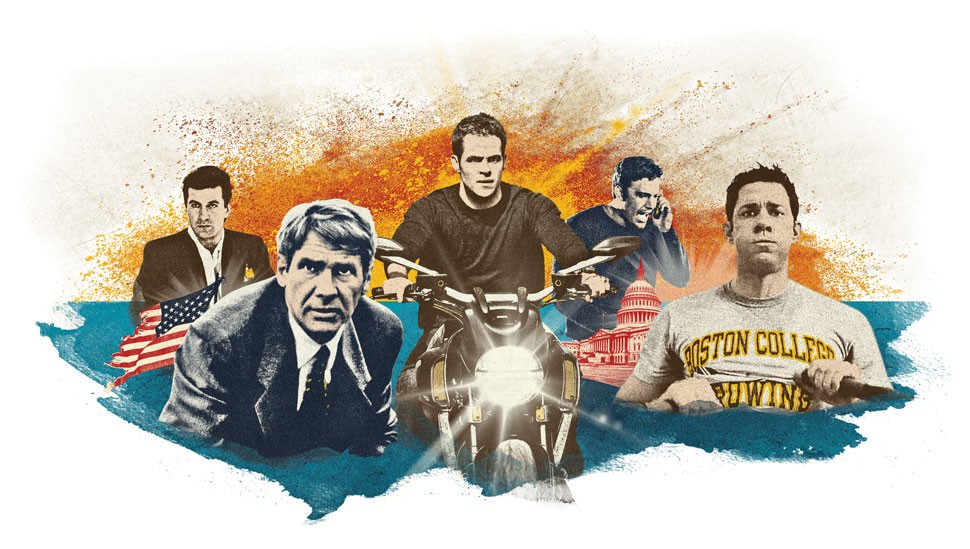 Jack Ryan
Various Productions
Jack Ryan always wanted to be a government agent. And the surest way to do it, he says time and again, was to get a degree from Boston College.
Ryan, the protagonist in a series of wildly popular spy thrillers by the acclaimed author Tom Clancy, is a basically regular guy who uses a methodical brain and the rigors of a Jesuit education to succeed in, among other places, the Marine Corps, Wall Street, and Washington. It's a life he leads ably but reluctantly—Ryan often reflects, for instance, on his wife and children, and his regret at being absent from their lives due to his work. Many of the books open with a happily desk-bound Ryan being sucked back into the world of informants, assassins, and corrupt foreign leaders that he has previously forsworn.
Clancy's sophisticated novels spawned a media empire, with Ryan being portrayed by such leading men as Alec Baldwin (The Hunt for Red October, 1990), Harrison Ford (Patriot Games and Clear and Present Danger, 1992 and 1994), Ben Affleck (The Sum of All Fears, 2002), Chris Pine (Jack Ryan: Shadow Recruit, 2014), and, most recently, John Krasinski (the Amazon Prime series Jack Ryan, 2018–present).
Ryan's biography (along with the actor playing him) can change from one work to the next, but one constant is his identification with BC. Listening in frustration to a colleague exercising a faulty "circular" reasoning, Ryan muses that the logic course at Yale was "probably an elective." At Boston College, he notes, "it had been mandatory." And in Red Rabbit (2002), when Ryan and a colleague are comparing notes on their BC education, the colleague notes, we "Jesuit products run the world— we're just humble about it."
More one for action than words, Ryan agrees quietly, voicing his assent by sending Jack Ryan Jr., to study at Chestnut Hill. 
---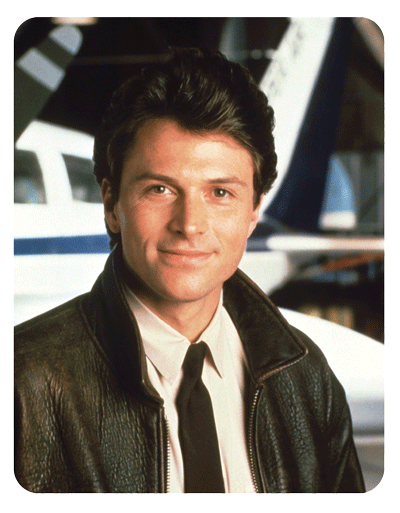 Joe Hackett
Wings
Actor: Tim Daly
Hackett, the owner of the one-plane Nantucket airline Sandpiper Air, pledged a fraternity at Boston College (ha!), and remains so crazy for BC sports that he leaves his heavily medicated girlfriend home alone after oral surgery so that he can catch the basketball game against Providence College.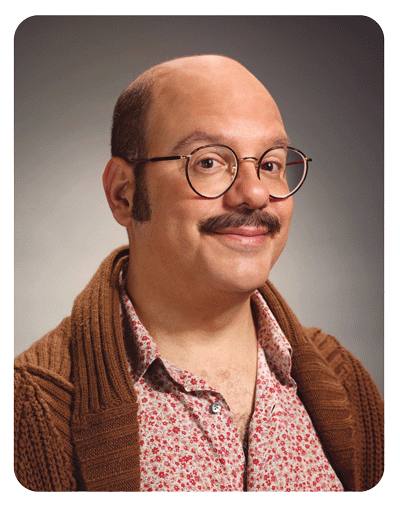 Tobias Fünke
Arrested Development
Actor: David Cross
Even the biggest Arrested Development fanatics will be forgiven for not knowing that Fünke attended BC. Prone to making uncomfortable Freudian remarks, the psychiatrist-turned-struggling actor revealed his alma mater during a scene that was cut from the show's pilot.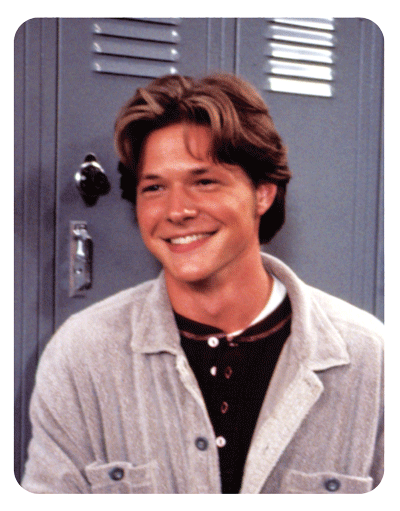 Harvey Kinkle
Sabrina the Teenage Witch
Actor: Nate Richert
The All-American boy, Harvey is Sabrina's first love. After graduating from high school, he attends Boston College as a member of the hockey team (joining Sabrina's other flame and fellow magical being, Derek Axelrod). In one episode, Sabrina procures a pair of charmed skates from the god Mercury in order to help Harvey keep his place on the team.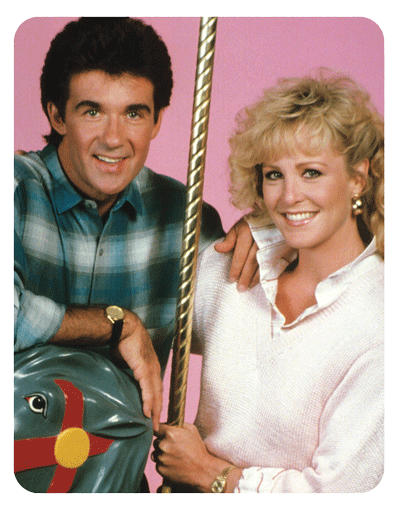 Jason and Maggie Seaver
Growing Pains
Actors: Alan Thicke and Joanna Kerns
Jason, a psychiatrist, and Maggie, a journalist, are a married couple who first met while attending BC. The couple now live on Long Island, where they are raising four children.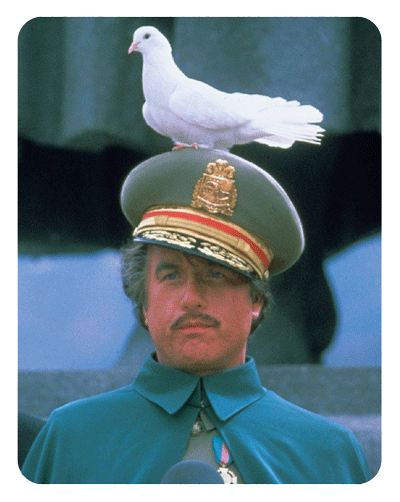 Jack Noah
Moon Over Parador
Actor: Richard Dreyfuss
A BC alum, Noah is a movie actor filming in the fictional South American country of Parador. Hilarity ensues when he's cajoled into performing as a pliable stand-in for the country's recently deceased dictator.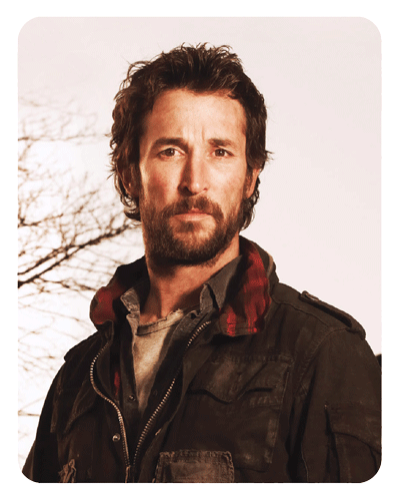 Tom Mason
Falling Skies
Actor: Noah Wyle
Mason, a BC graduate who is now the leader of the 2nd Massachusetts Militia Regiment, uses his knowledge of American military history to lead a resistance against the alien invaders who have devastated human civilization. He is eventually elected president of the New United States.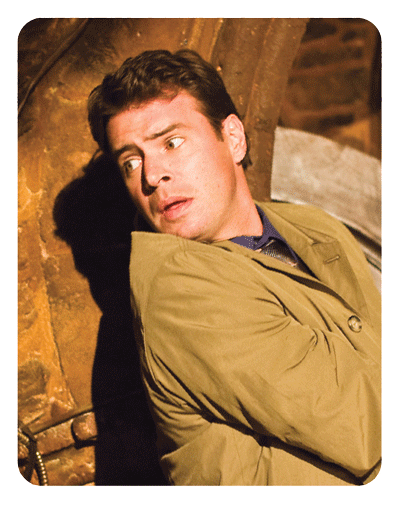 Sean Daley
The Last Templar
Actor: Scott Foley
When Daley, who became an FBI agent after graduating from BC, gives up several vices (coffee, swearing, chocolate, and carbon emissions) for Lent, another character expresses surprise at his deep commitment. "With a name like 'Sean Daley,'" he responds, "it's practically genetic."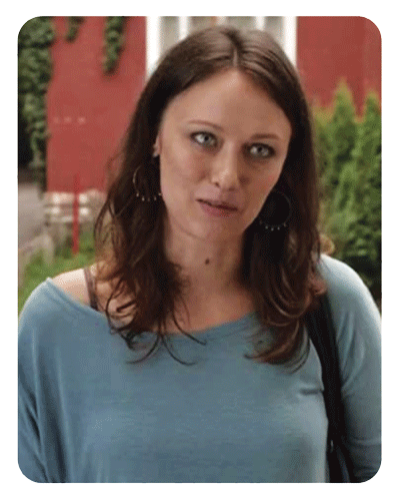 Kat Neely
Being Human
Actor: Deanna Russo
Neely, a Ph.D. candidate in early American history at BC (writing a thesis on "The Plot for New England Secession at the Hartford Convention"), breaks up with Aidan, one of the series' protagonists, after discovering that he is a vampire.