Meet Blake James, the New Director of Athletics
The former University of Miami AD lands at Boston College.
Blake James, BC's new William V. Campbell Director of Athletics, arrived at the Heights in July after eight years of directing the University of Miami's athletic program. He replaces former BC athletic director Pat Kraft, who was named to the same position at Penn State. During James's time at Miami, the Hurricanes won several NCAA and ACC championships. Earlier in his career, James  served for five years as athletic director at the University of Maine, and worked in athletic development at Providence College. 
What are your goals for BC athletics? My goal is to elevate the Heights to new heights. I want to see us achieve excellence in academics, athletics, and in life, and create  the best student experience possible, while recognizing our Jesuit values and who we are as a program.
How do you expect working at BC will be different from Miami? I think they're very similar. We have quite a few more programs here, so there's more for me to get around to and to be a part of. The biggest difference is just the broad offerings that we have when you look at thirty-one programs at BC versus eighteen programs at Miami. So for me to really have a presence with all of our teams is an important part of my job. It's a challenge I'm excited for, and I look forward to really experiencing all of our teams in action.
What draws you to college athletics? What's the biggest challenge? The thing I love most  is being able to change the lives of the young people who come here. Whether that's developing them as athletes or, more importantly, developing them as people and getting them a degree that can change their lives in so many ways. The biggest challenge is the constantly changing world of college athletics—and figuring out how to continue to create the right experience for the young people in our program. We need to make sure we evolve in a way that's consistent with our values and who we are as an institution, but that's also in line with the demands of Division 1 athletics. 
How is it being back in the area? We spent eight years in New England, seven in Maine and one in Providence. I really fell in love with Boston as a city. Now, having the opportunity to live here and really get to experience the benefits of such a great city firsthand is something we're really excited about. 


A new era has arrived for BC Women's Volleyball, which defeated Duke 3–2 in its first match at its new home court in the Connell Recreation Center Sept. 25. The Eagles previously played home games at BC's Power Gym, but have moved due to construction on the forthcoming Hoag Basketball Pavilion. The ACC home opener drew an overflow crowd and elevated the Eagles' record to 12–3, matching the best start in program history.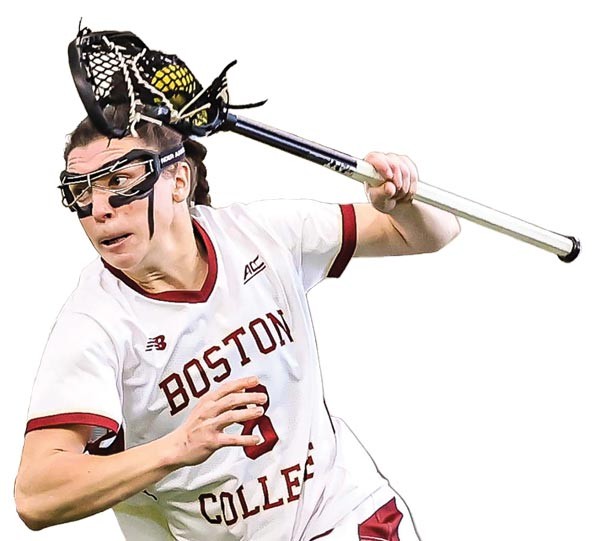 In June, Charlotte North '22 earned her second-straight Tewaaraton Award as the top female college lacrosse player. She's one of seven players ever to receive the award twice. Last season, North led the Eagles with 92 goals, 115 points, and 139 draw controls; helped propel the team to its fifth straight national championship game; and broke the Division I record with 358 career goals.

Boston College Athletics received a $1.25 million gift from James "Jim" Maher '71 to endow a full-time head coaching position for the BC skiing program. A former captain of the ski team, and the father of BC skier Elizabeth "Liz" Daniels '02, Maher said he hopes the gift will help the squad build "on the tremendous momentum of the last few seasons." Since sending its first skier ever to the NCAA Championships in 2018, BC has sent seven additional skiers to compete.

---